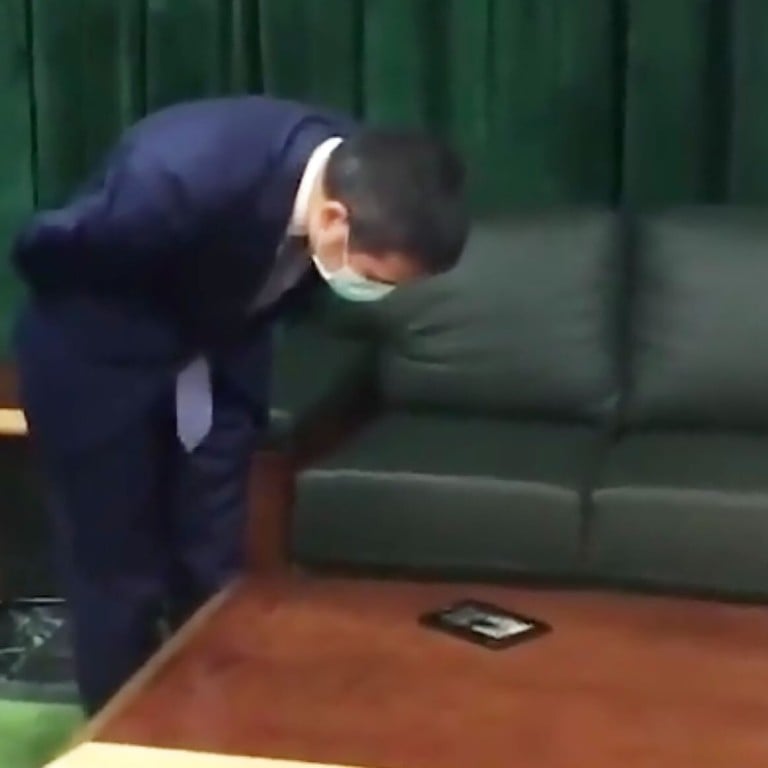 Coronavirus: Chinese diplomats deny mistreatment claims following angry protests from African nations
Embassy in Nigeria rejects complaint that five Nigerians had been ill treated by quarantine workers in Guangzhou
A string of countries across the continent have complained following reports that Africans faced racial discrimination and 'inhumane' treatment in the southern Chinese city
The Chinese embassy in Nigeria has denied that quarantine workers in China have mistreated the African country's citizens following a series of angry protests from across the continent.
A string of countries have complained that their citizens faced racial discrimination and "inhumane treatment" in Guangzhou, where it has been reported that Africans were being targeted after five Nigerians with links to the same restaurant tested positive for Covid-19.
Their complaints include allegations that people were being forced to sleep on the streets after being evicted from their homes and hotels, or subjected to forced quarantine.
On Friday the Chinese ambassador to Nigeria Zhou Pingjian met the speaker of the country's House of Representatives Femi Gbajabiamila, who made the diplomat watch a video that he said showed quarantine workers mistreating people.
Gbajabiamila posted a video of his meeting with Zhou on Twitter, in which he is heard saying: "I'm almost undiplomatic in the way I am talking, but it is because I am upset about what's going on."
But in a statement released on Sunday the Chinese embassy said Zhou had rejected the speaker's claims.
"Zhou watched the video, and pointed out that the behaviour of Chinese quarantine workers was appropriate and there was nothing improper," the embassy statement said.
Geoffrey Onyeama, Nigeria's foreign affairs minister, has also spoken to Zhou to express his "extreme concern at allegations of maltreatment of Nigerians in Guangzhou" and called for an immediate intervention by Beijing.
Ghana's foreign affairs minister Shirley Ayorkor Botchwey said she had been briefed on the "inhumane treatment being meted out to Ghanaians and other African nationals in the People's Republic of China with regards to the Covid-19 outbreak".
On Saturday, Moussa Faki Mahamat, a former prime minister of Chad and chairman of the African Union Commission, summoned Liu Yuxi, China's ambassador to the union, to "express our extreme concern at allegations of maltreatment of Africans in Guangzhou" and called for "immediate remedial measures".
"I regret and highly condemn this act of ill treatment and racial discrimination," she said.
In a letter to China's foreign affairs ministry on Friday, ambassadors from several African nations said that while they appreciated the good relationship between China and Africa, they were concerned that Africans had been "singled out for compulsory testing and quarantine".
This, they said, had "no scientific or logical basis, and amounts to racism towards Africans in China".
"The Group of African Ambassadors in Beijing immediately demands the cessation of forceful testing, quarantine and other inhuman treatments meted out to Africans in Guangdong province in particular and the whole of China," it said.
African students at Sun-Yat Sen University in Guangzhou were among those made to undergo a nucleic acid test, despite the fact that they had no recent travel history, the letter said.
Kenya
, Uganda, Ghana, Nigeria and Sierra Leone have also written to Beijing or summoned its ambassadors to ask what steps the Chinese government was taking to protect African immigrants.
The Republic of Sierra Leone's embassy said in a statement that representatives of African ambassadors stated in "very strong terms, their concern and condemnation of the disturbing and humiliating experiences our citizens have been subjected to".
Kenya's foreign ministry said it had officially "expressed concern about these developments and is working with the Chinese authorities to tackle the matter".
Meanwhile, the director general of Kenya's health ministry, Patrick Amoth, said on Saturday that his government was in talks to ensure that Kenyans in China were being properly protected and that their rights were not being violated because of the Covid-19 pandemic.
"African-Americans have reported that some businesses and hotels refuse to do business with them," the US consulate in Guangzhou said.
China's foreign ministry acknowledged that there had been some "misunderstandings" with the African community.
But ministry spokesman Zhao Lijian said on Thursday that: "We treat all foreign nationals equally in China. We reject differential treatment, and we have zero tolerance for discrimination."
The coronavirus investigation in
Guangzhou
centred on the city's Yuexiu district, which is known as "
Little Africa
" for the thousands of immigrants from across the continent who live, work and study there.
Video footage of Africans being maltreated in the wake of the investigation were widely circulated on social media.
Yang Rihua, deputy director general of Guangdong's public security department, said on Sunday that all foreigners in Guangdong had to take a Covid-19 test and comply with other epidemic control measures.
Those who resisted would be punished, and possibly deported, he said.
Guangzhou mayor Wen Guohui said on Sunday that there were currently 30,768 foreigners living in the city, of whom 4,553 were Africans.
Within the foreign community, 4,600 people were considered as being at high risk of contracting the coronavirus and had been placed under observation pending tests, he said.
In that regard, both foreigners and Chinese nationals were treated exactly the same, he said.
Additional reporting by Jun Mai
Sign up now and get a 10% discount (original price US$400) off the China AI Report 2020 by SCMP Research. Learn about the AI ambitions of Alibaba, Baidu & JD.com through our in-depth case studies, and explore new applications of AI across industries. The report also includes exclusive access to webinars to interact with C-level executives from leading China AI companies (via live Q&A sessions). Offer valid until 31 May 2020.
This article appeared in the South China Morning Post print edition as: Embassy denies claims Africans were mistreated