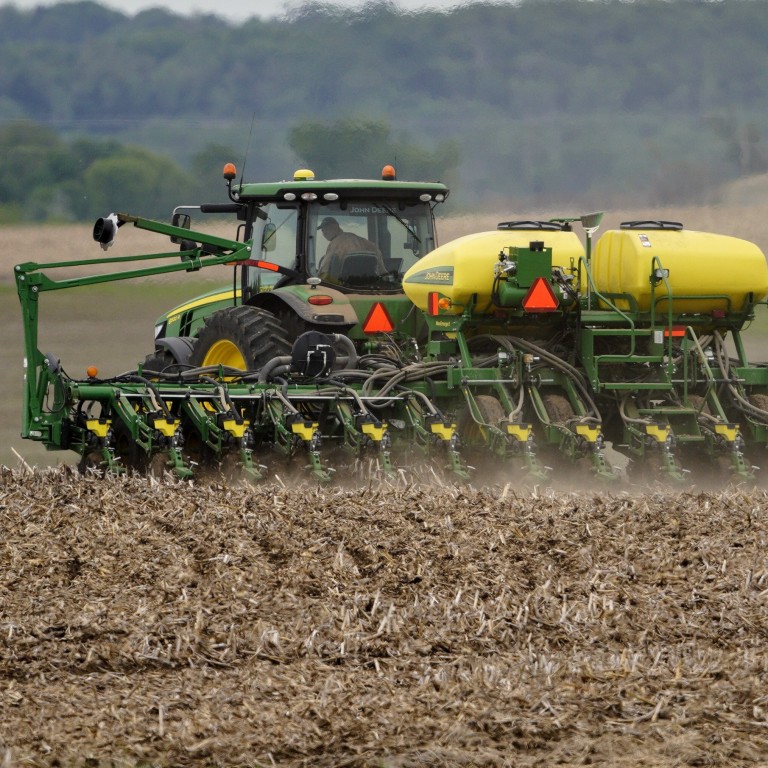 In wake of coronavirus can China keep its trade deal promise to US?
US soybean farmers have planted this season's crop but orders from their top customer are down in favour of the beans from Brazil
Pandemic-driven low prices combine with weak demand as Chinese livestock producers restock after African swine fever
The economic fallout of the
coronavirus pandemic
may prevent the world's largest consumer of soybeans from meeting its promise to buy US$40 billion to US$50 billion worth of agricultural products from the US.
The commitment was part of the
phase one trade deal
struck in January between Washington and Beijing and will largely hinge on soybeans, by far China's largest agricultural import from the US, which are crushed into feed for livestock.
But China has been stocking up on beans from Brazil – America's chief competitor in the soybean market – which have become far cheaper in the economic turbulence caused by the pandemic.
China's purchases of Brazilian soybeans hit a record 11.6 million tonnes in March, while purchases of American beans remained low, with just 12.6 million tonnes ordered so far for the entire year, according to the US Department of Agriculture.
That is slightly below the 12.9 million tonnes ordered at the same time last year, when trade tensions were high. In contrast, two years ago – before the start of the
trade war
– China had ordered nearly 30 million tonnes of US beans by April 2018.
American soybean farmer Dave Walton, who has just planted his latest crop at his farm in eastern Iowa, is worried his biggest customer will fail to keep its promise under the phase one trade deal.
"The Chinese trade team have made clear that they intend to make good on the deal, but if you look at the base of purchases, they're behind where they need to be right now," he said.
"We need to make sure they live up to the deal they just signed, and hold their feet to the fire if they don't – an agreement is an agreement."
Politicians, including US President Donald Trump, are trying to maintain their optimism but analysts feel China is unlikely to meet its promised target in agricultural purchases, roughly half of which were in soybeans in the years before the trade war.
Speaking on Tuesday, Trump said China's purchases had "gotten a little bit waylaid by the virus", but he expected China to hold to the deal.
"I know President Xi. I think he will live up to it. If he doesn't live up to it, that will be OK too because we have very, very good alternatives," he said.
London-based economist Cailin Birch at The Economist Intelligence Unit (EIU), said the situation remained fluid, "but we assume that China will be unable to meet the full agricultural purchase agreements as laid out in the phase one trade deal".
The EIU has forecast just 1 per cent economic growth for China this year.
"We do not expect this to be strong enough to support the demand levels necessary to meet the phase one trade deal stipulations," Birch said.
"As a result, we expect the US government to put heavy pressure on China to continue to buy US agricultural goods, but the exact targets are likely to be missed without any retaliation from the US."
Beyond the slowdowns caused by the pandemic, China is still struggling to revitalise its pig population after African swine fever killed about 60 per cent of its hogs. While the herd is slowly being replenished, future demand for soybeans – the main ingredient in their feed – is still likely to be weak.
Darin Friedrichs, senior Asia commodity analyst at trading house INTL FCStone in Shanghai, said he thought there was almost no chance China would be able to meet its agreed purchases.
"It all depends on how quickly we get out of this. It's closely linked to the Covid situation – meat demand in China is closely linked to whether the economy is doing well and people are going out to eat. But the underlying demand is still not great," he said.
China is still struggling to control the spread of African swine fever nearly 18 months after it was first reported in the country. The disease cannot be contracted by humans but is lethal to pigs.
The agriculture ministry reported two new cases on Sunday – one each in the northwest provinces of Gansu and Shaanxi – which killed several dozen pigs.
"The recovery in China's hog industry is driving demand for soybeans, though uncertainties about just how quickly the country's herd will be repopulated mean that demand projections for the next few years are highly tentative," said Sanjeeban Sarkar, another London-based analyst at EIU.
"Broadly, we expect a sustained recovery … to 2022. If further outbreaks are better managed, demand for soy from China will accelerate, boosting global demand," he said.
This article appeared in the South China Morning Post print edition as: Beijing 'may not meet' promise on u.s. Soybeans