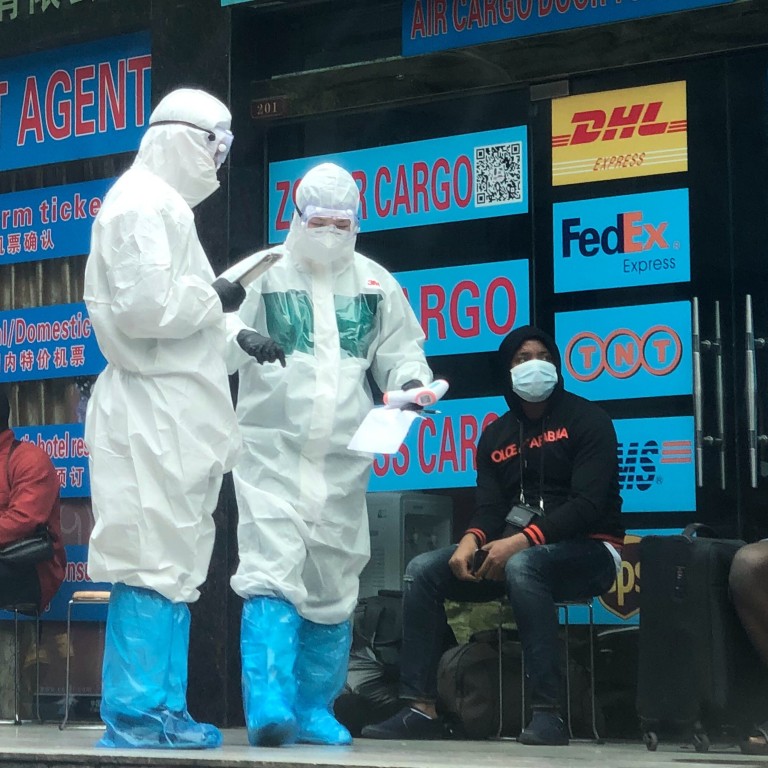 'It will come back to haunt us': inside warnings against China's 'Wolf Warrior' coronavirus diplomacy
Chinese observers and former envoys caution against Beijing's attempts to define international opinion in the face of a global health crisis
Be aware of criticism in usually friendly countries as they question China's position, observers say
Beijing should scale back its combative efforts to change the narrative over
the coronavirus pandemic
and rein in rising nationalist sentiment because the attempts have backfired and hurt its international reputation, Chinese diplomats and foreign policy experts have said.
It is rare for Chinese observers to issue such blunt warnings about their country's tactics, especially since China has taken an increasingly strident tone against the United States and its Western allies in the past two years.
But Shi Zhan, an associate professor and director of the World Politics Centre at China Foreign Affairs University, said the rise of nationalism among diplomats was particularly dangerous considering the soaring distrust of China and a pulling away from Beijing by Western countries.
With a looming global recession, the loss of trust and credibility was a lot more harmful than weak overseas demand and loss of manufacturing orders, Shi said in an interview with networking platform Zhisland.com.
He said comments such as those by foreign ministry spokesman Zhao Lijian to deflect the blame for quality problems with masks and China's other medical exports were particularly counterproductive.
Zhao said in a tweet on March 20 that "if someone claims that China's exports are toxic, then stop wearing China-made masks and protective gowns".
Shi said: "To an overseas audience, Zhao sounded like he was using [the supply of] masks as a threat and it immediately becomes a security issue when the masks are seen as being weaponised."
He also warned of changes in global supply chains that would pose major challenges to China's economy amid the biggest contraction in decades.
"These kinds of unchecked assertions hyping up mistrust and confrontation will do a lot more harm to China's manufacturing sector than the virus," Shi said. "The approach championed by wolf warriors is not sustainable because the more strident you are, the more isolated you are and the farther you will be away from the world."
Speaking at a seminar in Beijing on Wednesday, Cheng Tao, China's former envoy to Mali and Morocco, cautioned that despite Beijing's well-intended medical aid, there would be harsh criticism towards China from all over the world, including African countries.
"To understand and prepare for stinging views specifically against China, we must have a rational, accurate assessment of ourselves and our position in the world. It is of the utmost importance for us to know about our own limits," Caixin magazine quoted him as saying.
Cheng said the coronavirus should serve as "a wake-up call" for the government and the people in an increasingly chaotic world, as the country faces a devastating economic blow and escalating rivalry with the United States and its allies.
Noting a change in behaviour and rhetoric among many senior diplomats, he cautioned against sensational remarks, diplomatic swagger and gloating over other countries' suffering, which he said "would do nothing to help, but come back to haunt our own".
Their comments came as Global Times, a nationalist tabloid controlled by Communist Party mouthpiece People's Daily, defended wolf warrior diplomacy on Thursday, calling it a natural result of "the changing strengths of China and the West".
The newspaper said that compared with the "flaccid diplomatic tone" of the past, Chinese diplomats had become more astute and less subtle in fending off criticism and protecting China's interests. Others have also said that China has to defend itself strongly as politicians in other nations push for Beijing to pay compensation for the pandemic.
Under President Xi Jinping's call for "a fighting spirit", China's diplomats have become increasingly assertive on the world stage, with Beijing repeatedly resorting to nationalism in recent years over the trade war, mass protests in Hong Kong and the fate of Chinese telecoms giant Huawei.
But experts have warned that stoking nationalist sentiment, especially when combined with disaster opportunism, is a double-edged sword that could easily backfire and make it more difficult for sensible and rational decisions.
Former ambassador to Egypt and Saudi Arabia Wu Sike said Beijing needed to be on alert when critical views emerged in countries that were usually friendly, such as Iran, which was among the first to receive medical aid from China.
"We must remain sober-minded that there are different voices and perceptions even in friendly nations," he said.
Wu confirmed media reports about a rare diplomatic spat between a
sanctions-stricken Tehran
and its top oil buyer Beijing early this month.
Iranian health ministry spokesman Kianush Jahanpur questioned on Twitter the authenticity of China's official coronavirus statistics, especially its relatively low death tolls, calling it "a bitter joke". He backtracked and deleted the tweet after a protest by Chinese ambassador to Tehran Chang Hua.
According to Wu, Jahanpur was not the only one in Iran who was upset with Beijing over the coronavirus, with a number of Iranian parliamentarians also voicing dissatisfaction.
"But we cannot allow the relatively good relations with those countries to be affected simply because of those critical views. They are the real foundation of China's diplomacy," he said.
This article appeared in the South China Morning Post print edition as: alarm raised at spread of 'wolf warrior' tactics