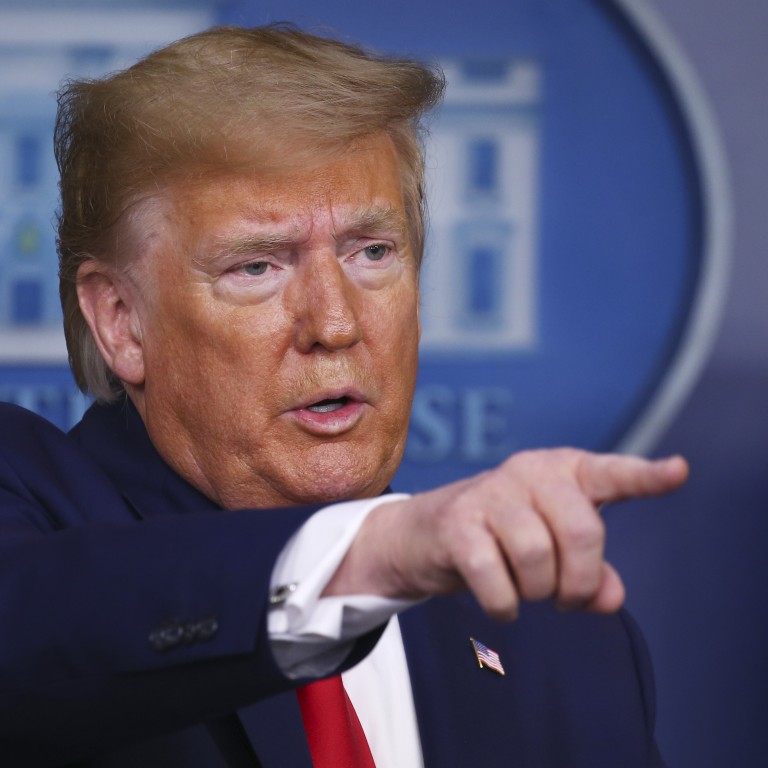 Donald Trump's latest attack on China over coronavirus 'highlights challenge in repairing relations'
The US President's warned that China should 'face consequences' if it was 'knowingly responsible' for the Covid-19 outbreak
Observers expect US hostility towards to China to remain and say Beijing will struggle to overcome that if it wants to improve matters
Donald Trump's latest attack on China over the Covid-19 outbreak should serve as a reminder to Beijing of the difficult road that lies ahead if it wants to repair relations, analysts have warned.
In his latest barb at China, the US President said on Saturday that Beijing should face consequences if it was "knowingly responsible" for the coronavirus pandemic.
"If it was a mistake, a mistake is a mistake," Trump said. "But if they were knowingly responsible, yeah, I mean, then sure there should be consequences," he told reporters at a news briefing at the White House. He did not specify what actions the US might take.
In recent days the two sides have scaled back their rhetoric and stopped pointing the finger at each other over the handling of the crisis.
Instead, Trump has targeted a range of other targets, including the media, the Democrats, state governors and the World Health Organisation, accusing them of failing to appreciate his "incredible" performance.
But Chinese observers said the relationship between China and US would become more confrontational and Beijing had to learn to live with the hostility.
Victor Gao, a vice-president of the Centre for China and Globalisation, a Beijing-based think-tank, said it was "not meaningful" to guess what Trump would do next, adding there was no justification for "Trump or whichever politician in the United States" to blame China.
"Actions of prejudice and bigotry will be as bad as the coronavirus itself," Gao said. "It will come back to haunt them one day, one way or another".
As Washington's mistrust and hostility towards Beijing increases, calls for China to be more aggressive in hitting back have been growing.
Hu Xijin, the editor-in-chief of Global Times, a tabloid affiliate of People's Daily, wrote on the Chinese social networks Weibo and WeChat that China should take "necessary actions" that would make life harder for the Trump administration.
Hu suggested that China should export emergency medical equipment directly to state governments in the US and withhold exports to the Federal Emergency Management Agency as a way of weakening Trump's position against Democratic state governors such as Andrew Cuomo in New York.
It's not known whether Hu's suggestions will be adopted by Beijing.
Meanwhile, China is attempting to reach out to Americans who take a more conciliatory stance.
In the latest example, the Chinese People's Association for Friendship with Foreign Countries, announced that it had held a teleconference with the China California Climate Institute, an environmental think tank set up by former California governor Jerry Brown on Friday.
Participants included former US treasury secretary Henry Paulson, former New York mayor Michael Bloomberg, Li Xiaolin, the daughter of the former president Li Xiannian and Fu Ying, the
chairman of the National People's Congress foreign affairs committee.
Lin Songtian, China's former ambassador to South Africa who replaced Li Xiaolin as the association's new chair, was also present.
While details of the discussions were not published, a brief statement said the two sides had called on US and China to enhance cooperation to "jointly handle global challenges such as the coronavirus outbreak and climate change".
But Liu Weidong, from the Institute of American studies at the Chinese Academy of Social Sciences, a government think-tank, said hopes for "joint efforts by China and the US to tackle global challenges" are fading as the White House clearly has no interest in it.
Liu noted that China was only able to talk to former officials and non-government figures who were not able to implement policy.
Liang Yunxiang, an international relations specialist at Peking University, said the strategic rivalry between the two sides looked set to continue.
He said it was "good that China and the US can hold … meetings to talk about cooperation, but such meetings can hardly change he course of the worsening strategic competition between the two countries".
This article appeared in the South China Morning Post print edition as: 'Hard road ahead' for China to repair relations with US