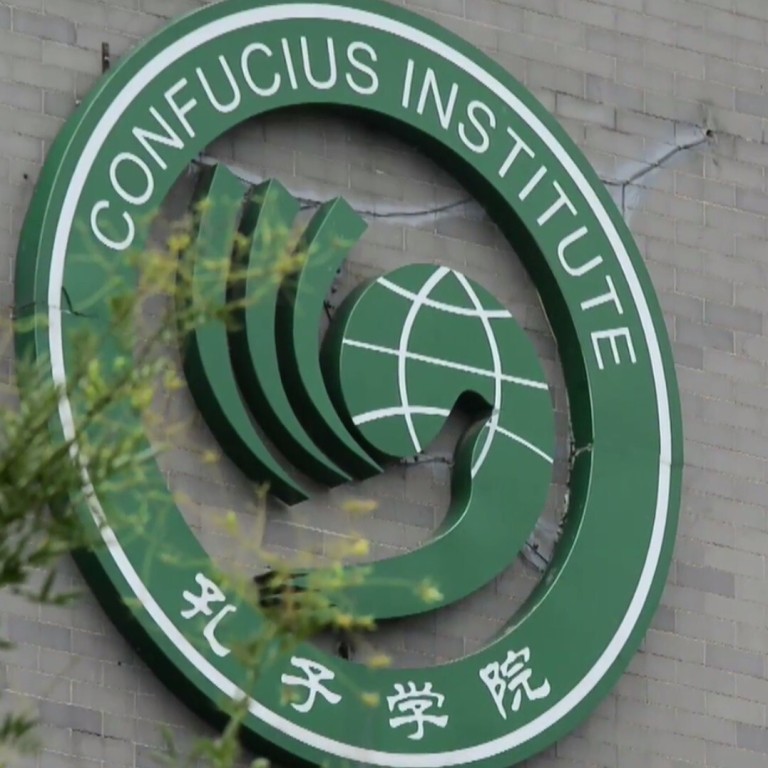 Belgian judges overturn ban on Chinese Confucius Institute professor accused of spying
Eight-year bar from entering Europe's visa-free area 'not valid' but no ruling made on validity of espionage claims
Song Xinning denied accusations of recruiting for Chinese intelligence while head of controversial institute in Brussels
A Chinese professor accused of espionage has won his case against a Belgian order which barred him from the European Union's visa-free Schengen Area for eight years.
Song Xinning
had just completed his tenure as head of a Confucius Institute in Brussels when he was accused last year by Belgium's state security service of conducting espionage activities and his visa was cancelled, effectively denying him entry to 26 European countries.
A judgment handed down by Belgium's Council for Alien Law Litigation found in Song's favour on a procedural technicality. It made no ruling on the validity of the espionage claims.
Julien Hardy, Song's lawyer, said his client could now apply for a visa but it was possible he would be charged with spying if he entered Belgium, although any case would need stronger evidence than so far provided by the authorities. Hardy said the evidence provided to the hearing was "short in length and vague".
Song, 65, was head of the Beijing-funded Confucius Institute at the Vrije Universiteit Brussel (VUB) from February 2016 to July 2019. His case was one of the most high profile controversies related to the institutes – officially intended to promote Chinese language and culture – which have been facing direct and public accusations of espionage in Europe
following repeated warnings from the US
.
He was accused of acting as a recruiter for Chinese intelligence services and hiring informants from the Chinese student and business communities in Belgium, according to a security report submitted by the Belgian state in its argument to uphold the ban.
"People told me I couldn't win a case against the Belgian state," Song told the South China Morning Post. "But I won. I have already received invitations to go on some short academic trips. I would like to go to Europe from time to time still, it is my area of expertise no matter what."
According to the judgment, the Belgian government had attempted to impose an eight-year entry ban "because [Song] constitutes a serious threat to public order or national security". However, the council found an entry ban of such length could not be issued "without a decision to expel".
Because Song had left Belgium before a removal note was issued, he could not be subjected to such a ban, according to the three judges who heard the appeal. The judgment also noted that VUB had been warned about Song and the Confucius Institute by the state security service in May 2019.
Song, whose tenure at the institute was extended from March to July last year, was told by Belgian immigration authorities on July 30 last year that his work visa would not be renewed because he "supported Chinese intelligence activities".
The state argued that Song had not contested the decision within the time period laid down by the immigration department. He left the country with his wife on July 31 and was informed of the ban on entering the Schengen Area by the Belgian embassy in Beijing in September.
Neither the Belgian government's representative at the hearing nor the state security service have responded to the Post's inquiries. However, Belgian newspaper De Morgen quoted a Brussels immigration spokesman as saying the refusal of Song's visa remained intact.
"The Belgian refusal also remains visible in the visa information system, in which all member states can see the refusal and the motivation if he applies for a new visa," the spokesman was reported to have said.
Song, whose expertise is in China-European studies, is a professor at Beijing's Renmin University and has travelled frequently to Europe for work since the 1990s. He lived in Belgium between 2007 and 2010, and again from 2016 until last year.
Since 2004, China has set up more than 480 Confucius Institutes around the world. They are run by a branch of the Chinese Ministry of Education known as Hanban. The institutes have been under increased scrutiny from Western governments over allegations ranging from being a propaganda arm to agencies for Chinese espionage activities – assertions repeatedly denied by Beijing.
The Confucius Institute where Song worked was
closed down in December
by VUB which said it was "not in line with [our] principles of free research" based on information it had obtained. Another institute was also terminated by the University of Brussels in December.
The closure of the Confucius Institutes in Brussels followed similar decisions to terminate the facilities elsewhere in Europe, including the University of Leiden in the Netherlands, Stockholm University in Sweden and Lyon University in France.
Ingrid d'Hooghe, China scholar at the LeidenAsiaCentre, said she would not be surprised to see more institutes in Europe closing their doors in the near future.
"Universities and national governments in Europe are starting to look more critically at the Confucius Institutes and their governance structure. They are increasingly realising that it may not be a good idea to have an institute that is steered and controlled by a non-democratic foreign government embedded in their own institution," she said.
Last year, several major US colleges, including Pennsylvania State University and the University of Chicago, cut ties with the Confucius Institute after professors complained its programmes were Chinese propaganda wrapped in culture and language education.
This article appeared in the South China Morning Post print edition as: Europe Ban overturned on academic accused of spyingJUDGES OVERTURN BELGIAN BAN ON 'SPY' CLAIM PROFESSOR