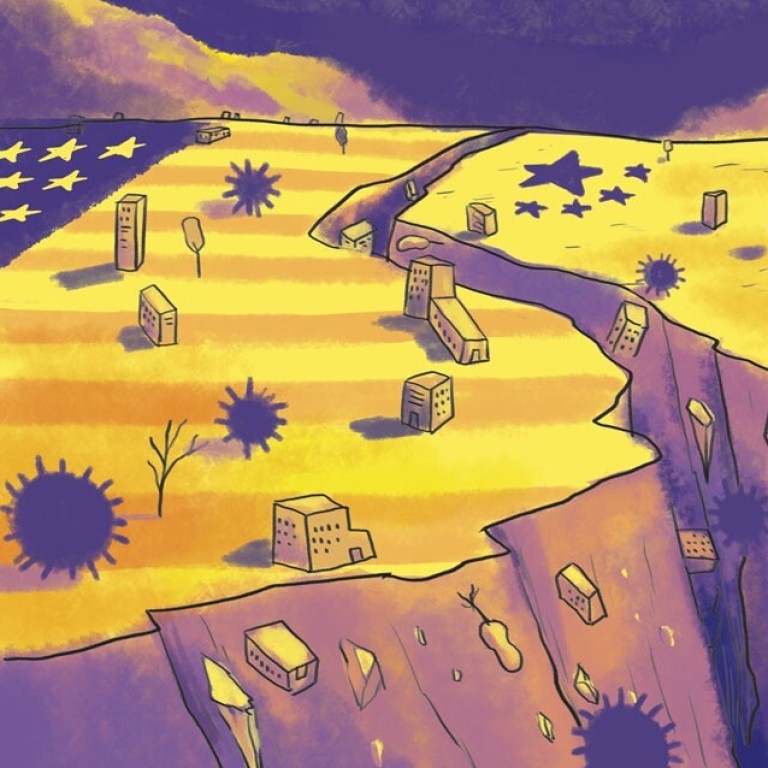 Coronavirus infects China-US relations as blame game over pandemic intensifies
The global health crisis has killed tens of thousands of people, battered economies and put a severe dent in Beijing's relations with other countries
In the face of a possible global backlash, Chinese President Xi Jinping said the country must be prepared for unprecedented external adversity and challenges
This is the second in a series of five stories exploring the global backlash that China may face as a result of its actions and rhetoric during the coronavirus pandemic. This story examines the outlook for China-US relations, including the risk that the pandemic's impact and the responses of China and the US to it will push the two largest economies in the world into a new Cold War.
The new
coronavirus
has caused a global disease epidemic and all but turned the lights out on much of the world's economy. The next ripple effect could be a new Cold War, this time between China and the
United States
.
The world's two biggest economies are still trying to grasp the unprecedented scale of the pandemic's consequences.
Global growth forecasts have been ripped up and job losses are running into the millions and counting, while governments are pulling together rescue packages worth hundreds of billions of dollars that dwarf those of the financial crisis 12 years ago.
Although it remains unclear when and how the pandemic will end, Beijing looks set to brace for increased opposition to its global ambitions. Chinese President Xi Jinping said this month that the country must get ready for unprecedented external adversity and challenges in the long run.
Emerging from the fog of this new world disorder is a Beijing leadership preparing for an international backlash of blame over the disease outbreak, first identified in the central China city of Wuhan. It is also a leadership determined to push back, according to diplomatic observers.
"The health crisis will have a detrimental impact on US-China relations beyond anything we have seen so far," said Gal Luft, co-director of the Institute for the Analysis of Global Security, a Washington based think tank.
Mainland Chinese authorities have kick-started an internal process to solicit advice from think tanks, academics and others on how to deal with an increasingly adversarial global environment, said a government adviser who declined to give his name.
At the same time, the devastating human toll and suffering caused by Covid-19 has prompted soul-searching among Chinese officials, the intelligentsia and media professionals, observers say. That includes asking questions about China's role in a post-coronavirus world.
"If the pandemic ended tomorrow, it might be possible to patch things up to a degree, but its effects will cast long shadows," said George Magnus, an associate at Oxford University's China Centre and former chief economist at UBS Investment Bank.
He said that there would be consequences if China was found to be "knowingly responsible" for the outbreak that has now killed more than 200,000 people around the world.
The British government also waded in, with cabinet minister Michael Gove telling the BBC last month that China had failed to convey the "scale, nature and infectiousness" of the disease.
German Chancellor Angela Merkel joined the chorus, calling for more transparency from China about the origin of the virus.
This all pointed to "tense international relations" in the post-coronavirus world, Magnus said.
Sourabh Gupta, a policy specialist at the Institute for China-America Studies in Washington, said it was too early to have a clear idea of the impact of the coronavirus crisis, "especially at a time when many chapters of the Covid-19 story have yet to be written".
"We are already witnessing the knee-jerk backlash against China," he said.
According to Ken Jarrett, a senior adviser at consulting firm Albright Stonebridge Group and a former president of the American Chamber of Commerce in Shanghai, deepening distrust and antagonism on both sides might be "the true casualty" of the coronavirus pandemic.
"I do fear this will get worse in the months ahead because, as the cost of this calamity becomes more apparent to Americans, it will be a natural inclination to try to blame somebody for this," he said in the chamber-hosted China Voices podcast on April 7.
With the US entering the presidential election cycle, Jarrett said the blame game would further aggravate negative views about China in the US.
The survey, which polled 1,000 people, found that cyberattacks, the US trade deficit, military rivalry and human rights violations were the issues Americans most associated with China.
Other analysts said Beijing had launched its well intentioned medical aid diplomacy but then stumbled with a propaganda campaign when it said its system of government was behind its success in containing the virus at home.
"Initiating propaganda to narrate itself as the fire chief in the pandemic fight while other countries are trapped in the virus outbreak led to antipathy," said Shi Yinhong, a government adviser and a professor of international relations at Renmin University.
While the coronavirus threatens to usher in a new Cold War, it has also brought world business to a grinding halt and exposed the vulnerabilities of global supply chains that run through China's export-dependent economy.
Dan Wang, an analyst at Gavekal Dragonomics, said the power conflict between the US and China would change economic structures.
"Given that the US and China are more openly adopting a mindset of great power competition, it is becoming increasingly risky for companies to depend too much on either country as links in their supply chains," he said.
Magnus said that on the political and economic fronts, the crisis was a time for leadership with the courage to take bold steps.
"But I don't see this anywhere on Xi's agenda, which will probably draw the conclusion from the Covid-19 crisis that the centralisation of power and control, and stifling of markets are precisely what China needs."
Other observers said the global coronavirus fight could have provided an opportunity to take some heat out of the China-US rivalry, which has increased in tempo and tone since Trump won the 2016 US presidential election.
Beijing and Washington combating Covid-19 together as a global crisis could have built some goodwill after their conflicts over trade, the South China Sea, Taiwan, Xinjiang Uygur autonomous region and other disputes, analysts said.
Instead, the opposite happened.
Luft said Trump was unlikely to back down from his confrontational approach on China in the lead-up to the November presidential election.
"Trump is known for his tendency to shirk responsibility and shift the blame to others," he said. "In the face of the biggest crisis of his presidency, and as he gets closer to the elections he is likely to openly put the blame on China, and allow his deputies to do so even more explicitly."
Scott Kennedy, senior adviser and trustee chair in Chinese business and economics at the Centre for Strategic and International Studies in Washington, said both Xi and Trump were "nationalist in ideological orientation" and showed little inclination for cooperation.
He said also that the poor performance of governments and global institutions, such as the G20, might result in a worse outcome than expected.
Chen Zhiwu, director of the Asia Global Institute at the University of Hong Kong, echoed those views.
"The most negative and lasting implications of the coronavirus crisis will be the world economy disengaging more rapidly from China and a new Cold War," he said in an interview on April 8 with Shenzhen Satellite TV.
Yun Sun, a senior fellow at the non-partisan Stimson Centre in Washington, said it was natural for major powers to exploit each other's vulnerabilities, noting China's irritation over Trump's use of the phrase "Wuhan virus" and jabs at China's autocratic system of government.
"Covid-19 has damaged the credibility of both the US and China. And China may not emerge as the winner. It can. But that requires China to accept responsibilities and assist others without geopolitical calculations," Sun said.
"In other words, it requires China to go high when some others go low, not go lower because it can."
Several observers said that last year's trade war undermined China-US economic ties, long considered the ballast of bilateral relations. This in turn damaged cooperation on other levels, such as academic, cultural and education exchanges.
Zhao Tong, a senior fellow at the Carnegie–Tsinghua Centre for Global Policy think tank in Beijing, said the foreign policy communities in both countries also faced a decoupling risk.
"Increasingly, they talk past each other and live in parallel universes. The widening perception gap presents the greatest threat to the bilateral relationship," Zhao said.
For many China commentators, the Trump administration's underwhelming performance in the Covid-19 fight has strengthened their belief that China's one-party rule has some advantages to help outcompete the US in the long run.
That helps to explain the efforts by state media and Chinese diplomats around the world to tout the so-called China model under Xi's leadership.
But dealing with the Covid-19 outbreak was more a question of crisis management preparation than the nature of national regimes, said Lizza Bomassi, deputy director of Carnegie Europe, a foreign policy think tank.
"Paradoxically, I think the coronavirus crisis will make people in the West more appreciative of the value of the democratic system that they live in because they have gotten a temporary taste of what it's like to live under a semi-authoritarian regime," she said.
Other analysts, including Sourabh Gupta, said the coronavirus might derail many of Beijing's domestic policy goals and put its relations with many China-friendly countries to the test.
"This is a time for it to keep a low profile, do good overseas medically and go beyond the realm of assisting stricken countries. This is certainly not a time for 'disaster opportunism'," he said.
"Longer term, China had better get used to what will become the accurate characterisation: that the belt and road is also the route by which viruses travel," Gupta said.
Beside aggravations with the US and Europe, China's relations with Africa, the country's strategic ally in plans to build global trading and investment networks, have also been strained in recent weeks. This followed reports of discrimination against Africans living in China amid coronavirus fears.
In a rare step, African ambassadors sent a complaint to China's foreign ministry protesting against "stigmatisation and discrimination" that left many Africans homeless after being evicted from their flats and hotels in Guangzhou. Beijing denied the allegations.
China, the largest investor and trade partner for the African continent, may also have to write off billions of dollars in debt at the request of countries devastated by Covid-19.
China has pumped an estimated US$143 billion into Africa, mostly on infrastructure projects from railway lines and motorways, to ports and airports to power stations, according to Johns Hopkins University.
"China has a responsibility to display forbearance and even provide significant restructuring and debt relief if the coronavirus tears through Africa and demolishes its near-term economic prospects," Gupta said.
On the future of China-US ties, Sun challenged the suggestion by many experts that the coronavirus could become a defining moment for relations between the two countries.
"There will always be the hawks that try to milk strategic utilities out of crisis, but it doesn't mean that one crisis will completely change the power equilibrium and a new structure will emerge," she said.
However, Luft said, in the shorter term the US and other countries would put pressure on China, with some likely to file lawsuits over Beijing's alleged responsibility in spreading the pathogen beyond its borders.
"In the coming summer, the world will be engaged in blame games instead of Olympic Games and this will create a uniquely toxic international environment."
Read the first part in the series to learn about the push by countries to bring home the production of goods after a period of over-reliance on China.