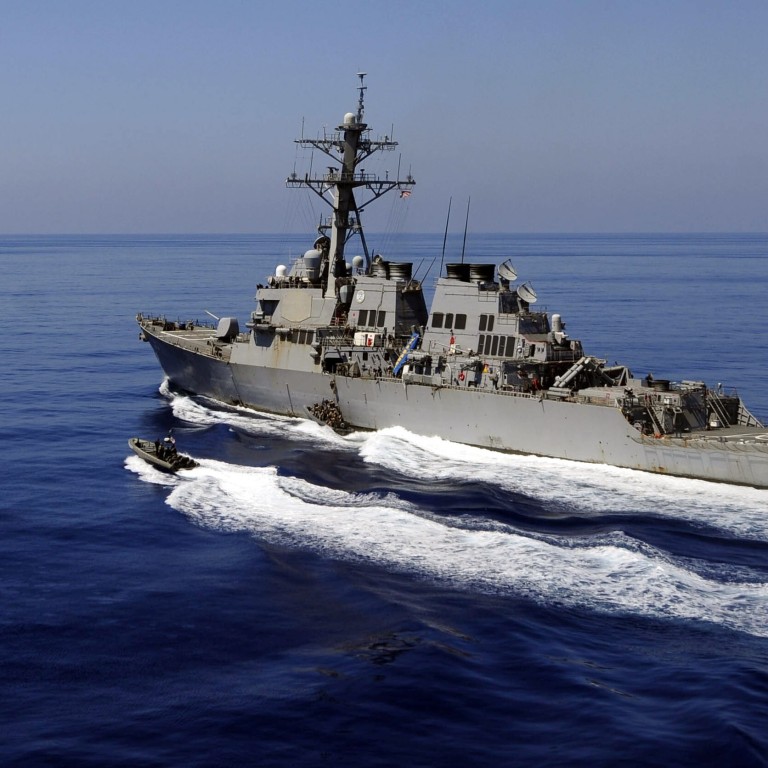 Chinese military lashes out at American warship's 'intrusion' in South China Sea
PLA scrambles air and sea patrols near Paracel Islands in response to what it says is violation of Chinese sovereignty
Tensions rise in region, with both countries at odds over handling of the coronavirus pandemic
The Chinese military has accused an American guided-missile destroyer of "intruding into Chinese territory waters" near the Beijing-controlled Paracel Islands, saying the "provocative act" violated Chinese sovereignty.
The People's Liberation Army's Southern Theatre Command, which oversees
the South China Sea
, said the USS Barry destroyer intruded into "waters around the Paracel Islands without permission" on Tuesday, prompting the command to scramble air and sea patrols to "track, monitor, verify, identify and expel" it.
The warning came as Taiwanese media reported that the American vessel sailed through the Taiwan Strait twice in this month, followed both times by PLA warships.
"These provocative acts by the US side … have seriously violated China's sovereignty and security interests, deliberately increased regional security risks and could easily trigger an unexpected incident," a statement posted on the military unit's WeChat social media account quoted Li Huamin, a command spokesman, as saying.
"[The acts] were incompatible with the current atmosphere as the international community is fighting pandemic … as well as the regional peace and stability."
The Paracel Islands, known as the Xisha Islands in China and the Hoang Sa Archipelago in Vietnam, are a group of more than 30 islands in the South China Sea located between the coastlines of Vietnam and China. They are controlled by Beijing but also claimed by Taipei and Hanoi.
In January, Li also lashed out at the US for "deliberate provocations" during the Lunar New Year holiday after the USS Montgomery littoral combat ship passed by the Spratly Islands, also in the South China Sea.
China claims almost all of the South China Sea, waters where Vietnam, Brunei, Malaysia, the Philippines and Indonesia also have claims.
Tensions in the region have worsened in the last month with a war of words between Beijing and Washington over
the coronavirus pandemic
.
In the exchanges, US Defence Secretary Mark Esper criticised Beijing of failing to share information about the pandemic while Beijing accused Washington of dismissing China's efforts to control the contagion.
Rather than joining forces to contain the pandemic, both sides have increased their military presence in the Taiwan Strait, as well as the South and East China seas.
On April 22, the Yokosuka-based USS Barry transited the Taiwan Strait before heading to the South China Sea. A day later, the PLA's aircraft carrier, the Liaoning, led its strike group through the strait.