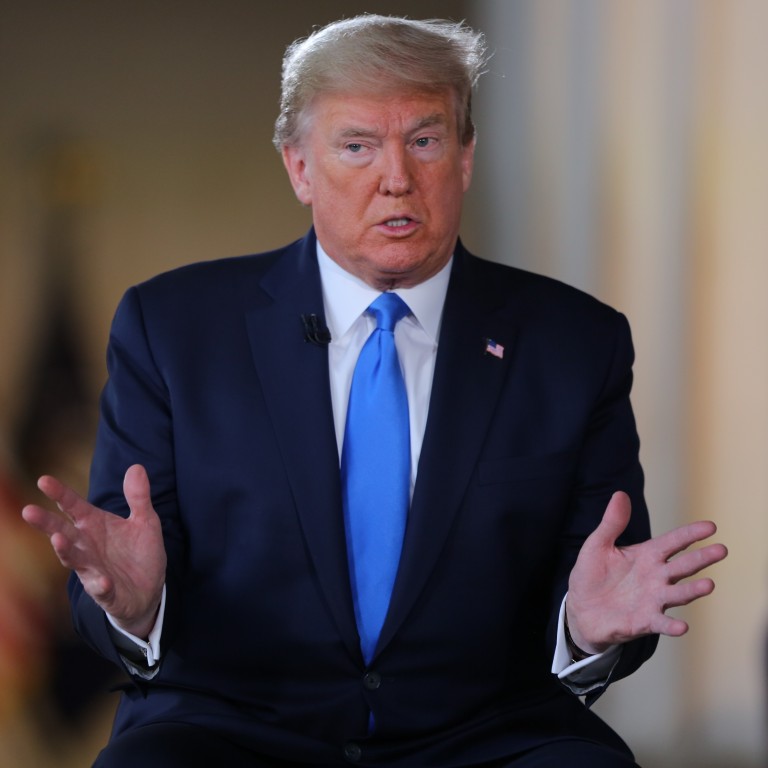 Trump says he will kill phase one trade deal if China US$200 billion spending promise falls short
Slowdown in Chinese economy due to coronavirus pandemic may have affected Beijing's ability to keep the deal but US president says 'they have to buy'
Also suggests China let the virus spread beyond its borders intentionally, while staying away from Wuhan lab theory
US President
Donald Trump
has threatened to terminate the
phase one trade deal
if China fails to fulfill its promise to buy US$200 billion more in American goods and services.
During a virtual town hall from the Lincoln Memorial in Washington on Sunday, Trump said China's President Xi Jinping had only agreed to the deal because of the Washington-imposed tariffs which "at a minimum are the greatest negotiating tool that we have ever devised that we never use".
Many have speculated that China's ability to make the purchases has been significantly damaged by the
coronavirus pandemic
, which led to the country's first economic contraction since 1987, after months of lockdown to contain its spread.
"We're going to have to see what's going on [with the purchases] because of what happened," said Trump. "They took advantage of our country. Now they have to buy and, if they don't buy, we will terminate the deal. Very simple."
The phase one deal ended threatened tariffs on around US$155 billion worth of Chinese imports that were set to take effect at the end of 2019, and halved tariffs to 7.5 per cent on another US$120 billion in goods. But it kept in place the 25 per cent import taxes on US$250 billion worth of Chinese products.
In exchange, China pledged to buy, over two years, at least US$200 billion more in American goods and services than it did in 2017, including about US$40 billion in agricultural goods.
At Sunday evening's town hall, Trump also addressed the question about the origin of the coronavirus, which has so far infected more than 3.5 million people and killed more than 245,000 around the world.
He stayed away from the allegation – which scientists have described as highly unlikely – that the virus originated in a Wuhan lab but suggested China had intentionally let the virus spread beyond its borders.
"Personally I think [China] made a horrible mistake. They tried to cover it up. It's really like [they were] trying to put out a fire. They couldn't put out the fire," Trump said.
"What China really treated the world badly on was, they stopped people going into China, but they didn't stop people going into the USA and all over the world," he said. "You couldn't fly out of Wuhan to go to Beijing and or to any place in China... you could fly out of Wuhan, where the primary problem was, to different parts of the world. What's that all about?"
Trump said a "case could be made, that China said, 'hey, look, this is going to have a huge impact on China, we might as well let the rest of the world [have the problem too]'." He also said "a very strong report" would be delivered soon "as to exactly what we think happened. And I think it'll be very conclusive".
The administration is now pursuing investigations about the origins of the coronavirus, making the Wuhan Institute of Virology the centre of a number of conspiracy theories. Analysts have recently said Trump could wield it as a weapon to deflect attention from his China-friendly comments earlier in the outbreak if evidence surfaced proving such a theory.
US Secretary of State Mike Pompeo said on Sunday that there was "enormous evidence" that the coronavirus pandemic originated in a laboratory in Wuhan. "I think the whole world can see now, remember, China has a history of infecting the world and running substandard laboratories," he said on ABC's This Week.
Meanwhile, the US is formulating a raft of measures to hold China responsible for the pandemic's damage that includes sanctions, cancelling US debt obligations and drawing up new trade policies.
Trump's super PAC released a TV ad campaign in April painting Joe Biden as soft on China. The Biden campaign rebutted in videos, hitting Trump for eliminating US pandemic preparedness resources and for praising China's "efforts and transparency" in its virus response.