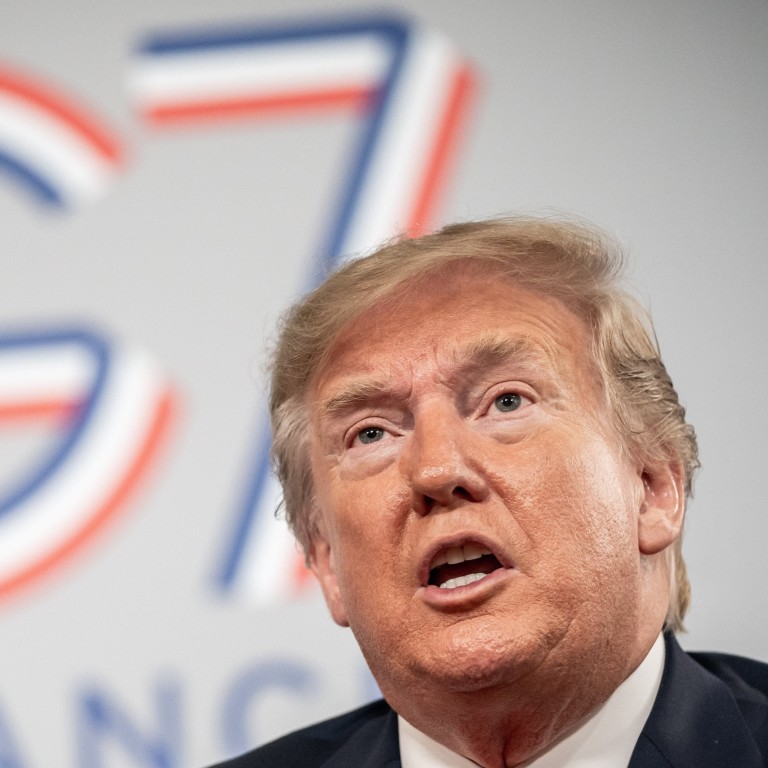 Donald Trump's 'G11' plan heightens speculation over efforts to build new anti-China alliance
US President says Australia, India, South Korea and Russia should attend G7 summit in move that some observers see as latest effort to contain and isolate Beijing
White House says China is likely to feature on agenda for summit, which comes at a time of growing tension between China and US
US President Donald Trump plans to invite Australia, India, South Korea and Russia to join an upcoming Group of Seven meeting, in a move that has stoked speculation that he is trying to form a bloc to contain China.
Trump did not say whether he wanted the G7 to become the G11 permanently , but said on Saturday that he wanted to invite the four to attend the summit and said he felt the group was "very outdated".
White House spokeswoman Alyssa Farah said Trump wants the summit to discuss China, and the announcement follows escalating tensions between Washington and Beijing over issues such as the handling of the Covid-19 pandemic and Hong Kong.
South Korea and Australia are both long-standing US allies, and the latter has backed calls for an independent inquiry into the source of the coronavirus and also expressed concerns about the planned national security law for Hong Kong.
India, which is at the centre of Washington's Indo-Pacific strategy, also has a range of disagreements with China, including their current border stand-off in Ladakh.
However, Russia has been building an economic and strategic partnership with Beijing and was kicked out of the G8, as it was at the time, following the 2014 invasion of Ukraine and annexation of Crimea – which calls its willingness to join any US-led bloc into question.
However Trump has on several occasions suggested the country should be invited back, due to its global strategic importance.
Ni Feng, director of the Institute of American studies at the Chinese Academy of Social Sciences, said Trump was trying to mobilise support from US allies in containing China.
"The intention is simple: to isolate China," Ni said. "It is just the beginning, and more containment measures will follow."
John Lee, a senior fellow at the Hudson Institute, a Washington think tank, said the US "may be looking to advance an agenda which will consider placing responsibility onto China for the latter's failures in allowing a pandemic to occur".
The emergence of a new grouping would concern China which remains "paranoid about being excluded in emerging institutions", said Lee, who is also a fellow at the United States Studies Centre at the University of Sydney.
China has been seeking to increase its influence in multilateral institutions and platforms over the past decade which – coupled with its rising economic power – has caused increasing concern in Washington.
For example, Trump cited Beijing's increasing sway in the World Health Organisation when he announced that the US would terminate its relationship with the body.
The idea of expanding G7, whose current members are the US, Italy, Germany, France, UK, Japan and Canada, could be Washington's latest attempt to forge an international coalition without China.
Wang Wen, executive dean at Chongyang Institute for Financial Studies at Renmin University in Beijing said it would be impossible for US to form a "global cold war frontline against China".
"One thing is absolutely sure: the soft power and leadership of US has been greatly damaged, and its influence in global affairs are set to wane further," Wang said, pointing to the domestic situation in the United States.
"Other countries don't want to pick sides between China and the US. It's Washington's fantasy that it can form an anti-China alliance."
Wang said the postponement of the G7 summit reflected US weakness as it had failed to bring the coronavirus pandemic under control in a timely manner.
Trump had hoped to hold the summit in June to show "normalisation", but scrapped the plan after Canadian Prime Minister Justin Trudeau declined to endorse it and German Chancellor Angela Merkel said she would not attend.
Trump now says he wants the leaders to meet in person in Washington in September or later.
Wu Xinbo, director of Centre for American Studies with Fudan University, argued it was questionable whether the US could succeed in building an anti-China alliance and said the idea of driving a wedge between Russia and China was "wishful thinking".
"India will not be in the same trench with the US, and China's relationship with South Korea is actually improving," Wu continued.
At the same time, China's rising geopolitical, economic and technological power, along with its increasingly assertive foreign policy, have prompted renewed efforts from democratic countries to seek common ground on China.
On Friday, Britain said it was pushing the US to form a club of 10 nations that could develop their own 5G technology and reduce dependence on China's controversial technology giant Huawei.
On the economic front, the US has launched a fledgling initiative known as the Economic Prosperity Network bringing together countries and businesses that "operate under the same set of values".
Shahar Hameiri, an associate professor at the University of Queensland's School of Political Science and International Studies, said it was "fair to assume" that Trump's proposal for an expanded G7 was linked to the increasing US-China rivalry.
"Maybe we are at a point where the emerging decoupling between the two major powers, the US and China, is starting to manifest in increasing attempts to develop international policymaking platforms or organisations that exclude China more," he said.
Hameiri added that Beijing could suffer a "significant blow" if it was excluded from any new US-led initiative that moved "towards a different form of international economic organisation that steps away from the more globalised system that China has benefited from".
However, he said it was not clear that the countries in question would be "particularly thrilled" to follow this path and it was a "big if" whether any substantive changes to the G7 would happen.
The countries involved also have their own business and commercial interests in China, which might make it hard to reach a consensus on isolating and containing China.
For instance, despite the current spat between Beijing and Canberra over calls for a coronavirus inquiry, China remains Australia's largest trading partner and its biggest export market.
James Laurenceson, director of the Australia-China Relations Institute at the University of Technology Sydney, said Australian officials would be very cautious about Trump's proposal.
"This is Trump blatantly seeking to mobilise a grouping against China, Australia's largest trading partner, and embracing Russia in the process, a country that Australia has been openly critical of previously," Laurenceson said. "I can't see it flying," he said.
Additional reporting by Reuters.
This article appeared in the South China Morning Post print edition as: 'G11' hints at new bloc to contain China