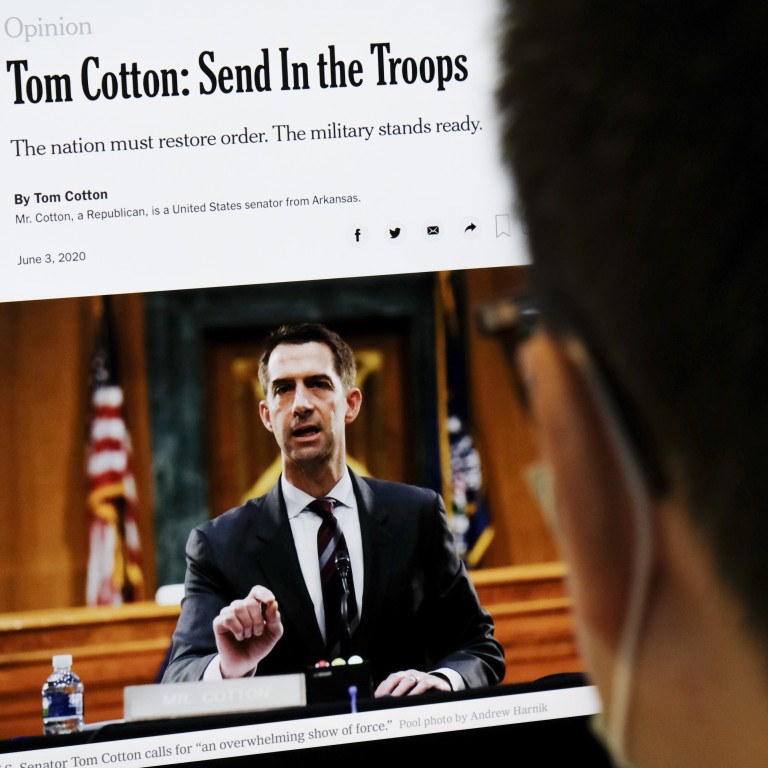 On Tiananmen crackdown anniversary, US senator's call for military force against Floyd protesters stirs fury
Senator Tom Cotton accused of hypocrisy for supporting Hong Kong protesters then seeking 'overwhelming show of force' at home
Journalists among critics of New York Times for giving editorial space to call for military presence
American lawmaker Tom Cotton has called for the deployment of military forces to quell unrest across the United States in an opinion piece published in Asia on June 4, the anniversary of
the Tiananmen crackdown in 1989
, when at least hundreds of protesters were killed by troops in Beijing.
The Arkansas senator wrote in
The New York Times
that the looting and disorder – which started after the murder of African American man
George Floyd
in the presence of
police officers
– needed to be subdued by troops.
"One thing above all else will restore order to our streets: an overwhelming show of force to disperse, detain and ultimately deter lawbreakers," he wrote.
In Minnesota,
prosecutors have charged
police officer Derek Chauvin, 44, with second-degree murder over Floyd's death. Chauvin's three colleagues at the scene of Floyd's May 25 arrest – Tou Thao, 34, J. Alexander Kueng, 26, and Thomas Lane, 37 – were charged with aiding and abetting second-degree murder.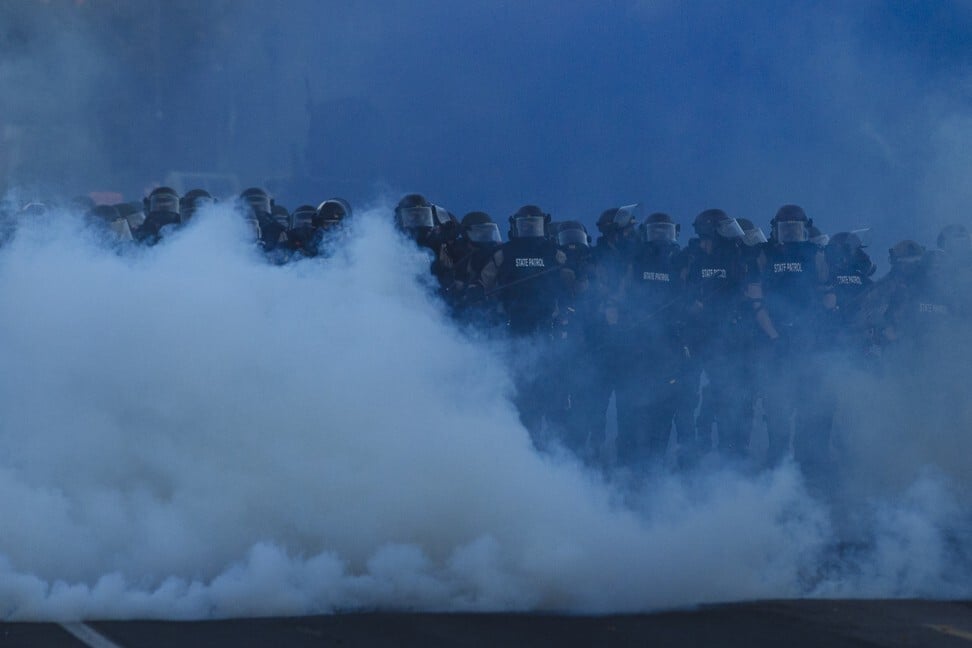 Cotton's editorial came after President Donald Trump threatened to shoot looters and offered to send the military in to Minnesota on May 29.
" … when the looting starts, the shooting starts. Thank you!" Trump tweeted.
Cotton and Trump's statements have drawn heavy criticism and the editorial decision by The New York Times was also questioned.
The Arkansas senator was accused of hypocrisy by China Daily's European bureau chief Chen Weihua because Cotton had supported the protests in Hong Kong and warned against the Chinese Communist Party cracking down on protesters in the special administrative region.
Cotton co-sponsored the
Hong Kong Human Rights and Democracy Act,
which imposes sanctions against mainland China and Hong Kong officials responsible for human rights abuses in Hong Kong, and passed in November 2019.
"What a joke. That just contradicted what you said about rioting and anarchy and petrol-bomb-throwing mobs in Hong Kong for months and months. Hypocrite, Cotton," Chen wrote on Twitter.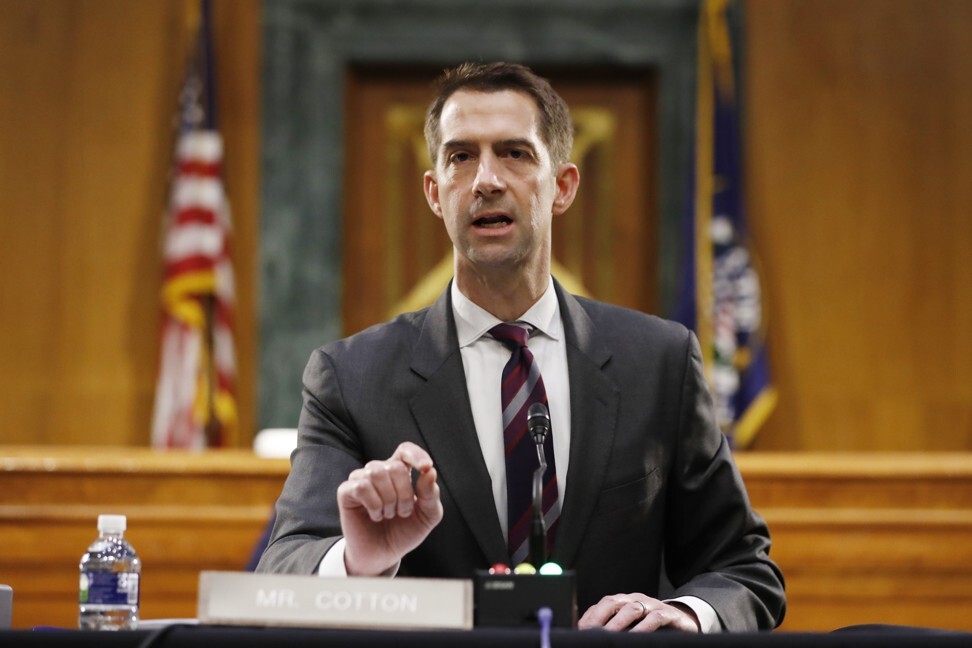 Readers in Asia woke up to Cotton's New York Times piece on the morning of June 4, the anniversary of the military crackdown on protesters in Tiananmen Square. It was a stunning coincidence, according to John Delury, a Chinese studies professor at Yonsei University in South Korea.
"It's outrageous in and of itself. The fact that we are waking up to this in Asia on the morning of June 4th renders it stupefying," Delury wrote on Twitter.
James Bennet, the editorial page editors at The New York Times, defended the decision on Twitter, explaining that the opinion section should show counterarguments to its readers.
"Times Opinion owes it to our readers to show them counterarguments, particularly those made by people in a position to set policy," Bennet wrote on Twitter on Wednesday evening.
"We understand that many readers find Senator Cotton's argument painful, even dangerous. We believe that is one reason it requires public scrutiny and debate."
Journalists from The New York Times and elsewhere have condemned the publication. The union for news professionals, NewsGuild of New York, called the decision to run Cotton's piece "irresponsible".
"His message undermines the journalistic work of our members, puts our Black staff members in danger, promotes hate, and is likely to encourage further violence," a statement by the guild said.
New York Times employees would send a letter directly to the paper's management about their concerns, the guild said.
This article appeared in the South China Morning Post print edition as: Fury as op-ed by US senator calls for troops to be sent in to cities