Taiwan
Get more with myNEWS
A personalised news feed of stories that matter to you
Learn more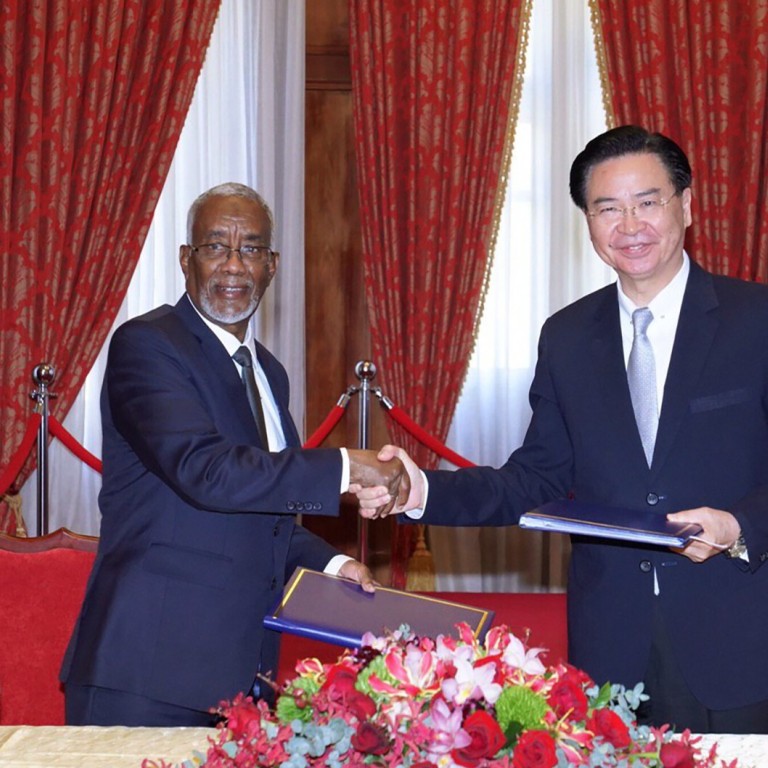 Taiwan moves to build ties with unrecognised state of Somaliland
Self-governing territories' move to establish representative offices falls short of full recognition, but will help Taipei expand its diplomatic reach and counter pressure from Beijing
Somaliland declared independence in 1991 during Somali civil war, but has not been granted official recognition by any country
Taiwan will establish informal diplomatic relations with the self-declared African state of Somaliland as it seeks to counter the growing diplomatic squeeze from Beijing.
"Our two governments have agreed to swap official representative offices under the titles of Taiwan representative office and Somaliland representative office based on our friendship and shared belief," Taiwan's foreign minister Joseph Wu told a press conference in Taipei on Wednesday.
Wu said he signed the agreement with his Somaliland counterpart Yasin Hagi Mohamoud in Taipei on February 26, of which the two sides agreed to cooperate in areas such as fishing, agriculture, energy, mining, health, education and information and communication technologies.
The offices will be headed by veteran diplomats who will be given a formal rank.
He said the establishment of representative office was part of the island's efforts to promote ties with Africa and expand its presence in east Africa.
With just 15 allies due to persistent pressure from Beijing, Wu's announcement is seen by observers as an attempt to break out of Taiwan's diplomatic predicament.
Beijing considers Taiwan to be part of its territory that must eventually be reunited with the Chinese mainland, by force if necessary.
Since Tsai Ing-wen of the independence-leaning Democratic Progressive Party became president in 2016 and refused to accept the one-China principle, Beijing has poached seven of the island's allies, in addition to suspending official exchanges with Taiwan and staging a series of war games to force Tsai to change her mind.
While Wednesday's move falls short of full diplomatic recognition, the last time Taiwan managed to persuade a country to establish ties with it rather than Beijing was with the Caribbean island of St Lucia in 2007.
Somaliland, a former British protectorate, has a population of 3.9 million and declared independence in 1991 amid the chaos of the civil war in Somalia, but has not been granted official recognition by any UN member state.
It is recognised only as an autonomous region of Somalia.
It has set up representative offices in some 20 countries, including the United States, Canada, Britain, Ireland and Kuwait, as well as the European Union.
Asked why Taiwan does not go ahead to establish formal diplomatic ties with Somaliland, Wu said Taiwan remains open to such a status, but at the moment the two sides have found the swap as the "best option available."
Asked whether the latest move would further infuriate Beijing, Wu said the mainland does not have official ties with Somaliland and in developing its global relations, Taiwan would not bow to the mainland's pressure.
This article appeared in the South China Morning Post print edition as: Taiwan moves to build ties with unrecognised state of Somaliland