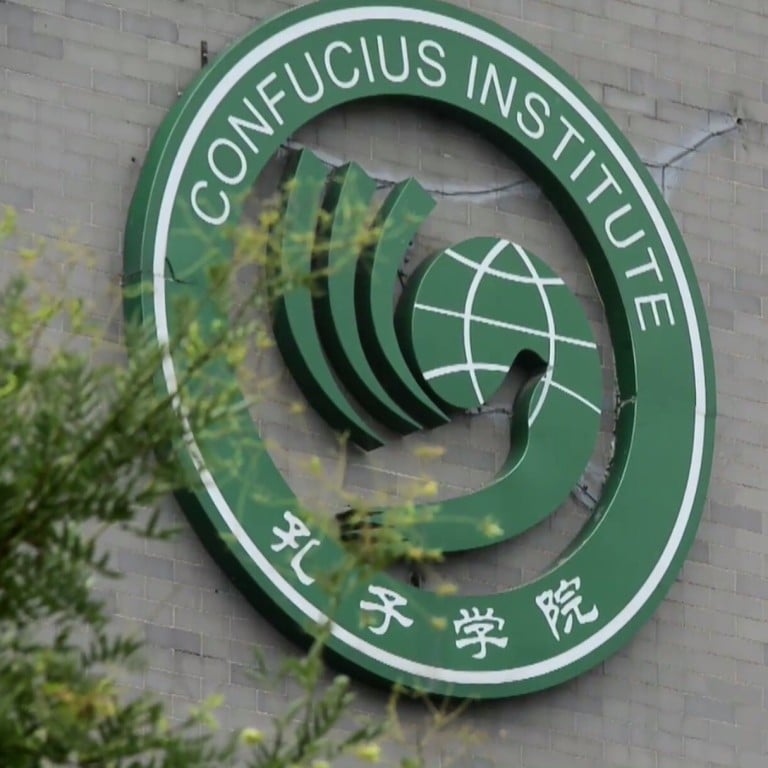 China's Confucius Institutes rebrand after overseas propaganda rows
Hanban changes name 16 years after first overseas language and culture outpost established
New organisation aims to keep up cooperation with international partners, particularly in the United States, senior official says
Beijing is abandoning its Confucius Institute brand after a global backlash over censorship, switching to a new look as a centre for "language exchange and cooperation".
In a directive to lower-level agencies, the Ministry of Education said the Confucius Institute Headquarters, or Hanban, had changed its name to the Ministry of Education Centre for Language Education and Cooperation.
The directive, which was circulating on social media on Saturday, was confirmed by a source in the education sector who was briefed about the change. There was no response to phone calls to the institute's headquarters or its Asian offices.
The institutes have been established around the world over the last decade and a half to promote Chinese language and culture through classes and institute-issued textbooks.
The first one was set up in Seoul in 2004 and by 2018 there were 548 institutes and nearly 2,000 Confucius classrooms in 154 countries, most of them at foreign universities or institutions.
The network was an important tool for China to promote its image and soft power but the name change comes after the facilities were accused of promoting Communist Party propaganda.
A string of universities in the United States have closed their Confucius Institutes in recent years amid concern about Chinese government influence on US education.
Others were shut down at universities in Denmark, the Netherlands,
Belgium
and France. Sweden, which was the first European country to open a Confucius Institute, closed its last institute in January and the last Confucius classroom in May.
The rebranding was apparent on June 24 when the Centre for Language Education and Cooperation helped organise the National Chinese Language Conference online.
Addressing more than 4,000 teachers of Chinese language in US, centre director general Ma Jianfei said the organisation would still promote international cultural exchanges.
"The centre particularly hopes to expand cooperation with relevant institutions in the US and jointly build a more focused, pragmatic, and efficient new model for China-US language exchanges, and strive to contribute to the promotion of China-US cultural exchanges and mutual understanding between the people of the two countries," Ma was quoted as saying in a statement on the website of the Confucius Institute Headquarters.
Ma is the deputy director and Communist Party secretary of the Confucius Institute Headquarters.
The centre would "uphold the concept of openness, inclusiveness, respect and trust", and strive to provide all possible help to people of all countries learning Chinese, he said.
The Confucius Institute Online's account on social media service WeChat was also changed to chineseplus.net late last month.
The original Confucius Institute Online site, administered by the Confucius Institute Headquarters, can still be accessed.
According to the Chinese Plus website, several companies and institutions, including Wuzhou Hanfeng Internet Technology and Hankang International Technology, are still affiliated with the Confucius Institute Headquarters.
Sun Yixue, from the International School of Tongji University in Shanghai, said the name change was
"related to various kinds of pressure, but it is by no means succumbing to them".
"It is a manifestation of Chinese culture that regards harmony as a precious cultural tradition," Sun said.
"It is a timely adjustment made by China to adapt to the new situation of world language and cultural exchanges, but this does not mean that all overseas Confucius Institutes should be renamed accordingly."
Sun said most of work by the Confucius Institutes was still Chinese language training and giving overseas students an in-depth understanding of China, making the institute an important way to attract more foreign students to China.
Additional reporting by Zhou Xin
This article appeared in the South China Morning Post print edition as: Confucius Institutes rebrand after rows