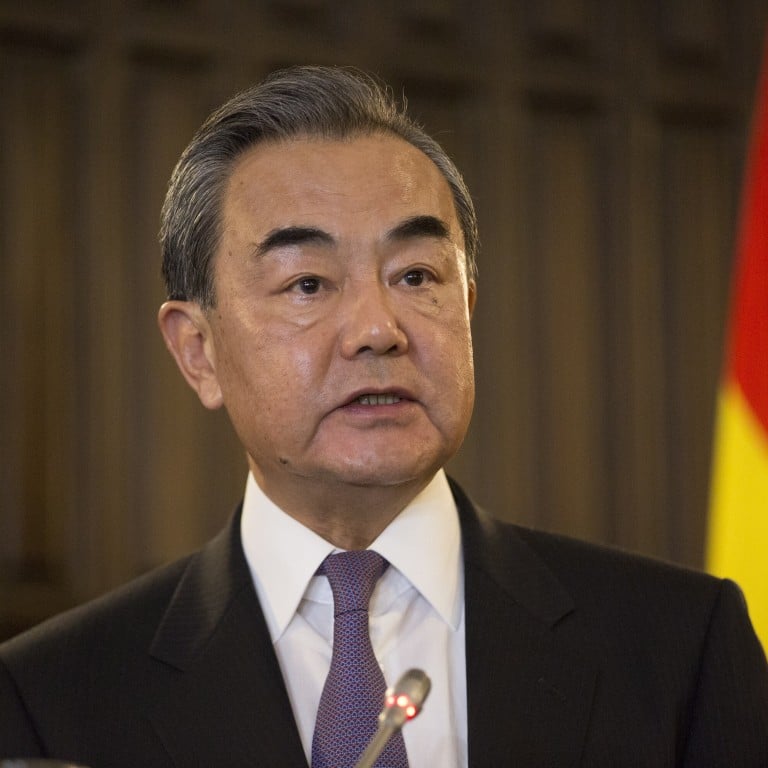 China-US relations: why Wang Yi went back to Wolf Warrior mode after offering an 'olive branch'
The Chinese foreign minister directly lashed out at the US in discussions with overseas counterparts
While Beijing seeks to pull nations away from siding with the US, it appears unwilling to assess its own role in deteriorating relations, says analyst
When United States Defence Secretary Mark Esper floated the idea of
a China visit by year-end
last week it took many by surprise, coming just hours before a new fight erupted between the two countries over the closing of the Chinese consulate in Houston,
China's top diplomats were "neither prepared nor aware" of Esper's unusual overture, according to government sources in Beijing.
He made the offer during his otherwise strongly worded speech on Tuesday last week slamming China's "systemic rule-breaking" and "aggressive behaviour", in the South China Sea in particular.
It came as Beijing had been anxiously waiting for positive feedback on Foreign Minister Wang Yi's offer for a reset of bilateral ties by reopening "all the channels of dialogue" earlier this month.
"Wang was genuinely looking for ways to de-escalate the tension with the US because China is concerned about the deteriorating trend," said Yun Sun, a senior fellow at the Stimson Centre in Washington. But a series of US actions "must have been a slap in the face after the 'olive branch' Beijing extended", she said.
In the face of the perceived American bullying, China's senior diplomats, including Wang himself, have begun to call out the US, ditching the usual ambiguity in Beijing's handing of its most important bilateral ties with Washington.
While it is not uncommon for Beijing to take jabs at Washington, Chinese officials have largely refrained from naming the US or specific American leaders over the years, even at the height of Trump's protracted trade war with China.
During bilateral meetings with his counterparts from the Philippines, Vietnam, Germany, France and Russia, Wang has repeatedly and resoundingly lambasted the "anti-China forces" in the US for the alleged bullying, provocations and McCarthy-style paranoia.
Deputy foreign ministers, such as Le Yucheng, Luo Zhaohui and Zheng Zeguang, have also echoed Wang in confronting the US directly and putting the blame squarely on the Trump administration during various bilateral and multilateral meetings with Asean and European Union countries.
"I think the Chinese diplomats, or the Chinese government as a whole, feel that they cannot fail to respond to the attacks by the US. They don't want to appear weak, appear acquiescent," Sun said.
The purpose of China's intense diplomatic activities was mainly to "avoid isolation and to gain international support" externally, she said.
In a meeting with Philippine Foreign Secretary Teodoro Locsin a day after Pompeo's South China Sea statement, Wang accused the US of fuelling regional tensions by sending three aircraft carriers within a month to the disputed waters.
Wang also moved to work on France and Germany amid widening transatlantic discord, delivering politically loaded messages to French Foreign Minister Jean-Yves Le Drian on Tuesday and German Foreign Minister Heiko Maas on July 24.
Observers said the messaging was also telling other nations that they probably could not keep themselves out of the US-China confrontation.
"The 'Cold War mentality' rhetoric and the aim to divide Europeans from Americans is indeed not new. To my understanding, it has two aims: fending off criticism (arguing that it is groundless and just old-fashioned block thinking) and reaching out to Europeans (and others) as a potential partner," said Tim Ruhlig, a research fellow at the Swedish Institute of International Affairs.
According to Steve Tsang, director of the SOAS China Institute at the University of London, Chinese foreign policy has taken a nationalist turn under President Xi Jinping, with the party's hold on power further enhanced and internal policy debates largely shut down.
"With Xi encouraging Chinese diplomats not to hesitate to 'unsheathe the sword', he has created incentives for diplomats not to practise traditional diplomacy but to adopt 'Wolf Warrior diplomacy'. Now foreign policy is whatever Xi says it is," he said.
It was unfortunate that "both countries are adopting the Wolf Warrior style of diplomacy now, with senior diplomats and officials using undiplomatic language to blame the other side for all the bilateral problems," said Zhu Zhiqun, a professor of political science and international relations at Bucknell University, Pennsylvania.
Although most US allies "share US policies regarding Hong Kong, Xinjiang, the South China Sea and cybersecurity, they do not necessarily support Washington's confrontational approach" towards China, Zhu said.
Ruhlig said China had largely missed the opportunity to exploit Trump's disdain of diplomacy and alliance-building, especially in the wake of the Covid-19 pandemic.
"The main difficulty is that China has not proven to be a more convenient partner. When the US put pressure on Europe, China normally adopted the very same tactics," he said.
"China would need to overcome this black-and-white mentality in real practice. Either you are with us or against us, is what, to many Europeans, is underlying Chinese policy. For now, it seems that the Wolf Warrior diplomats have been the nail in the coffin for Chinese attempts to utilise Trump's presidency in Europe."
Yun Sun also said Wang's increasingly hawkish stance and the Chinese narrative that China was innocent while all faults were America's might not get the results Beijing wished for.
Blaming Trump's re-election campaign for anti-China policies "completely evades the question of what responsibility, if any, China should carry for the deterioration of bilateral relations", she said. "Asian and European countries have concerns about China not because the US tells them to, but because there are concrete issues with China that they are concerned with. But there is no self-reflection on China's part."
Although most experts doubt the US can build an encompassing anti-China coalition any time soon, they nonetheless warn that China's diplomatic assertiveness may be pushing countries further away, with their growing grievances towards Beijing tilting the balance.
"If Beijing persists with its approach, the forming of a coalition in response to a perceived Chinese challenge will become much more likely," Tsang said.
Sun also said it might be wishful for Beijing to expect to wait out the Trump presidency and pin hopes on the Democratic Party presidential nominee Joe Biden for a reset of China-US relations.
"Although Biden's style and approach to China could be very different, the view of China as a threat is a matter of bipartisan consensus. If China thinks that things will automatically go back to 'normal' without China changing anything after November, that would be a serious misjudgment that could lay the groundwork for more disasters," she said.
Additional reporting by Keegan Elmer and Jane Cai
This article appeared in the South China Morning Post print edition as: Wang Yi reverts to 'Wolf Warrior' in US war of words