Taiwan
Get more with myNEWS
A personalised news feed of stories that matter to you
Learn more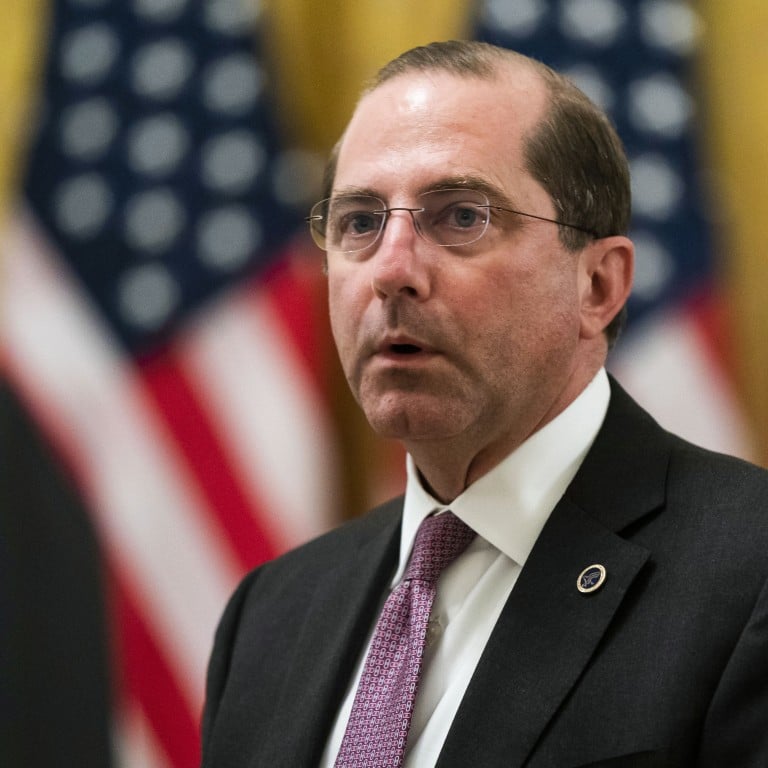 Beijing protests against US Health Secretary Alex Azar's Taiwan visit
Foreign ministry condemns first American Cabinet-level visit since 1979, expected to take place 'in coming days'
Spokesman says Taiwan Strait is 'most sensitive' issue and calls for an end to all US official visits
China has protested the US plan to send its health secretary to Taiwan in the highest level official visit to the island since 1979.
Chinese foreign ministry spokesman Wang Wenbin said Beijing was firmly opposed to official interactions between the US and Taiwan.
"The issue of the Taiwan Strait is the most sensitive issue facing China-US relations. We hope the US will stop all official exchanges between the two sides to avoid damage to China-US relations and keep the stability of the Taiwan Strait," he told the daily press conference on Wednesday.
Health and Human Services Secretary Alex Azar will lead a delegation "in coming days" according to the American Institute in Taiwan (AIT), the de facto US embassy in Taipei in the absence of formal diplomatic relations.
Azar will be the highest ranking Cabinet member to visit the island since Washington switched diplomatic recognition from Taipei to Beijing in 1979. He is also the first senior official to visit Taiwan since President Donald Trump signed the Taiwan Travel Act into law in 2018.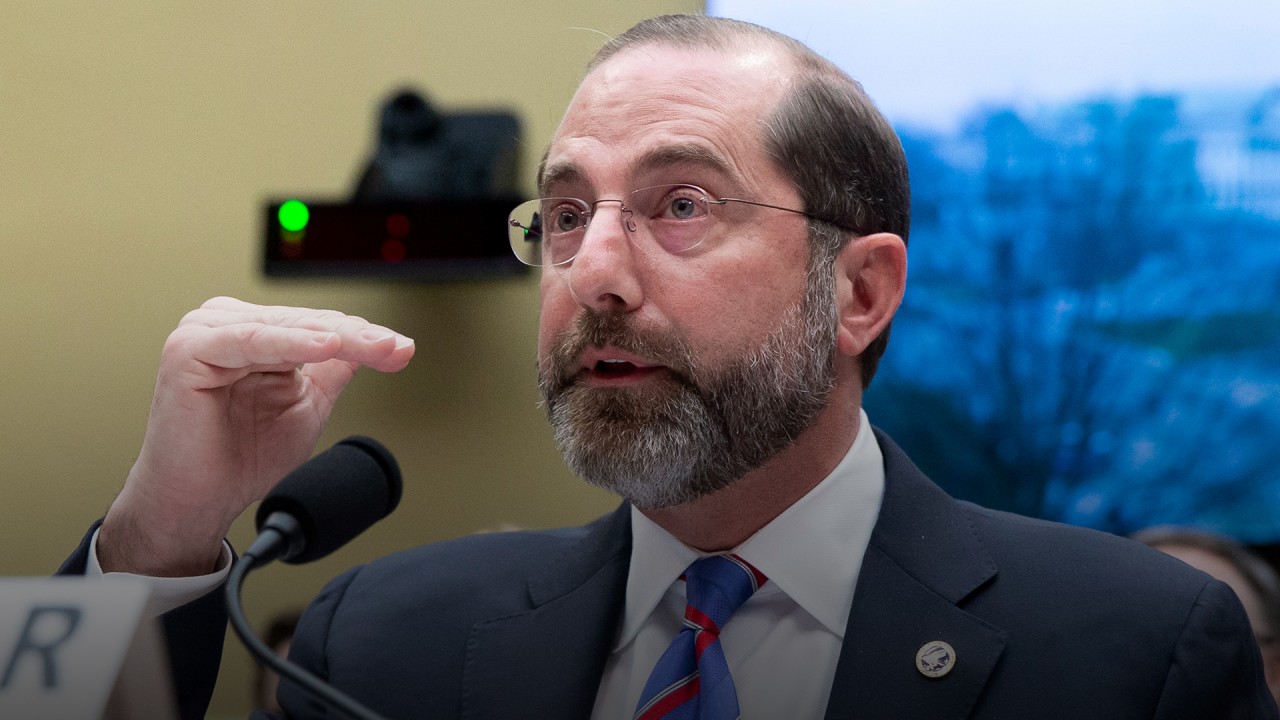 01:56
US health chief to make highest-level visit to Taiwan in decades, angering China
US health chief to make highest-level visit to Taiwan in decades, angering China
"I look forward to conveying President Trump's support for Taiwan's global health leadership and underscoring our shared belief that free and democratic societies are the best model for protecting and promoting health," Azar was quoted in a statement released by AIT on Wednesday.
"This trip represents an opportunity to strengthen our economic and public health cooperation with Taiwan, especially as the United States and other countries work to strengthen and diversify our sources for crucial medical products."
Stressing that Taiwan's role in the international community was critical, as demonstrated by its success in containing the coronavirus outbreak, AIT said Azar's historic visit would strengthen the US-Taiwan partnership and enhance bilateral cooperation to combat the Covid-19 pandemic.
"This visit is part of America's policy of sending high-level US officials to Taiwan to reaffirm the US-Taiwan friendship, pursue shared interests, and celebrate the shared values that bond the United States and Taiwan to the international family of democracies," AIT said.
Beijing, which considers Taiwan a wayward province that must be returned to the mainland fold, by force if necessary, is expected to voice its protest against Azar's visit.
US-China relations have turned sour since Trump became president in 2017 and adopted a strategic competition policy in dealing with the mainland.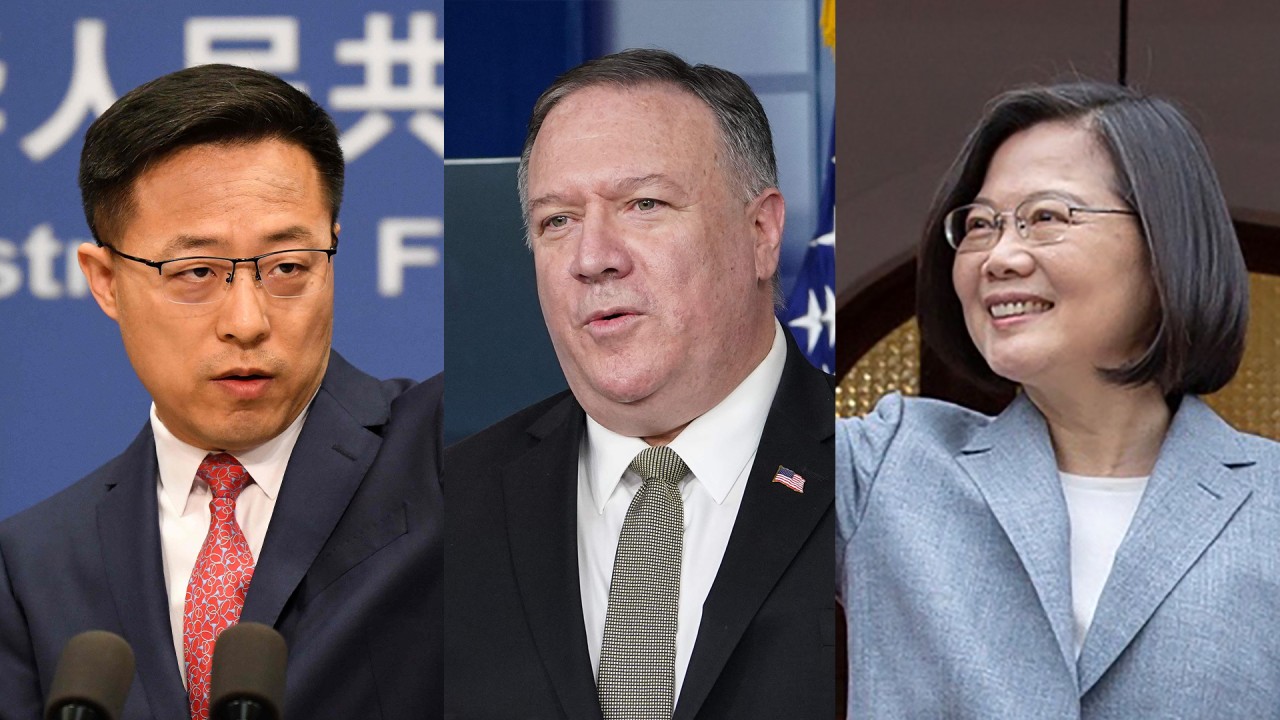 02:47
China warns US of 'strong response' regarding Taiwan, saying island's independence is 'dead end'
China warns US of 'strong response' regarding Taiwan, saying island's independence is 'dead end'
The mainland has time and again warned the US against sending high-level officials to the island and demanded that Washington abide by the "
one-China policy
" it committed to when switching ties to Beijing in 1979.
Taiwan expressed a hearty welcome on Wednesday for Azar's visit, seeing it as a further cementing in bilateral relations and a counter to the growing threats from Beijing.
"The Presidential Office sincerely welcomes the delegation led by Health Secretary Azar to visit in coming days and President [Tsai] will meet with Secretary Azar and delegation members during their stay here," presidential spokeswoman Kolas Yotaka said.
Taiwan's foreign ministry said Azar would meet Foreign Minister Joseph Wu, Health Minister Chen Shih-chung and visit the Central Epidemic Command Centre during his stay on the self-ruled island.
Azar took part in a 30-minute teleconference in April with Chen to discuss the pandemic response.
In a statement, the ministry said the visit by Azar – who has firmly supported Taiwan's meaningful participation in the World Health Organisation since he took office in 2018 – represented the solid friendship between the US and Taiwan.
"We will continue to promote our global cooperation and partnership with the US based on the good relationships between our two sides and their shared values over safeguarding democracy, freedom and human rights," the ministry said.
In a Twitter post on Wednesday, Azar said Taiwan had been "a model of transparency and cooperation in global health during the Covid-19 pandemic and long before it". He went on to say that his trip was an opportunity to strengthen economic and public health cooperation with Taiwan.
AIT said Azar would meet with senior Taiwan counterparts, Covid-19 responders and experts, and other Taiwan partners to discuss the Covid-19 response, global health, the US-Taiwan partnership, and Taiwan's role as a reliable global supplier of medical equipment and critical technology.
"The secretary will also give a major speech while in Taiwan to public health graduate students and alumni of the US CDC training programme, where he will highlight Taiwan's constructive role in the international community, especially in global public health," it said.
Randall Schriver, former assistant secretary of defence for Indo-Pacific security affairs, said such visits by high-level US officials would become routine in the future, given the close US-Taiwan partnership.
He told Taiwan's semi-official Central News Agency that, as Taiwan has been recognised for its success in countering the Covid-19 pandemic, it was highly appropriate for the US to send a senior health official to discuss how to deal with the pandemic with local officials and experts.
Beijing has yet to respond to Azar's upcoming visit, but it threatens to further fuel US-China tensions, with diplomatic ties at their lowest point since the two countries normalised relations in 1979.
Yang Lixian, a research fellow at the Beijing-based Research Centre on Cross-Strait Relations, accused the US of using the epidemic as an excuse to provoke China with the Taiwan visit, to keep the domestic focus in the US on China.
"They should feel embarrassed that they are using the anti-epidemic work as an excuse to go to Taiwan, to say they can help Taiwan or Taiwan can help them when their domestic epidemic situation is such a mess," she said. "This is shameless. Instead of staying at home to solve their epidemic situation, they are coming out to play and to provoke China."
Yang said China would resolutely oppose the trip, but would act with restraint. "We will not easily jump on their hook, but we will resolutely oppose this."
Wei Zongyou, a China-US relations expert at Fudan University, said Azar's trip would inevitably trigger countermeasures from Beijing, including deployment of a military presence near Taiwan.
"China-US relations are at their lowest point since diplomatic ties were first established – both sides have their daggers drawn and neither side will give in," he said. "The Chinese government will definitely see this as a provocative action that tests China's bottom line, and may send ships and planes to circle around Taiwan."
Additional reporting by Sarah Zheng and Jun Mai
This article appeared in the South China Morning Post print edition as: Beijing objects to US health secretary's visit to TaiwanBeijing objects to US official's Taiwan trip