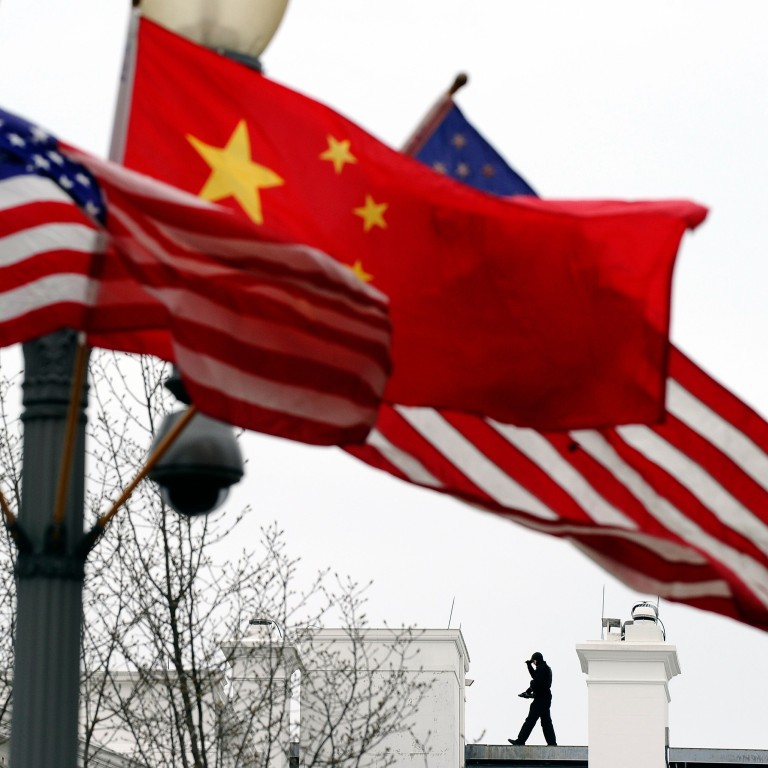 US-China decoupling: does clash of ideologies raise too many non-negotiables?
Live with us peacefully, China's envoy Cui Tiankai has challenged Washington – but some argue coexistence is expected to be on Beijing's terms
American opposition to China on ideological grounds makes its position equally entrenched
Ambassador
Cui Tiankai
is China's point man in the United States in what is undoubtedly the hot seat as the two countries face off in an ideological clash that may well reshape and define the 21st century from the 100 years that preceded.
The world's two biggest economies are still doing business with each other, but on nearly every other front, from political systems to human rights, territorial boundaries and technology development, they are in
an increasingly vocal conflict
.
Cui, 67, who has been in his post since 2013 and has a postgraduate degree from the School of Advanced International Studies at Johns Hopkins University in the US, took the debate to a webinar organised by the Aspen Institute think tank in Washington on August 4.
He asked the audience: "Is the United States ready to live with another country with a different history, different culture, maybe different system, but with no intention to compete for global dominance with the United States?"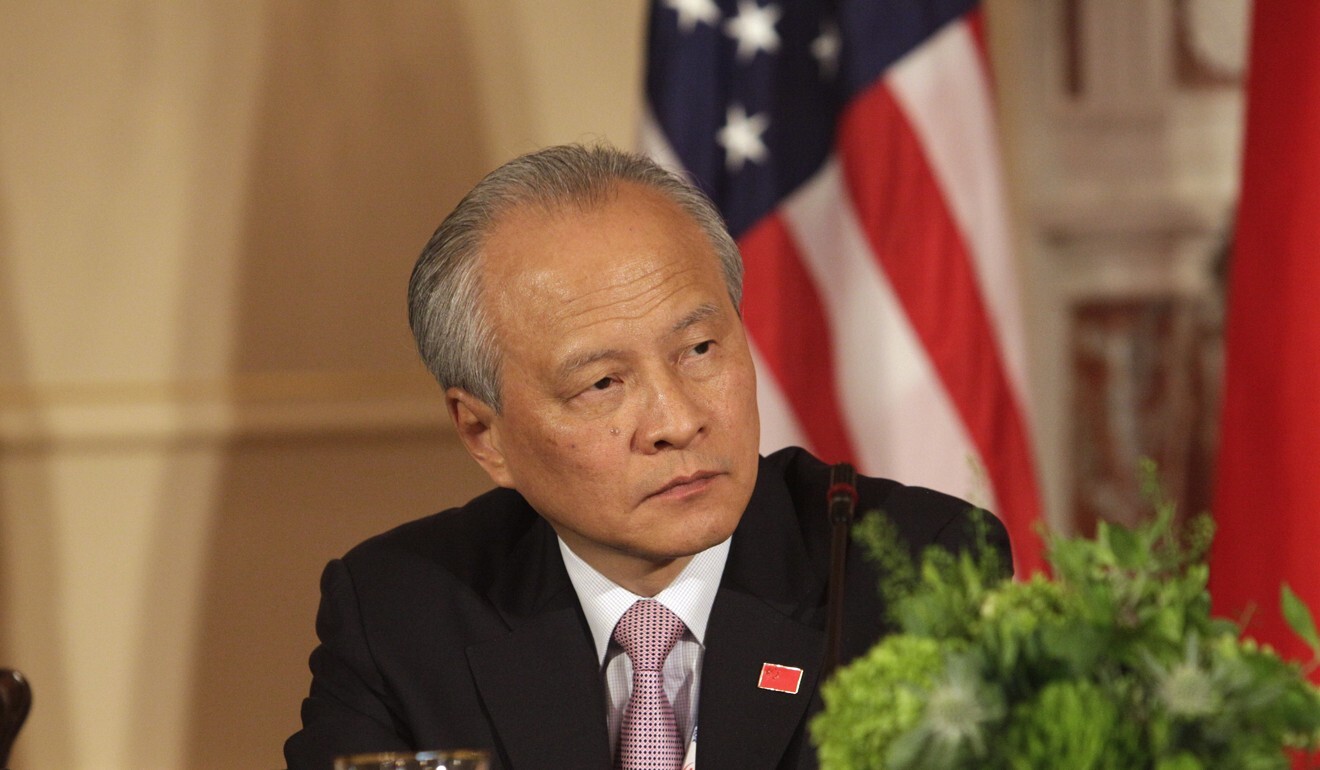 The longest-serving Chinese ambassador to the US and fluent English speaker then asked: "Are you ready to live with us in peace?"
Perhaps predictably, Cui's question received a mixed response from academics in both countries who track the ups and downs of US-China relations.
Yun Sun, director of the China programme at the Stimson Centre think tank in Washington, said the ambassador's question might have seemed valid, but oversimplified the relationship. She said it omitted mention of what she called China's assertive foreign policy and attempts to influence domestic politics in other countries.
"Cui's comments … put US-China relations in a Chinese narrative," she said. "It grossly and gravely omits many specific details and reduces the complex relationship into a 'yes or no' question."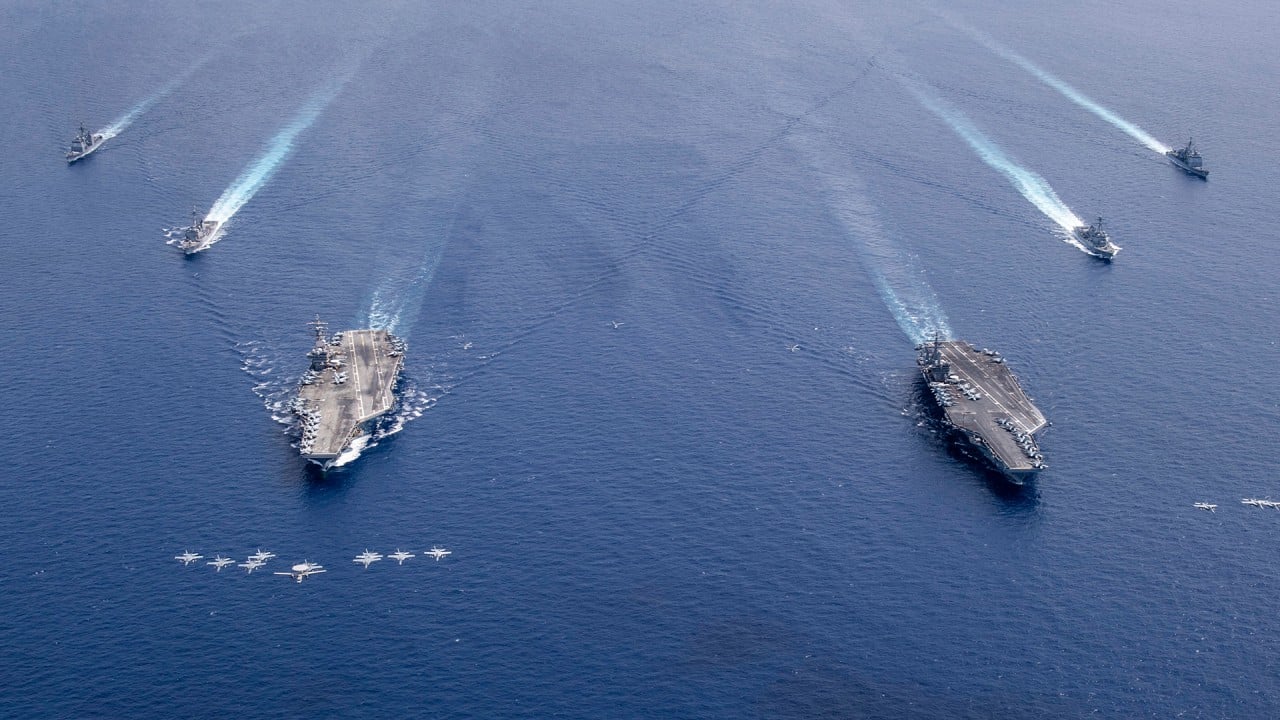 02:32
Washington's hardened position on Beijing's claims in South China Sea heightens US-China tensions
Washington's hardened position on Beijing's claims in South China Sea heightens US-China tensions
Chen Qi, resident scholar in US-China relations at the Carnegie-Tsinghua Centre for Global Policy in Beijing, disagreed.
"It is the critical question for the two nations: whether they choose conflict or cooperation," he said, adding that China had shown restraint but the US was damaging the relationship.
The
Covid-19 pandemic
had not helped relations between Beijing and Washington because it had prevented regular meetings between leaders, said Chen, who argued that relations had been complicated by the US presidential election in November.
China's foreign ministry did make a conciliatory gesture on Wednesday, when foreign vice-minister Le Yucheng said he was ready for talks with his US counterpart at any time.
"It is important to think outside the box of electoral politics, take emotions out of the equation, and return to reason and pragmatism," he said.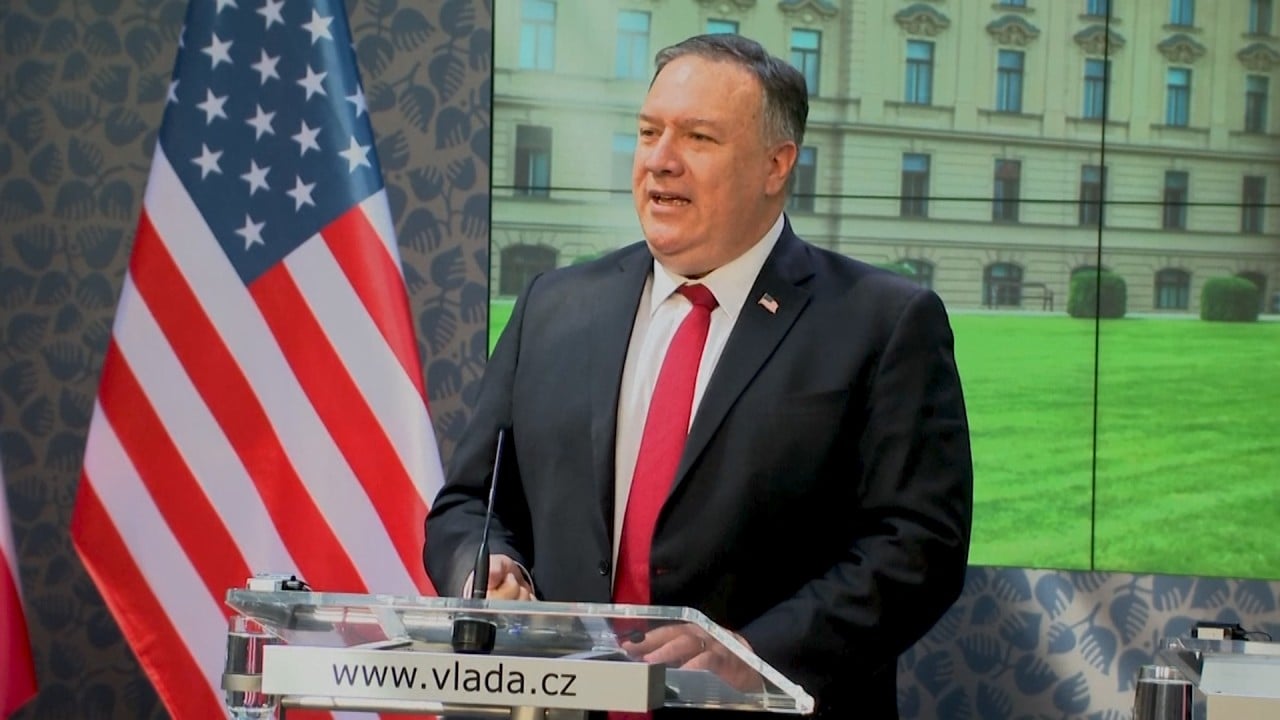 00:43
China's Communist Party at odds with entrepreneurship, says US Secretary of State Pompeo says
China's Communist Party at odds with entrepreneurship, says US Secretary of State Pompeo says
Sun said conflicts between the two countries were often couched in language about differences in heritage, culture, economic development and political systems. But she thought such categorisations missed the point.
The issue was the belief in both countries that the other side was a real threat, she said.
"In the Chinese narrative, China's displacement of the US as the dominant power is only a matter of time," she said. Beijing's recent tone on seeking stability with the US was a tactical move rather than a strategic reorientation, she said.
Summing up Washington's view was a speech in late July by US Secretary of State Mike Pompeo titled "Communist China and the free world's future".
"We have to keep in mind that the Chinese Communist Party [CCP] regime is a Marxist-Leninist regime," he said. "General Secretary Xi Jinping is a true believer in a bankrupt totalitarian ideology.
"It's this ideology that informs his decades-long desire for global hegemony of Chinese communism. America can no longer ignore the fundamental political and ideological differences between our countries, just as the CCP has never ignored them."
Natasha Kassam, a research fellow in the diplomacy and public opinion programme at Australia's Lowy Institute think tank, said US-China relations had reached such a low point because the two countries held different world views of peace and cooperation.
"For China, the idea of the two countries living together in peace could equate to annexing
Taiwan
, absorbing
Hong Kong
, repressing
Xinjiang
and denying maritime claims of US allies and partners in the East and
South China Seas
," she said.
"The United States can't and won't live with that," said Kassam, who was an Australian diplomat in China from 2013 to 2017.
"China's need to preserve both the physical and political security of the one-party state has been increasingly defined in terms of defeating threats to territorial integrity, for example in Hong Kong or Xinjiang," she said.
"Under Xi Jinping, China has continued to attempt to reassure other states about its benign intentions, but it has also moved from rhetoric to action in promoting reform of the international order."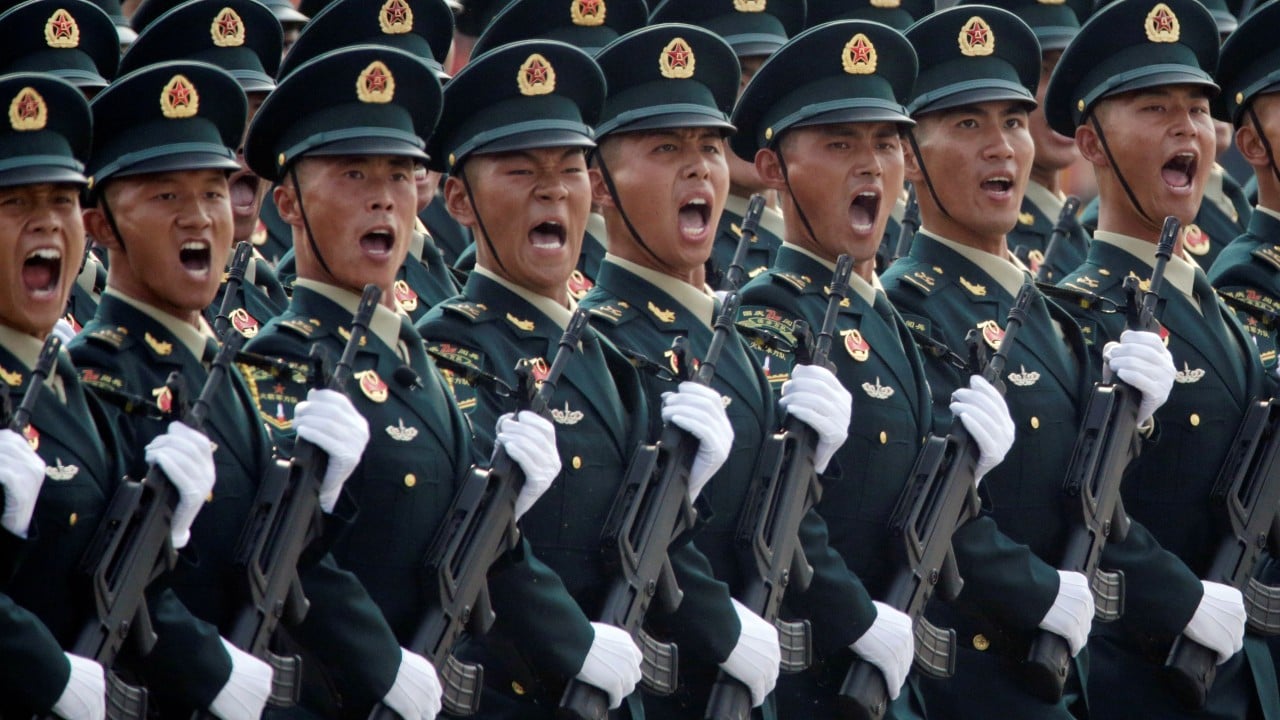 04:12
Are Xi Jinping's China and Donald Trump's US destined for armed conflict?
Are Xi Jinping's China and Donald Trump's US destined for armed conflict?
Drew Thompson, visiting senior research fellow at the Lee Kuan Yew School of Public Policy at the National University of Singapore, said he did not think a new face in the White House would make a substantial difference to US-China relations.
The changes in China's foreign and domestic policies since Xi took power were at the heart of the deterioration in relations, he said.
Cui's speech placed the onus on the US to improve the relationship, but it was China's actions that had generated a reaction from the US and the world, said Thompson, who served as director for China, Taiwan and Mongolia in the US Office of the Secretary of Defence from 2011 to 2018.
"Ambassador Cui's speech, though couched in diplomatic language, is at the same time bullying, insisting that the US accommodate China regardless of Beijing's inappropriate behaviour, rather than identify ways that China and the US can alter behaviour together to change the paradigm," he said.
"So long as China continues on its current path, the prospects for improved relations are dim, regardless of who is in the White House in 2021."
Chinese Foreign Minister Wang Yi does not see it that way.
"The current difficulties are completely created by the US side," he told his German counterpart last month.
"Its purpose is to disrupt China's development. China will neither dance to the US' tune, nor let the US have its way."
Kelsey Broderick, a China analyst at political risk consultancy Eurasia Group, said: "Cui's statement perfectly captures the Chinese view that it is time for the US to accommodate a powerful country with a different political, economic and values system."
But Washington viewed Beijing's push for influence in the global system as an attempt to erode years of rules and norms related to free-market principles and democracy, she said.
Under Xi, the ideological, economic and political differences came to a head because the president had promised to promote China's ideological values and political system globally, and had energised the concept of a state-led economy, she said.
"There is really very little room for both of these views to coexist, and therein lies the risk that the competition will turn violent."
This article appeared in the South China Morning Post print edition as: China's envoy to the US asks 'are you ready to live with us in peace?'Envoy: Are you ready to live with us in peace?