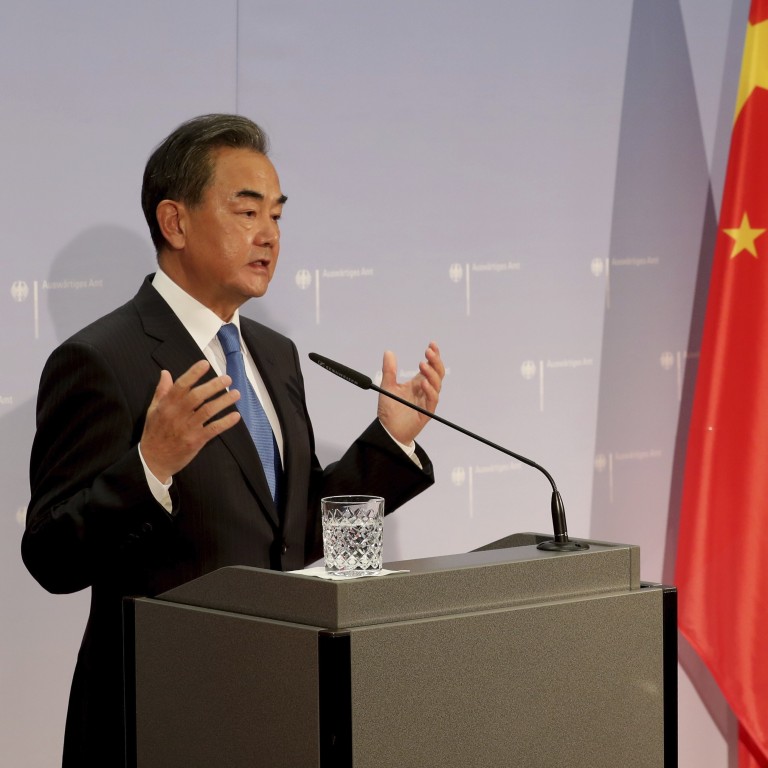 Chinese foreign minister sees only limited diplomatic gains from European trip
Wang Yi calls on EU to resist US efforts to decouple economically from China
But tour is filled with signs of diplomatic 'promise fatigue' with Beijing and Europe's own wariness of dealing with China
Wrapping up his first overseas trip during the coronavirus pandemic, Chinese Foreign Minister Wang Yi has called on Europe to resist US efforts to decouple economically from China and to renounce the unilateralism promoted by US President Donald Trump.
But Wang made only limited diplomatic gains in talks that were weighed down by "promise fatigue", analysts said. He secured a meeting in France with President Emmanuel Macron, but in Germany there was no public event with Chancellor Angela Merkel or any officials from her Christian Democratic Union party.
As the US withdraws from the World Health Organisation – which, it says, enabled China's mishandling of the coronavirus – Wang promoted China as a multilateral player during his eight-day trip, which also included Italy, the Netherlands and the non-European Union nation of Norway.
Wang also called on Europe to work together in reviving the economy after the pandemic, drawing attention to the fast-rebounding official economic figures released by China, the world's second biggest economy.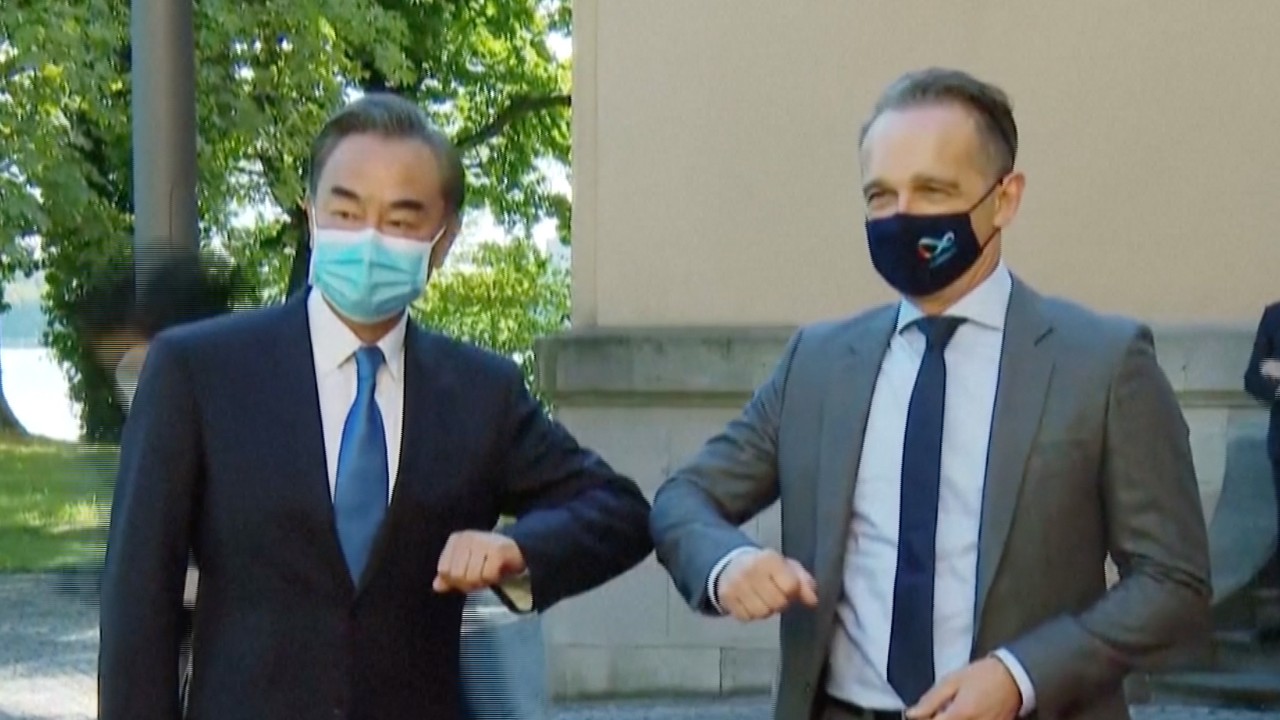 02:56
Germany presses China on Hong Kong security law, seeks access to Uygurs in Xinjiang
Germany presses China on Hong Kong security law, seeks access to Uygurs in Xinjiang
Noah Barkin, an EU-China specialist at Rhodium Group, a policy research firm, noted the growing sense of "promise fatigue" among European governments, despite frequent Chinese references to multilateralism.
"It has been nearly four years since Xi [Jinping] preached the virtues of multilateralism in Davos and Europe is still waiting for deeds to follow," he said.
For example, he noted, "Berlin and Brussels have been pressing Beijing to agree to joint climate action for nearly a year without results."
Europe has in recent months sought diversification from the Chinese market, especially in medical equipment. The EU has also called for more scrutiny on Chinese investments in Europe's strategic assets, as fears deepen over possible Chinese takeovers of sensitive sectors during an economic downturn.
Reiterating the message he has delivered everywhere he visited on this trip, Wang said on Tuesday in Berlin, the last leg of the tour, that China and Europe "should strengthen unity and cooperation and reject division and decoupling".
But even during the trip the divide between Wang's words and Europe's wariness was starkly evident when the EU's foreign policy chief, Josep Borrell, warned in print of China becoming a "new empire".
"Russia, China and Turkey share three common characteristics: they are sovereignists on the outside and authoritarian on the inside," Borrell said in an article in Le Journal de Dimanche.
"After 30 years where the European vision seemed to gain ground, the sovereignist vision has regained the upper hand with these new empires."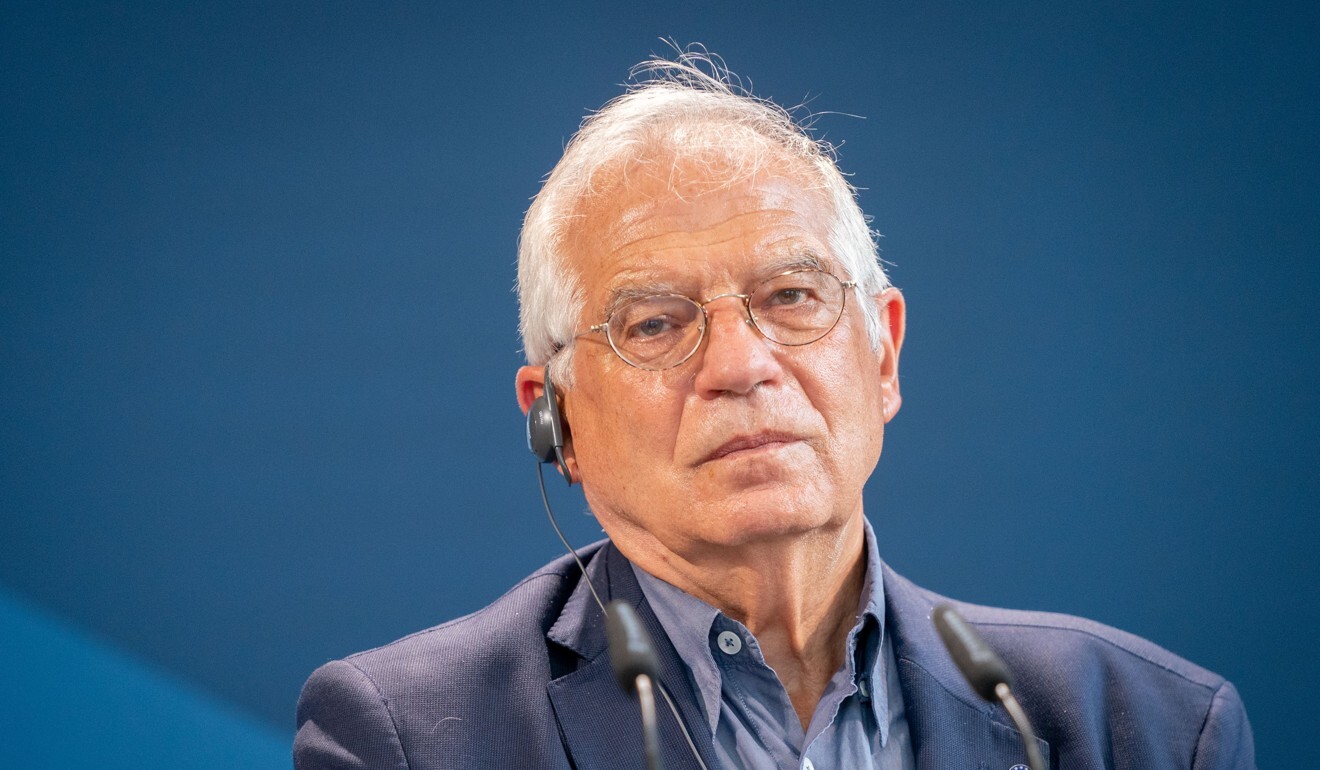 China's state-controlled economy and its technological advancement form the EU's biggest concerns. While EU and China are scheduled to wrap up an investment agreement by the end of this year, EU negotiators have complained about a lack of commitment by the Chinese side.
At issue is whether China will agree to European demands on market access and a level playing field for European businesses operating in China. The EU in particular seeks an end to policies that favour China's massive state-owned enterprises.
In a speech at a think tank in Paris on Sunday, Wang said he had called on Macron to intervene personally if necessary – after the European Commission's president, Ursula von der Leyen, made a plea to Xi to provide the political impetus to finish the deal.
"Already, the China-EU investment agreement's negotiations have entered the final stage," Wang said. "Both sides should increase the input and, when necessary, make the political call to resolve the remaining issues in a timely fashion in order to ensure completion of the negotiation as scheduled."
Wrapping up a deal would be a big win not just for European businesses. For Beijing, this creates an image of a geopolitical partnership with the 27 countries of the EU – which constitutes China's biggest trading partner – as the US tries to weaken it economically.
The EU counts on Chinese support for multilateralism in a range of issues, and Chinese President Xi Jinping is expected to attend a virtual EU summit organised by Merkel on September 14.
However, its main concern rests on China's willingness to abide by international norms – from the South China Sea to Hong Kong to technological issues and standards like artificial intelligence.
Wang's remarks in Berlin also acknowledged China's sensitivity to the EU's policy issues, especially on climate change as the US under the Trump administration has derided and doubted the science.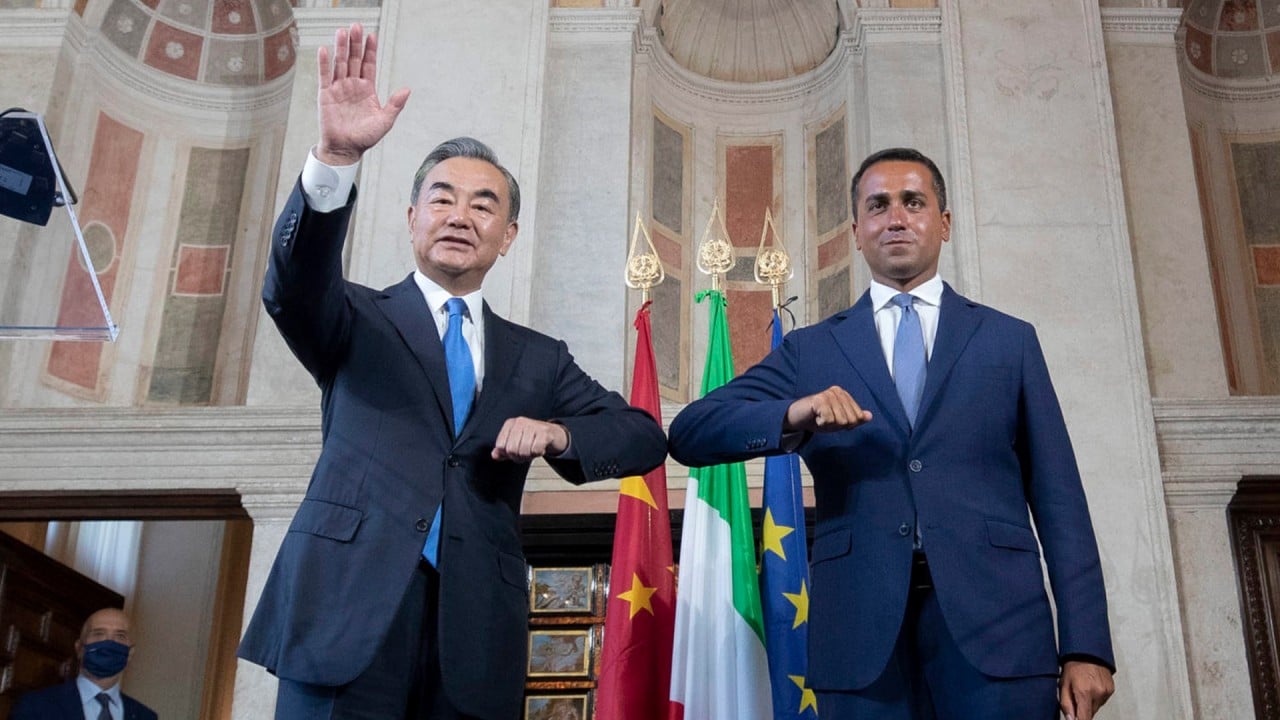 03:12
China's foreign minister begins Europe tour to discuss US influence, Hong Kong issues and Huawei
China's foreign minister begins Europe tour to discuss US influence, Hong Kong issues and Huawei
"China and the EU should build up to be green partners. Both sides should resolutely push forward international cooperation on tackling climate change, and should adopt new moves for this purpose," the Chinese foreign minister said.
He added that China had "fulfilled its 2020 emission reduction targets two years early", even though China was widely criticised for investing in coal power plants in other countries through its Belt and Road Initiative and for failing to endorse key reduction targets at the United Nations climate change conference last year.
While Wang hit some of the keywords dear to the EU's heart, his condemnation of a leading Czech lawmaker for making a trip to Taiwan has backfired.
After Wang threatened to make Milos Vystrcil, president of the Czech Republic's senate, "pay a heavy price" for the visit, Germany and Slovakia criticised his remarks.
"Slovakia stands by the Czech Republic," Zuzana Caputova, the nation's president, wrote on Twitter. "EU-China relations are based on dialogue and mutual respect. Threats directed at one of the EU members and its representatives contradict the very essence of our partnership and as such are unacceptable."
Speaking alongside Wang in the news conference in Berlin on Tuesday, the German foreign minister had a similar message.
"We as Europeans act in close cooperation – we offer our international partners respect, and we expect the exact same from them," Heiko Maas said. "Threats don't fit in here."
This article appeared in the South China Morning Post print edition as: Wang wins only limited gains from wary Europeans