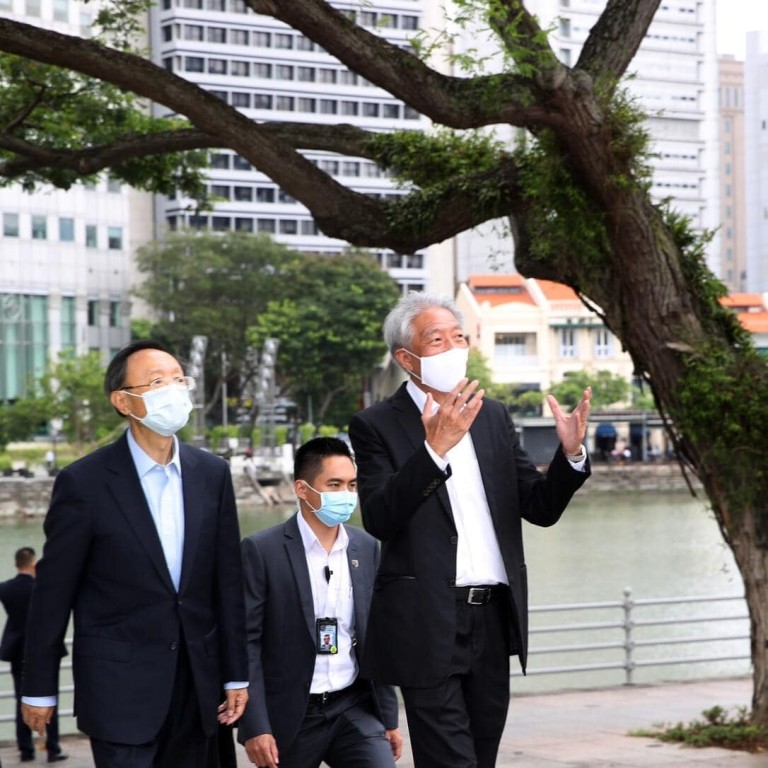 With China's diplomats in overdrive, Singapore had a subtle message for Beijing
Politburo member Yang Jiechi's trip to the city state included a stop at a commemorative marker for Deng Xiaoping
Beijing may see itself as a peace-loving, responsible power, but it is increasingly seen by others as an intimidating, self-centred giant
When China's top diplomat Yang Jiechi
travelled to Singapore last month
, his hosts arranged a special excursion for him – and it may have held a message about how Beijing's assertiveness is perceived in the city state.
According to Singapore's foreign ministry, Politburo member Yang visited a commemorative marker for China's late paramount leader Deng Xiaoping along the Singapore River on August 20.
It was a smart move, at least on the part of the host nation, since Yang's trip marked the 30th anniversary of official ties. Deng was a towering figure in relations between the two countries and the marker was unveiled 10 years ago by Chinese President Xi Jinping and Singapore's founding father, the late Lee Kuan Yew. But conspicuously, China's foreign ministry made no mention of the stop on Yang's itinerary.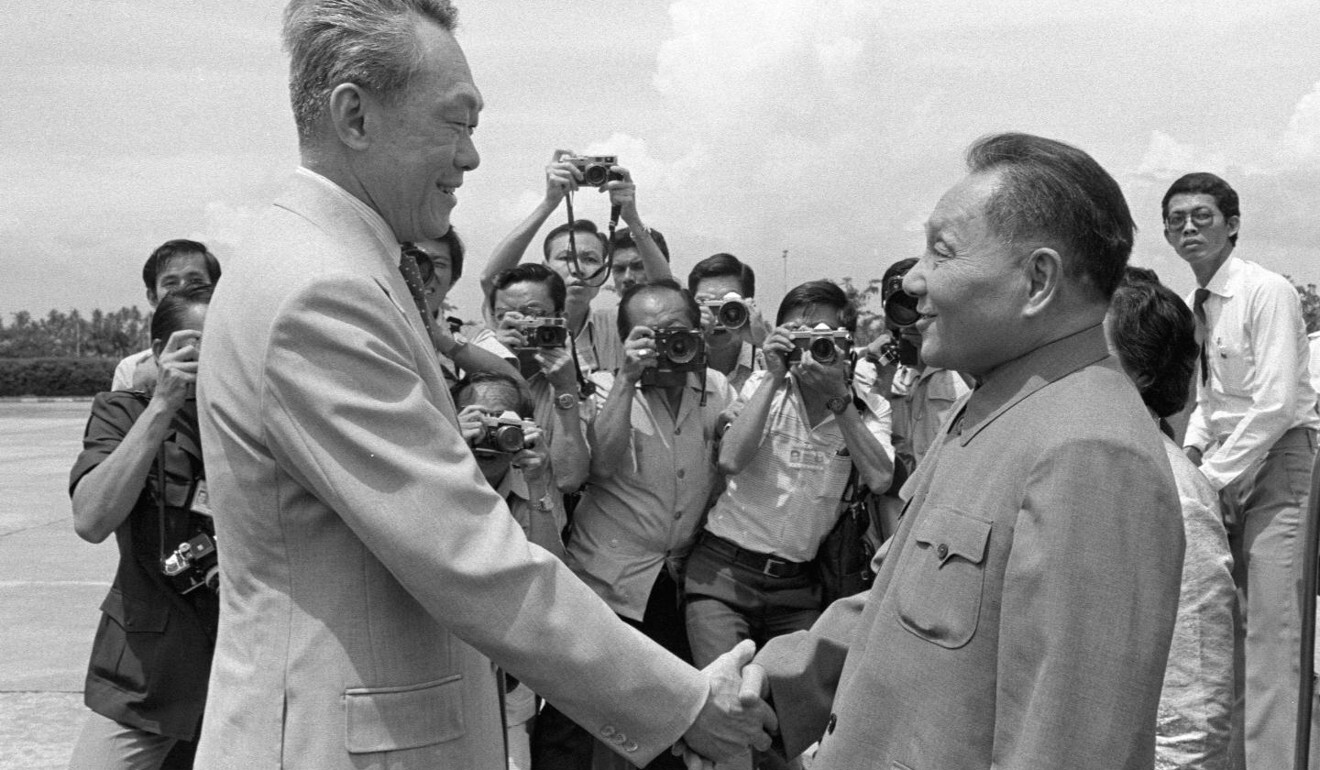 The visit came after
Singapore's Prime Minister Lee Hsien Loong
in June outlined the city state's concerns about China's abrasive diplomatic posture in an opinion piece for
Foreign Affairs
magazine, saying somewhat nostalgically that "Chinese leaders today no longer cite Deng's maxim about hiding one's strength and biding one's time".
That sentiment about China's nationalist shift under Xi has been glaring in recent weeks, in Singapore and elsewhere, as Yang and Foreign Minister Wang Yi
engaged in a diplomatic flurry
across Asia and Europe in a bid to repair Beijing's coronavirus-hit image and counter Washington's encirclement efforts.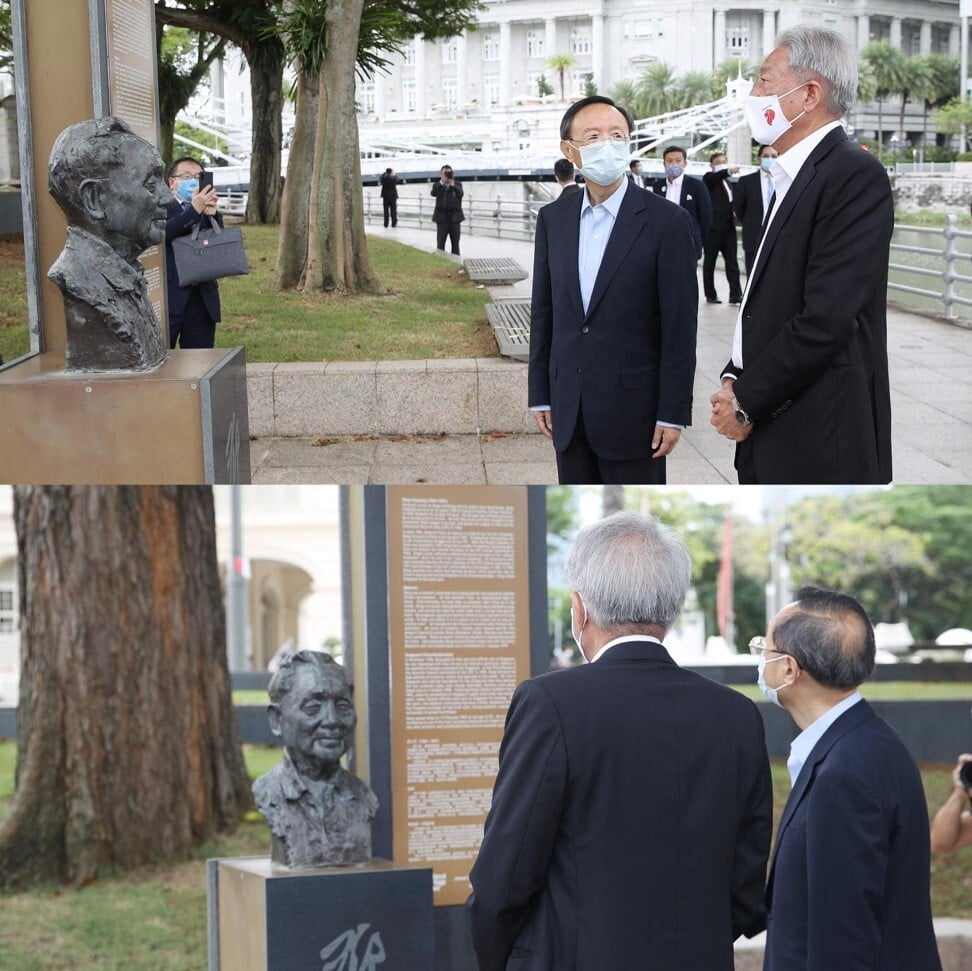 Yet as the diplomats go into damage control mode, other Chinese officials and their apologists are apparently finding it tough to accept the changed reality of the post-coronavirus world – where China faces mounting criticism, including over its aggressive diplomacy and initial handling of the outbreak, as its rift with the US worsens.
"How come the whole world is China's enemy? Why is China so isolated?" asked Hu Xijin, editor-in-chief of state tabloid Global Times, over the weekend.
While he dismissed widespread criticism as misperceptions and Western bias against China, Hu did admit that Beijing had a "public opinion dilemma" in many parts of the world over the South China Sea, Hong Kong, Xinjiang, Tibet and the border row with India.
There is little doubt that China has a lot of explaining to do outside its borders due to its strategic ambiguity about the end goal of its global expansion and, more pressingly, a huge perception gap.
Beijing may still see itself as a peace-loving, responsible power, as well as a developing nation, but it is increasingly viewed externally as an intimidating, self-centred giant, and even a bully.
As Singapore's Lee, a shrewd interlocutor between China and the US, pointed out, Beijing has a daunting choice to make.
"China must decide whether to try to get its way as an unencumbered major power, prevailing by dint of its sheer weight and economic strength – but at the risk of strong pushback," he wrote in the article. "Alternatively, China could … accept that the world now has higher expectations of it."