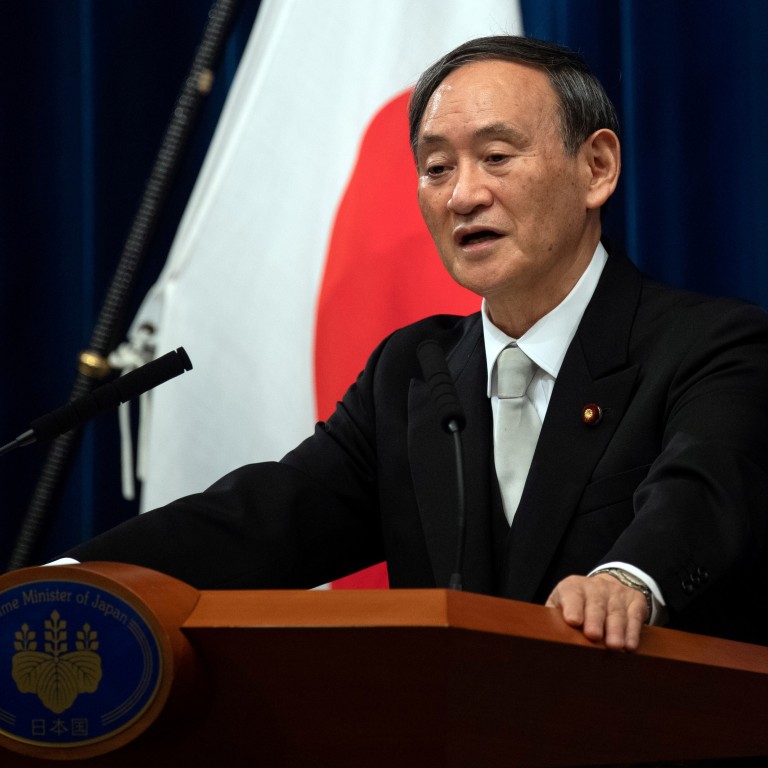 China-Japan relations: new Prime Minister Yoshihide Suga agrees to work with Xi Jinping to boost stability
Call on Friday night was the first between leaders of Asian powers since the beginning of the Covid-19 pandemic
Suga says he wants to 'fulfil his responsibility' by putting relations between the two countries onto an even keel
Japan's new Prime Minister Yoshihide Suga said on Friday he had agreed with Chinese President Xi Jinping to pursue high-level contacts in a bid to promote regional and international stability.
"Stable relations are important not just for our countries but for the region and the international community. I want to fulfil that responsibility," Suga said in comments aired by public broadcaster NHK after he spoke with Xi on the telephone.
But Suga also told reporters that the two did not discuss plans for Xi to visit Japan as a state guest. The trip had been planned for spring this year but was postponed indefinitely due to the coronavirus pandemic.
The phone conversation took place a week after Suga's appointment, following the resignation of Shinzo Abe for medical reasons.
Suga has also held phone conversations with Australian Prime Minister Scott Morrison, US President Donald Trump, British Prime Minister Boris Johnson, South Korean President Moon Jae-in and Indian Prime Minister Narendra Modi.
Earlier on Friday, chief cabinet secretary Katsunobu Kato said Japan considers ties with China as "one of our most important bilateral relationships".
He added that Tokyo wanted to resolve the countries' differences through high-level dialogue, including meetings between their leaders and foreign ministers, according to Japan's Kyodo News agency.
Chinese observers said Friday's phone call could be "a positive start" for the bilateral relationship, which has long been complicated by their wartime history and ongoing territorial dispute in the
East China Sea
.
Though inexperienced in foreign affairs, Suga has said that he does not favour creating an "Asian Nato" to contain China but prefers high-level dialogues over unresolved disputes.
"This is a positive start," said Cai Liang, a senior research fellow at the Shanghai Institutes for International Studies. "While dialogue can't solve all the problems, it would allow each side to openly put their positions on the table and this is the first step to solving problems."
The scheduled phone call, the first between the leaders of China and
Japan
since the coronavirus outbreak began in January, came at a time when rifts between China, Japan's largest trade partner, and the US, its most important ally are becoming increasingly bitter.
In his phone call with Trump last week, Suga reaffirmed that Tokyo would continue to push for a closer alliance with the US.
Observers in China said that while Suga was likely to follow his predecessor Abe and try to avoid being caught up in the confrontation between China and the US, Beijing should be prepared if Japan moved closer to the US.
"Suga and other mainstream politicians in Japan may want a more independent foreign policy but the problem is, given their alliance, Japan will face pressures from the US over China, and no matter if they like it or not, Japan would have to lean with the US if the pressure is too intense," said Lian Degui, deputy director of the Centre for Asia-Pacific Studies at the Shanghai Institutes for International Studies.
There have been growing uncertainties in bilateral relations between Beijing and Tokyo in recent months.
About 100 Japanese legislators from the ruling Liberal Democratic Party publicly proposed a joint military exercise between Japan and the US near the disputed Senkakus, islands known in China as the Diaoyu, in response to patrols by Chinese coastguards in the waters.
Lian and Cai agreed that economic cooperation could be high on the agenda between the two countries amid the rising rivalry between China and the US and the fallout of pandemic.
"To Suga, the top priorities should be containing the pandemic and reviving the Japanese economy," Cai said. "To Suga, economic cooperation with China would be very important while to China, a good relationship with Japan could be a good card to play in Sino-US rivalry."
This article appeared in the South China Morning Post print edition as: New PM puts stress on stable relations in phone call to Xi