Beijing gives cautious welcome to Vladimir Putin's hint over Russia-China military alliance
The Russian President has said the idea of a formal pact between Moscow and Beijing is 'certainly imaginable' although the prospect appears remote at present
Comments may have been intended as a sign of goodwill as relations between China and US continue to deteriorate
Beijing has cautiously welcomed Vladimir Putin's suggestion that a military alliance between Russia and China is possible – the first time a Russian leader has made such a suggestion since the pact between Stalin and Mao Zedong collapsed.
On Friday he was asked about the possibility of such an alliance during a meeting of the Valdai Discussion Club, a Russian international affairs forum, and replied: "We have always believed that our relations have reached such a level of cooperation and trust that it is not necessary, but it is certainly imaginable, in theory."
He continued that the two countries' militaries already work closely together and "time will tell how it will progress from here. So far, we have not set that goal for ourselves. But, in principle, we are not going to rule it out, either. So, we will see".
But some Chinese observers noted that while the idea was highly unlikely, even talking about it could be seen as a sign of goodwill.
Among other thinly veiled criticisms of Washington, Xi said the country's military was determined to defeat invaders and warned against any attempt to divide the nation.
Beijing's official response to Putin's comments was non-committal, but a foreign ministry spokesman said they "demonstrate the high level and special nature of our bilateral ties".
The spokesman Zhao Lijian also said: "There is no limit to the traditional China-Russia friendship and no restricted areas for expanding our cooperation."
"Both China and Russia are targets of criticism in the US presidential elections, and Putin is trying to show how firm the ties are," said Li Lifan, a researcher at Shanghai Academy of Social Sciences.
Li added that the show of solidarity was also sending a message about the new Strategic Arms Reduction Treaty limiting the US and Russian nuclear arsenals, which Washington is trying to pressure China into joining.
Both Russian and US senior officials have signalled in the past week that the two sides are close to signing a short-term extension before the agreement expires in February.
On Friday, Putin said Russia was not against China's accession but suggested Beijing should not be the only nuclear power to be pressured to join if Britain and France were not going to sign up.
Li said that chances of a Russia-China military alliance are still remote because that would oblige the two sides to defend each other if they were attacked, adding "it's not necessary, it's better to keep things tacit".
He also noted that China is still part of the Non-Alignment Movement, a group of 120 developing world states that are not formally aligned with any major power bloc – something China has seen as a core element of its independent foreign policy for decades.
Li said closer ties and cooperation with Russia were in China's interests especially on issues of global governance, where the two have much in common.
In July, both foreign ministries said they were teaming up to fight "disinformation" from "certain countries". In September, China's Foreign Minister Wang Yi hailed the two sides' mutual support in responding to "extremist forces in the United States" during a meeting with his Russian counterpart.
But there have also been reports that Russian officials, including Putin himself, have privately raised doubts about China in meetings with American officials.
Bob Woodward's recent book about the Trump administration, Rage, reported that the Russian leader called China "the largest out-of-control country on the planet" during a call with Trump in April – comments that did not appear on the press release.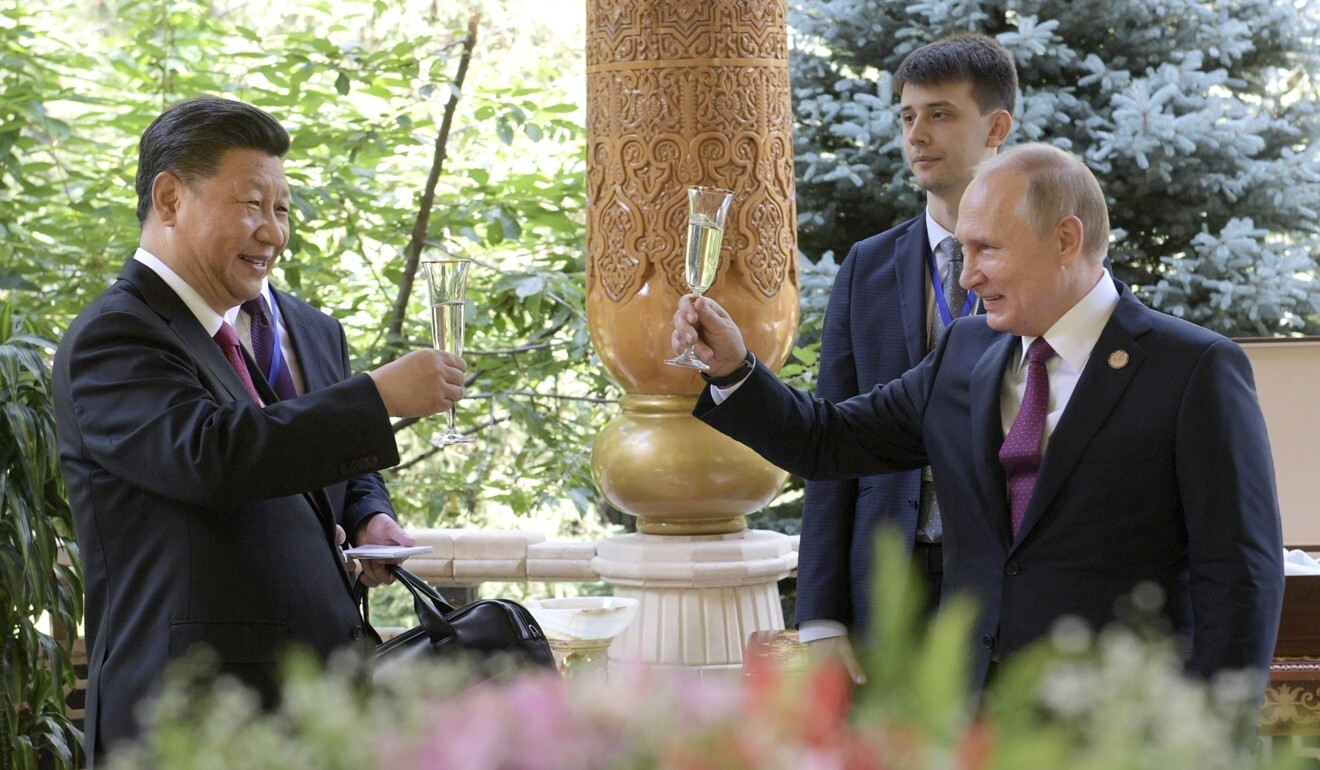 Former US national security adviser John Bolton also wrote in his memoir The Room Where It Happened that the Russian defence minister Sergey Shoygu had told him that he agreed that another nuclear arms control treaty, the Intermediate-Range Nuclear Forces Treaty, was no longer viable because of China's enhanced capabilities and developments in technology since 1987.
China and the Soviet Union signed a Treaty of Friendship, Alliance and Mutual Assistance in 1950, months after the foundation of the People's Republic. But relations deteriorated dramatically following the death of Stalin, at one point bringing the two countries to the brink of war.
The later improvement in relations has
picked up pace under Putin and Xi
, but last December the Russian leader insisted Russia was not planning a military alliance with China.
Shi Yinhong, an international relations professor with Renmin University and an adviser to the State Council, China's cabinet, said his latest remarks may be an attempt to play Washington and Beijing off against each other.
"US-China tensions are in such bad shape that a military conflict is possible. The chance that Russia wants to be an ally of China is very low," he said.
"It's mainly a sign of Russia's aspiration to be an important neutral actor to force the United States or China to give them important concessions."
This article appeared in the South China Morning Post print edition as: Beijing gives cautious welcome to Putin's military pact proposal