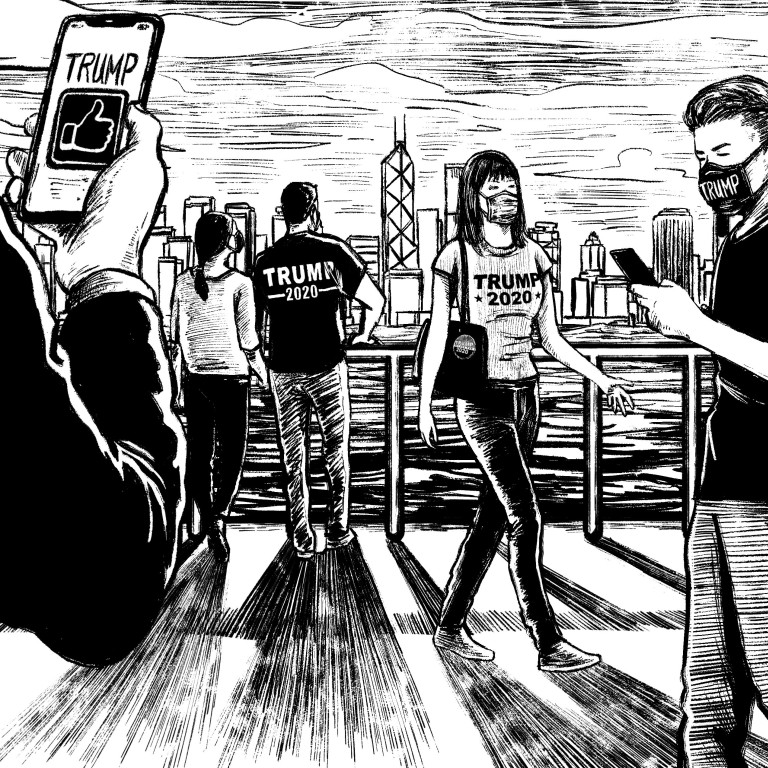 China policy key factor driving Hong Kong interest in US election
Social media dominated by pro-Trump discussion but survey reveals Hongkongers' more nuanced view of White House race
Many believe a Biden presidency would weaken Washington's policy towards Beijing
As voters in the United States prepare for the presidential election in November, the South China Morning Post is exploring the potential ramifications for China with its US election series.
Hong Kong interest in the US election extends far beyond the estimated 85,000 Americans in the city, with numerous Hongkongers hoping for a Donald Trump victory, because of his administration's stance on China. For many, the question over whether Washington will continue to confront Beijing over the next four years is an existential one.
Among them is a 27-year old doctorate student from Hong Kong who stayed behind in Pennsylvania – a key battleground state – when most of her friends left because of the
Covid-19 pandemic
. Phoebe Wong – not her real name – has no vote in the November 3 election but has made it her mission to help get the US president re-elected.
Wong, who asked not to be identified because of the political sensitivities, said she and some of her friends from Taiwan feared a Trump loss would lead to a weakened US policy on China and put their homes at the mercy of Beijing.
"I try to convince the most random people to vote for Trump," Wong said. She has made the case for a Trump second term to a waitress at her local restaurant and to a delivery man who brought her packages. The waitress was convinced, the delivery man remained undecided. "This is the least I can do for my home, Hong Kong, when I am far away."
Wong's concerns, and support for Trump, are echoed across
Hong Kong protest
accounts on social media, including the popular online forum LIHKG, which emerged as one of the virtual command centres for the city's anti-government movement last year. The Reddit-like forum has in recent weeks hosted an almost single-sided discussion praising Trump's pressure on China and pushing anti-Biden conspiracy theories also popular in US conservative circles.
US-China relations
have been through a series of crises in the past four years, ranging from a trade war to clashes on human rights. But the protests which occurred in Hong Kong throughout the second half of last year took centre stage, with many protesters seen waving US flags and pleading for Trump to "liberate" the city.
There was praise among the city's protesters for Trump's
sanctions on Chinese and Hong Kong officials
over Beijing's actions in Hong Kong, as well as for the passage of a bipartisan US law revoking the city's special trade status in response to the national security law, which came into effect on June 30.
Street protests in the former British colony have more or less quieted down in the wake of the national security law, as well as the pandemic, but the movement has continued to push for international action on Hong Kong.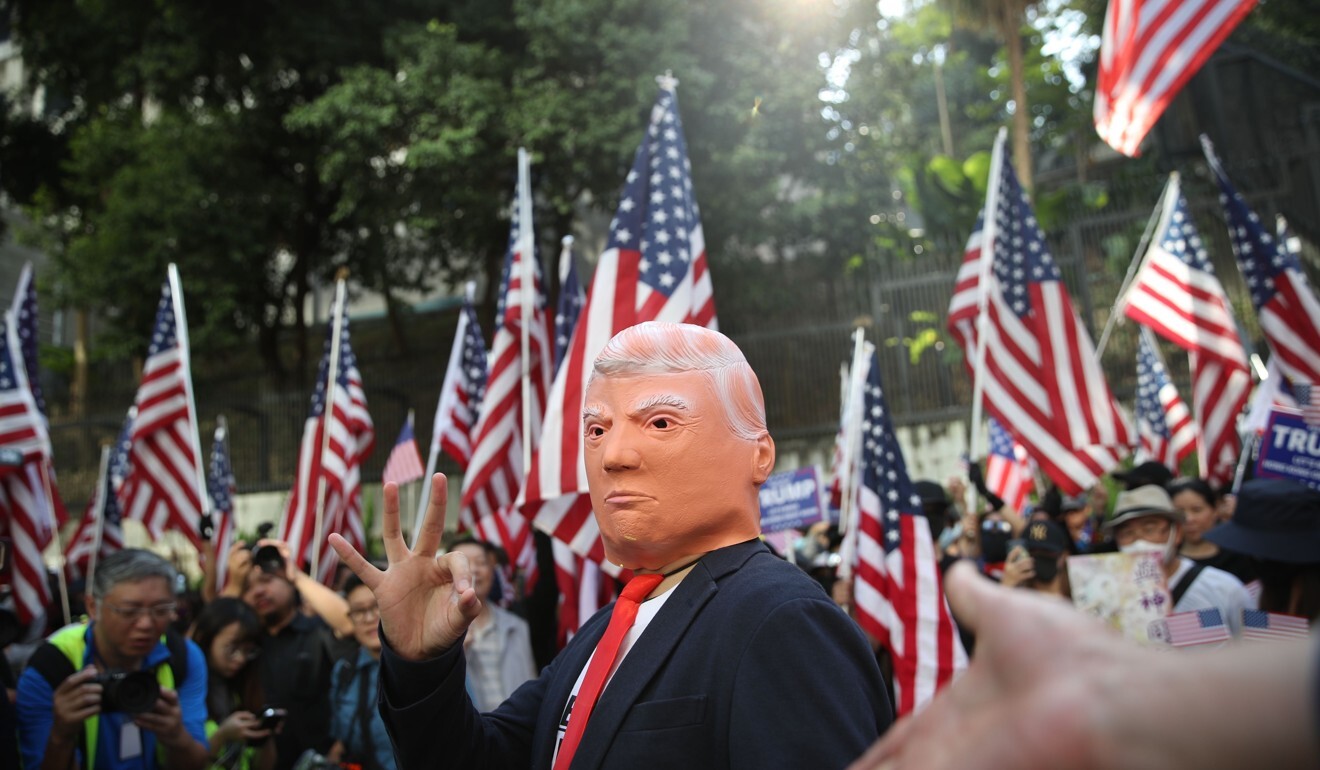 A YouGov report published in mid-October found
Taiwan
and Hong Kong were the strongest bases of Trump support among eight surveyed locations in the Asia-Pacific. Taiwan was the only place where more people surveyed preferred Trump to his Democratic challenger Joe Biden.
In Hong Kong, 42 per cent of respondents preferred Biden, ahead of Trump who scored 36 per cent, but negative perceptions of the former vice-president were highest. Only 12 per cent said they had a positive view of Biden, compared to 20 per cent who regarded him negatively.
Both presidential candidates have attacked each other for being weak on China. Trump has repeatedly proclaimed on the campaign trail that "if Biden wins, China wins". Biden has accused Trump of being "weak" in his defence of Hong Kong, while vowing to work more effectively with US allies to counter China.
Biden's campaign has pledged to continue with, and possibly expand, the sanctions imposed on Chinese officials for their crackdown on human rights in the city but many "yellow" Hongkongers – as supporters of the protest movement are known – seem unconvinced.
Jimmy Lai Chee-ying
, the media mogul behind the tabloid
Apple Daily
has also thrown his weight behind Trump's re-election bid, arguing in an opinion piece last Sunday that Trump wanted to change China's behaviour while describing Biden as "clueless".
Lai's view was echoed by another Trump supporter, a 27-year-old US citizen who returned to Hong Kong last year to participate in the anti-government protests. "I honestly do not know any Hongkonger who claims to be 'yellow' and is supportive of Biden," he said, asking not to be identified for fear of reprisals. "I think one would see that Trump has held up his promises to pressure China."
But Sze-kar Wan, who emigrated from Hong Kong to the US as a teenager, believes another four years of Trump would be detrimental to the city's democracy movement, as well as to Taiwan and to American society.
"If you want the US to be able to support the democracy movement in Hong Kong, and to be able to force a balance on China, the US needs to have a healthy democracy with fully functioning democratic institutions," said Wan, who is now a theology professor at the Southern Methodist University in Texas.
"If you have someone like Trump, who is best friends with [Chinese president] Xi Jinping at one time and fires sanctions at another without a consistent China doctrine, this is not going to be sustainable."
Wan said he was voting mainly on domestic issues, including his anger about Trump's management of the coronavirus pandemic. "For a leader who does not even care about the life and death of his own people, how can you expect him to care about human rights in Hong Kong?"
Analysts have said that while Trump is more hawkish on China, he has taken less of an interest in human rights issues. They point to his seemingly contradictory statements last November that there was a need to "stand with Hong Kong" but that he was "also standing with President Xi."
Mary Gallagher, a political-science professor at the University of Michigan, said Trump was internally divisive and "too transactional" to care about human rights, while Biden was likely to be "more even-keeled and internally united".
"However, I think we all expect relations with China to further deteriorate, no matter who is elected," she said.
Hongkongers on Capitol Hill
In Washington, Samuel Chu Muk-man, who runs the Hong Kong Democracy Council (HKDC) that lobbies on Capitol Hill on behalf of the city's democracy movement, has been adamant about the importance of bipartisanship.
"You're not at the mercy of whoever gets elected because it turns out that that person changes and evolves – their political interests and the party's political interests change," he said. "This administration has been very supportive and at least outspoken against China and some of the human rights issues, but you also have to remember, this started really just in the last year."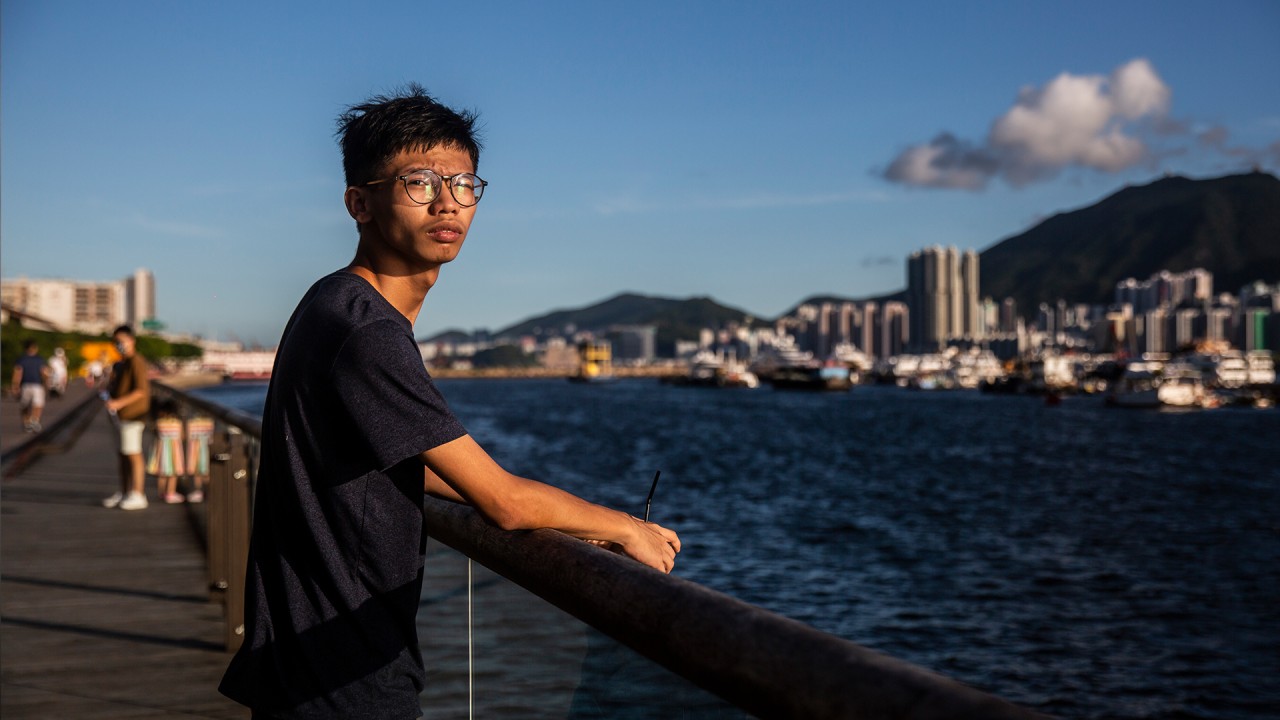 01:16
Four enter US consulate after national security police arrest HK activist planning asylum bid
Four enter US consulate after national security police arrest HK activist planning asylum bid
Chu said he has personally told Democrats that their party has been seen as slower to speak out strongly on Hong Kong, but that the Republican Trump administration needed to better coordinate globally to push back on China. Ultimately, he said, it was because of widespread, bipartisan interest in the city that Congress was able to pass the Hong Kong Democracy Act in November last year with near-unanimous support.
"What I really want people [in Hong Kong] to know is, don't squander the most important weapon and power that you have in the US, which is not being seen by one side that you are against them or for them because then you lose the leverage that we have now," Chu said.
"Hong Kong protesters inspired the kind of admiration and support that we were able to build into political support – you can't even pay for this."
The future of Hong Kong
Edmund Cheng Wai, who researches Hong Kong politics at City University of Hong Kong, said local interest in this year's US election had surged compared to previous contests because the anti-government movement had escalated into an international issue.
"In the past, Hong Kong people have felt very distant from American politics. But now the election is happening in the context of China-US rivalry, and Hong Kong protesters have been wanting to internationalise their agenda, they see global politics as impactful on and relevant to Hong Kong's future," he said.
But Cheng said that, while discussion on the city's social media platforms were dominated by pro-Trump sentiment, they were not an accurate reflection of the more general view among Hongkongers, as shown by the support for Biden in the YouGov survey.
"When [the future of the movement] shifts to an arena that is totally out of its control, i.e. the international arena, that is where there can be too much wishful thinking," he said. "Even if Trump wins a second term and starts engaging China again, [Hong Kong people] will have no say in this at all."