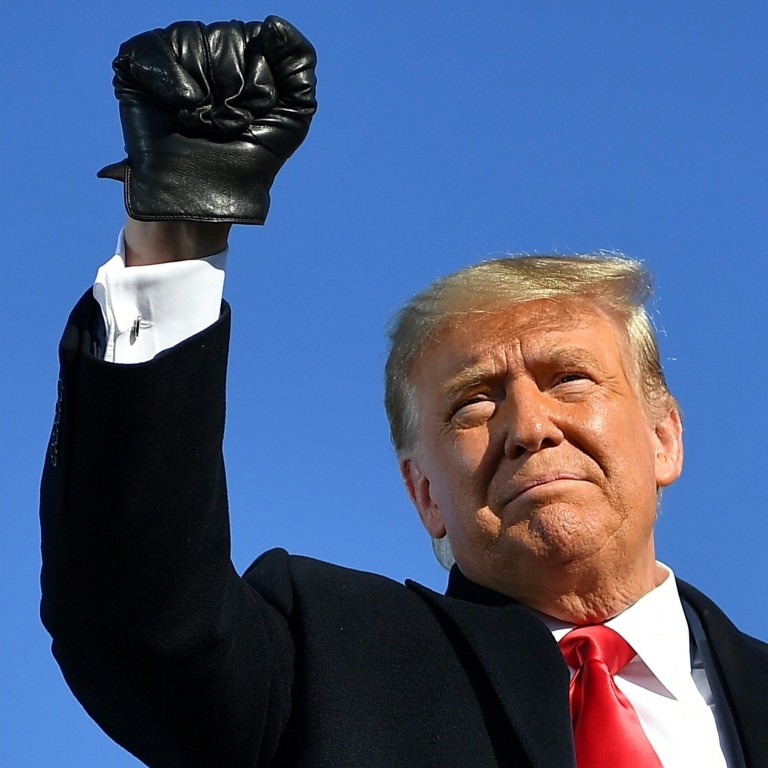 US presidential election: China watches and waits for outcome, but how much does it matter anyway?
Growing uncertainty in the US may fuel domestic tension and raise possibility of cold-war type confrontation with China – regardless of who becomes president
Observers in China accused of failing to understand that Trump's brand of identity politics appealed to voters 'because that's the America they want'
With no clear winner emerging on US election day, Beijing is taking a wait-and-see approach while bracing for grave, long-term challenges for
US-China relations
, no matter who wins the
presidential race
, according to observers.
Beijing tried to stay clear of any looming controversies over the prolonged vote counting in the US.
"We noted that the US election is under way with no final result. The US presidential election is an internal affair and China takes no stance on it," said Chinese foreign ministry spokesman Wang Wenbin during a regular briefing on Wednesday.
Many pundits in China were surprised that hours into Wednesday morning (US time), the contest for the White House between President Donald Trump and his Democratic challenger Joe Biden was still too close to call. An official tally, including millions of
mail-in ballots
in several key battleground states, could take days to finish.
Shi Yinhong, an expert on US affairs at Beijing's Renmin University of China, said many Chinese academics specialising in American politics would have a hard time admitting they had got it wrong again, especially when it came to assessing Trump.
Trump's stronger-than-expected performance showed that "his policy, and possibly his personal style as well, are supported by at least half of Americans", he said.
"If anything, it proves how unreliable those experts are. I literally said yesterday that we must leave enough room for surprises [when talking about the election results]."
Zhu Feng, director of the Institute of International Studies at Nanjing University, said it was a blow to Chinese scholars of American studies, who had failed to grasp what was happening to the US under Trump.
"It appears that Trump has a greater chance of winning the election than Biden, which serves as telling proof of the surging importance of identity politics in the US today. Contrary to what the Chinese may think, Americans simply don't care that much about Trump's moral and ethical qualities. They choose Trump and his right-wing administration because that's the America they want," he said.
Against the backdrop of a new surge in
coronavirus infections
across the US, Trump's popularity says a lot about where American voters stand on many critical issues.
"Surprisingly, a lot of Americans don't see the election as an opportunity to bring the controversy-plagued Trump to account, despite his much-criticised handling of the Covid-19 pandemic. It's clear that Trump's supporters have chosen the economy and personal values over controlling the pandemic," Zhu said.
Both Zhu and Shi cautioned that in addition to Chinese scholars, decision makers in Beijing should also avoid being too China-centric in their evaluation of US politics to avoid misperceptions and misjudgment.
With the presidential race undecided at the end of a divisive election day, pundits also expressed concerns that growing American unpredictability would not just fuel domestic tensions in the US, but also increase the risk of a greater cold war-style confrontation with Beijing.
There will be no good news for China regardless of who wins the White House for the next four years, according to Shi.
"If Trump wins, it means more tough times for China. If Biden manages a narrow victory, he would have to yield significantly to the China hawks within the Democratic Party, which is ominous for China too," he said.
Wang Yiwei, a professor of international relations from Renmin University, attended an election day event at the US embassy in Beijing and noted there was "a strong sense of disappointment among viewers from the US business community".
"We may see more damage to the world with possibly another four years of a Trump presidency. But no matter who wins, things will never go back to how they were. China is a bit indifferent to the result. No matter who will be the next US president, the US' China containment policy will continue and we are ready for it," he said.
Gal Luft, co-director of the Institute for the Analysis of Global Security, a Washington-based think tank, warned that a Biden victory could be more dangerous for China – and the world – in the short term.
"A Biden victory will channel deep hatred towards China which will be viewed as responsible for the defeat. In his remaining time in office Trump will be vindictive and will want to hold China responsible for the economic carnage caused by the pandemic," he said.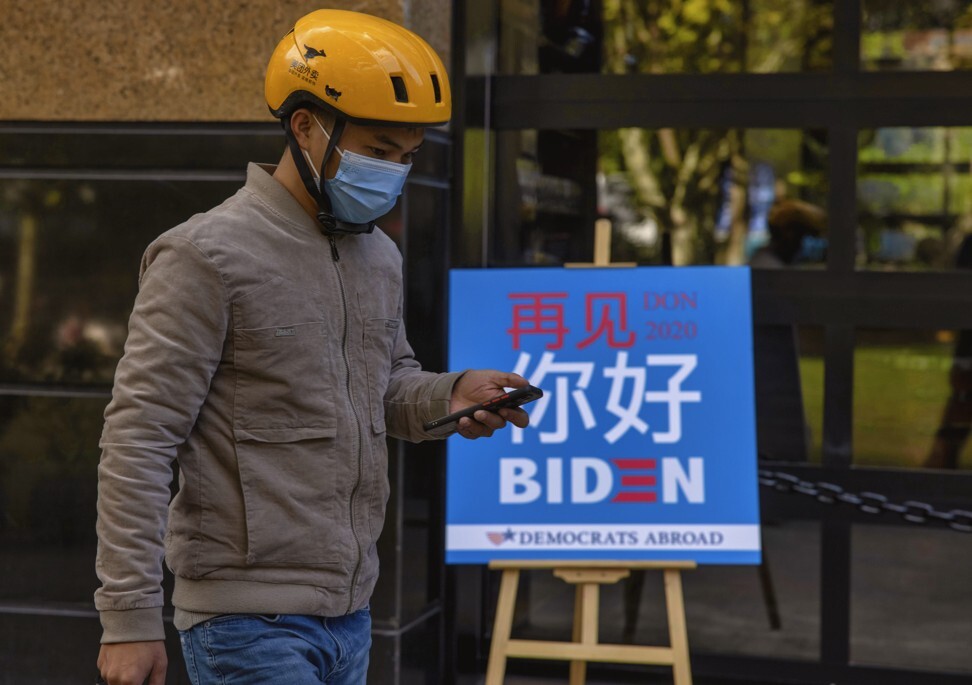 Yun Sun, a senior fellow at the Stimson Centre in Washington, said China's importance in the US election might have been overrated.
"At this point, people here worry there may not be a result coming out in days. And the foreign policy question is very much pushed further down the timetable. I think people are prepared for a continuation of the current trajectory for China if Trump wins, and for a potential reset if Biden wins. But for now, it's really the suspense of the election result that is keeping people awake, and bothered," she said.
Compared to the Chinese government's reticence on the election, the state-controlled tabloid Global Times did not mince its words. In an editorial on Tuesday, it cited the 2020 election and possible disputes and chaos over the outcome as proof that "the US has to some extent degraded".
"Americans used to believe that only developing countries would witness serious disputes over their election process, and there might be even riots, with the losing side refusing to accept the outcome. They are not supposed to bother with the same uneasiness, as a member of the top country in the West," it said.
"Something must have gone wrong with US' national competitiveness and its social governance. The country needs serious and profound domestic reforms, which will be an arduous task."
Additional reporting by Wendy Wu
This article appeared in the South China Morning Post print edition as: China 'sees hard road ahead' whoever wins in US