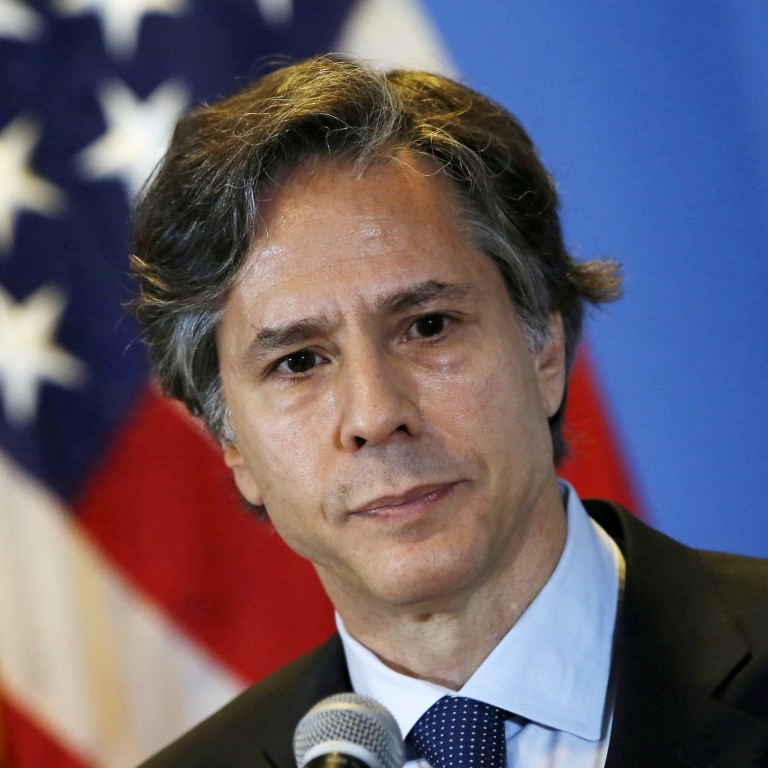 US-China relations: Biden's pick for secretary of state seen as 'someone Beijing can work with'
President-elect has nominated long-time adviser Antony Blinken to be top diplomat
Chinese analysts say he's 'pragmatic' and it would be a positive move for Beijing
US president-elect Joe Biden's
choice for secretary of state is seen as a moderate and someone Beijing could work with, Chinese analysts say, as China watches for clues on the future direction of the relationship.
Biden announced on Monday that he has
nominated Antony Blinken
, his foreign policy adviser, to be America's top diplomat.
Jia Qingguo, an international relations professor at Peking University, said Blinken may be an official China can work with to stabilise relations.
"But whoever is appointed the next secretary of state will be better than the current one," Jia said, referring to Mike Pompeo, a China hawk and target of frequent attacks in Beijing's state media outlets.
"China is not expecting a pro-China secretary of state. China expects someone who can deal with US-China relations in a sensible way that serves US interests," he said. "As long as it's done in a sensible way, there are plenty of issues the US could work on with China that will suit both of their interests."
Blinken would be likely to bring Washington back to its post-war international strategy of advancing American interests by maintaining a world order that is favourable to the US – which would mean a more predictable China policy than under Trump, he said.
Lu Xiang, a US affairs specialist with the Chinese Academy of Social Sciences, said Blinken as secretary of state would be a positive move for Beijing.
"With his experience, Biden is likely to make some important decisions on foreign policy," Lu said. "Blinken is not a charismatic or provocative type, but he's a pragmatic type … if he gets confirmed, I will personally see it as good news."
Blinken, 58, is a long-time adviser to Biden, including as his top aide on the Senate Foreign Relations Committee and as national security adviser from 2009 to 2013, while Biden was vice-president.
Blinken said earlier that Biden would engage China from a "position of strength" and focus on restoring US democracy and its relations with allies.
He has also acknowledged the bipartisan view of China as a major challenge, and pledged to get US allies on board to confront Beijing on issues such as trade practices.
"When we're working with allies and partners, depending on who we bring into the mix, it's 50 or 60 per cent of GDP. That's a lot more weight and a lot harder for China to ignore," he said during a July event at the Hudson Institute, a Washington-based think tank.
However, Blinken, like others on Biden's foreign policy team, has more experience in the Middle East than US-China relations, according to Lu.
"Blinken and [Jake] Sullivan contributed a lot to the Iran nuclear talks in open negotiation and the back-door diplomacy before it," said Lu, referring to the Obama administration's deal with Iran in 2015, which Trump pulled out of in 2018.
"It remains to be seen if that experience will be useful for US-China ties," he said.
Sullivan, a State Department veteran, is Biden's nominee for national security adviser.
But Lu also noted Blinken's hawkish remarks on technology, and his reference to China as a "techno-autocracy".
"We have to do a much better job in leading, coordinating, working with the other techno-democracies to make sure that we carry the day and not China," Blinken said during an interview with CBS News in September.