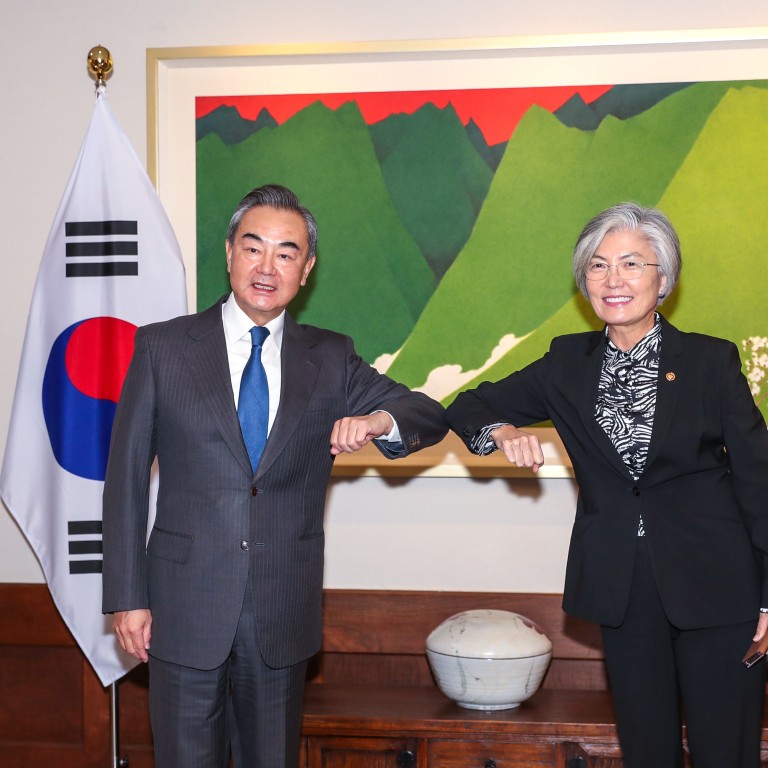 Can China, Japan and South Korea follow RCEP with their own free-trade deal?
Beijing is keen to progress with talks on a trilateral agreement that have often broken down over bilateral disputes
RCEP, signed this month by 15 nations including the trio, is a landmark for the three neighbours and suggests areas they can develop – but also concerns
China's attempt to further consolidate regional economic power by pushing forward a trilateral free-trade agreement with Japan and South Korea has been met with both political and industrial complications, despite the
conclusion this month of the RCEP
, the first region-wide free-trade deal.
Chinese Foreign Minister Wang Yi this week
completed a three-day trip to Japan and South Korea
that – with a trilateral summit not expected to happen this year and a stalemate in relations between Tokyo and Seoul – could be the only imminent high-level opportunity for Beijing to push for progress on the FTA.
Through state media and officials, Beijing has expressed its eagerness after the signing of the Regional Comprehensive Economic Partnership (RCEP) to see movement on a trilateral FTA that has been discussed for eight years but has often been disrupted by bilateral politics.
03:29
RCEP: 15 Asia-Pacific countries sign world's largest free-trade deal
RCEP: 15 Asia-Pacific countries sign world's largest free-trade deal
It is also particularly significant to the region because it is the first time the three most developed Asian powers of China, Japan and South Korea have been in a single free-trade bloc, and the first bilateral tariff reduction arrangement between China and Japan.
The RCEP will eliminate as much as 90 per cent of the tariffs on imports between its signatories within 10 years of coming into effect. But according to previous government statements, the discussion of the trilateral FTA is with "an aim of liberalisation at a higher level than the RCEP" – which covers opening of goods and services markets, investment, rules of origin, customs, competition and e-commerce.
The three Asian countries account for about 24 per cent of the world's economy with a combined yearly trading volume of over US$720 billion, forming one of the most integrated international economic blocs.
Political roadblocks
However, the path to concluding an FTA, which was first raised 18 years ago and began its first round of discussions in 2012, has been rocky because of the delicate diplomatic relationship, which has led to repeated call-offs.
Tokyo announced last month that Prime Minister Yoshihide Suga would not attend the trilateral summit this year without concessions from Seoul in a long-standing feud over compensation for wartime labour, suggesting that a meeting between the three countries was unlikely to take place.
Singapore-based trade analyst Deborah Elms said that although the countries' RCEP commitments might create a framework for reaching a trilateral trade deal, she expected a substantive trilateral agreement to take at least a couple of years of effort.
"Part of the obstacle to creating a substantive trilateral [deal] has been a series of non-economic challenges," Elms said. "Plus there are some genuine competitiveness concerns that will surface in any negotiations. Hence, I think it's likely that the trilateral will remain a modest effort for some time."
She added that the three powers might watch to see what sorts of competitive pressures come from RCEP participation.
Domestic industries' challenges
Wei Jianguo, a former vice-minister at China's Ministry of Commerce who was responsible for foreign trade, is nonetheless calling for optimism.
"The trilateral FTA will address trade involving products related to AI, robotics, chips, IT products. This will help form a strong and secured bloc of supply of these materials among the three countries, and expect to lower dependency on US manufacturing on these products, " Wei said. "This is crucial for all three countries and cannot be replaced by the RCEP."
All three powers are among the world's most important semiconductor players.
China aspires to be self-sufficient in its semiconductor industry, and is especially pressured to do so after the United States made moves to block chip makers from supplying to China amid broader technology tensions between the countries.
Japan is an important supplier of semiconductor materials as intermediate goods used for South Korea's production of HBM (high bandwidth memory) and DRAM (dynamic random-access memory) chips, while China uses semiconductors produced by South Korea. They are dependent on each other for certain materials, but are competitors at the same time, according to trade analysts.
Jeong Hyung-gon, a senior research fellow at the Korea Institute for International Economic Policy, said one of the major obstacles for concluding a "high-standard" trilateral FTA was the growing similarities of the three countries' industrial structures.
"An expansion of overlap areas in key export industries could lead to a sudden weeding out of domestic industries due to the intensified competition," Jeong said. "As such, these concerns about market opening will complicate the negotiation process of a CJK [China-Japan-South Korea] FTA."
Jeong added that China's reluctance over further liberalisation of certain services and industries for South Korea and Japan, for instance, would lower the overall merits of a potential trilateral FTA.
Naoyuki Yoshino, an economics professor at Tokyo's Keio University, said he expected no easy path to the FTA because it required opening up much more than manufacturing industries. "The exchange-rate system has to be market oriented," he said. "Gradual opening of the capital market is necessary in accordance with a free-trade agreement."
Yoshino said, however, that if a trilateral FTA could be concluded and expanded to Southeast Asia, it would help elevate the importance of the Asian economy in general and prompt the US to want to join these agreements.
"If global free-trade agreements would push the Asian economy into upward growth, the US [would] have to follow," he said.
This article appeared in the South China Morning Post print edition as: trilateral deal on trade faces political hurdle