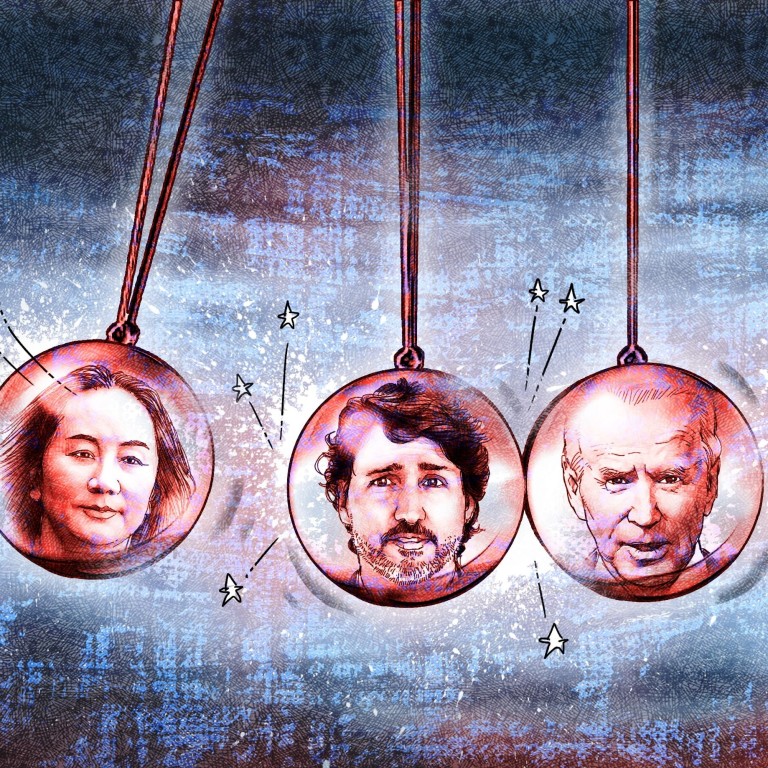 Will Joe Biden fix Canada's broken relations with China? It's about more than Meng Wanzhou
Arrest of Huawei's Meng blighted Sino-Canada relations during the Trump presidency – but even if she is freed, US policy will still affect Ottawa
Next US president may be less hostile than Donald Trump, but he promises a multilateral approach to China that may be hard for Canada to resist, observers say
As the Biden administration takes the reins in Washington, the stakes have never been higher for the US relationship with China and the rest of Asia. In the fifth part of a post-US-election series, Ian Young explores how Beijing may face a more united front from Washington and Ottawa, and how detained Huawei Technologies CFO Meng Wanzhou figures into the equation.
For half of that time, a third party –
detained Chinese executive Meng Wanzhou
– has also loomed over the Canada-US relationship, her unwilling presence under partial house arrest in Vancouver further testing the limits of Ottawa's ties with another superpower.
Since Meng's 2018 arrest, Canada has been commonly depicted as the meat in the sandwich between China and Trump, raising the question of whether the US' transfer of power next month offers an opportunity to reset Canada's relationship with Beijing, too. Reports last week that the US Department of Justice
was in talks with Meng, about a deal
to drop its extradition request, have only heightened the speculation.
But despite
US president-elect Joe Biden
promising a more crafted foreign policy approach than Trump, some observers of the three-way diplomatic dance doubt Canada will get much room to go easy on Beijing, even if Meng were freed.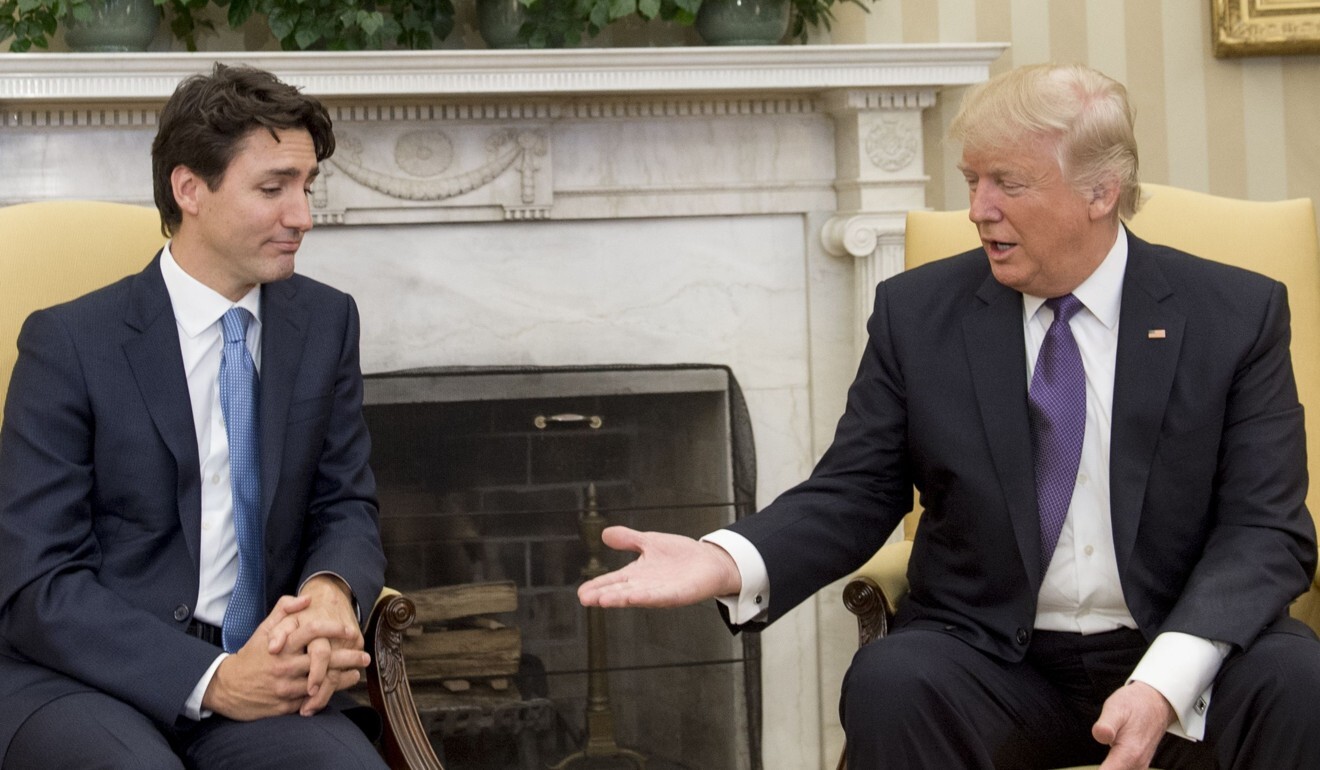 The sound and fury of Trump's go-it-alone foreign policy has been disorderly and distrusted by some allies. But Biden's promise of a regimented and multilateral tough-on-China policy could force Trudeau to adopt this as a common stance.
Charles Burton, a former counsellor at the Canadian embassy in Beijing and a senior fellow at the Macdonald-Laurier Institute, said US Secretary of State Mike Pompeo's efforts to secure a common set of standards on how to deal with China had faltered, largely because of the vagaries of his boss. "But under Biden I think it becomes much more likely to happen," he said.
Burton has accused Trudeau of taking too soft an approach to Beijing. But supporters of improving Canada's relationship with China also doubt a Biden administration will be inclined to go easy on Beijing – and that would continue to impact Ottawa-Beijing relations.
This should also be considered "in the interests of the broader Canada-China relationship", Woo told the Senate in June.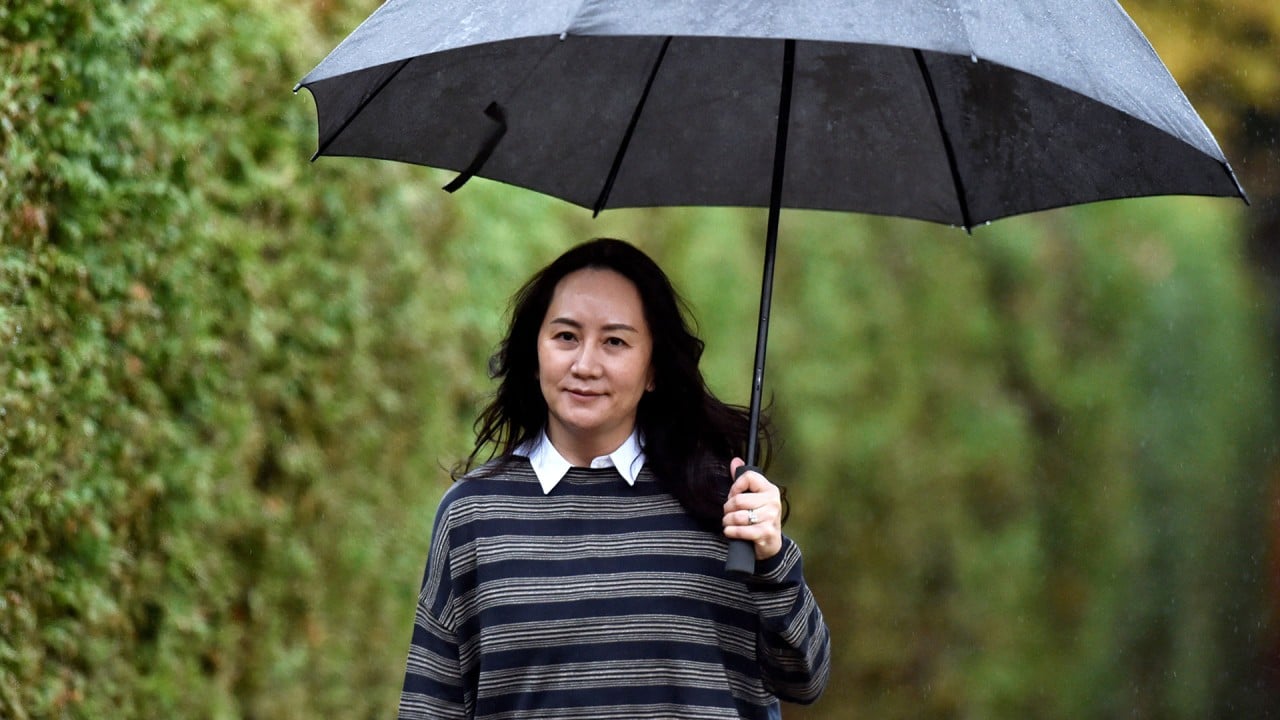 04:43
How the arrest of Huawei CFO Meng Wanzhou soured China's relations with the US and Canada
How the arrest of Huawei CFO Meng Wanzhou soured China's relations with the US and Canada
In an interview, Woo said there was "a window of opportunity, for soon-to-be president Biden to drop the case". It would be "a wise thing" for the Canadian government to lobby Biden on it, he said.
As for broader Canada-China ties under Biden, a bipartisan consensus in the US that China was a threat was "quite robust", Woo said. "That will be the defining dimension of US policy, that may from time to time run counter to Canadian interests."
Canada and the 'coalition of the willing'
The moment Canada's relationship with China fell off a cliff can be dated with unusual precision: 11.21am on December 1, 2018.
That was when a Canadian border officer intercepted Meng at gate 65 of Vancouver's airport, after the
Huawei Technologies Co
chief financial officer stepped off a Cathay Pacific flight from Hong Kong.
Canada's relationship with the US – once a bedrock of stability – had already been tested by Trump, who ignored presidential convention that Canada be the destination for a new US president's first foreign visit (he went to Saudi Arabia instead), then called Trudeau "dishonest and weak" after he did eventually visit Canada for the 2018 G7 summit.
From the Chinese perspective, Meng's arrest was an expression of US foreign policy, and Canada's apparent acquiescence a reflection of lapdog status.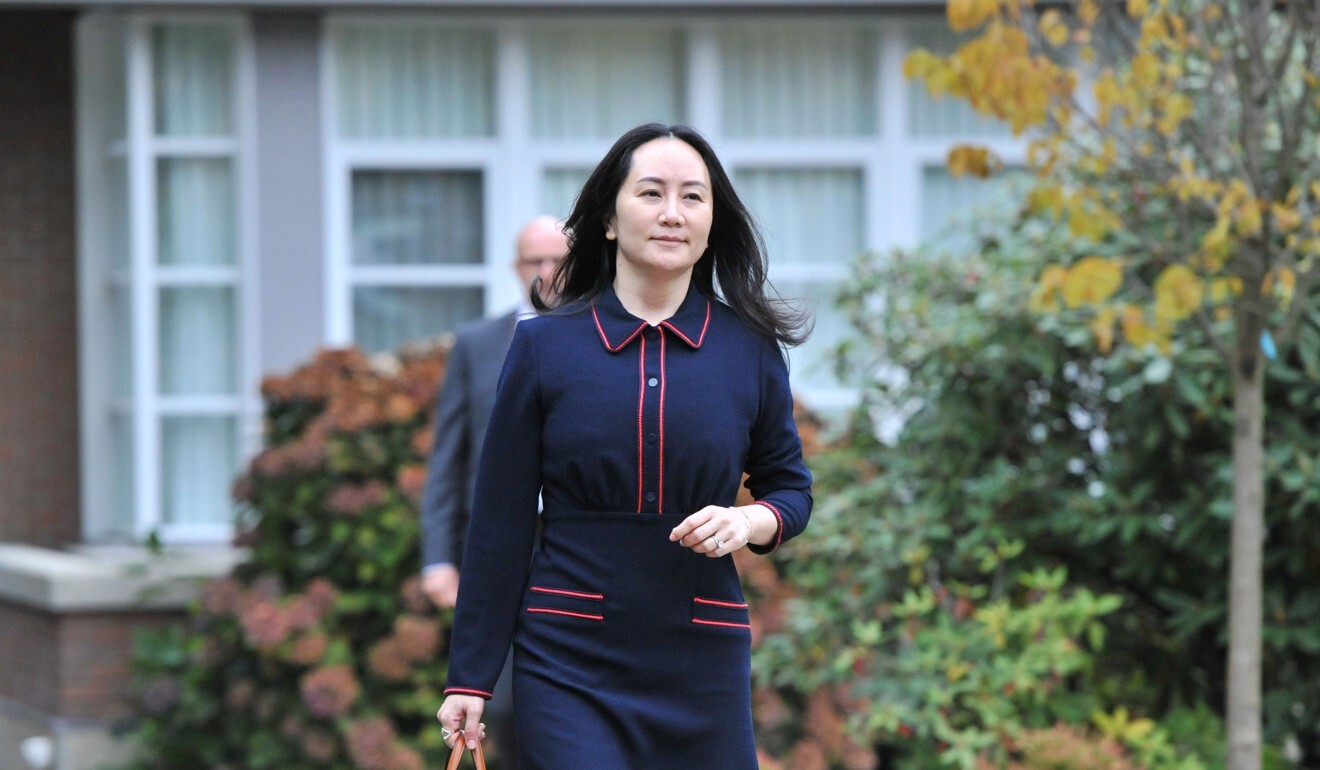 Her lawyers have taken a similar stance on the former – arguing that the case was tainted by political interference from Trump, who said soon after the arrest that he might use Meng's case to further US economic interests amid the trade war with China.
Two years later, and Canada-China relations remain in "a deep freeze" because of Meng's case and those of the two Michaels, Woo said.
The request for Meng's extradition could not be separated from the US political context, Woo said.
"It's not difficult to see this alleged act of fraudulent behaviour connected to a larger [US] foreign policy objective," which Canada did not share, Woo said, referring to US sanctions on Iran that Canada does not impose.
Meng is accused of defrauding HSBC by lying about Huawei's business dealings in Iran, putting the bank at risk of breaching the sanctions; she denies the charge.
Woo said he had discussed Meng's situation, and that of Kovrig and Spavor, with "high-level Chinese interlocutors".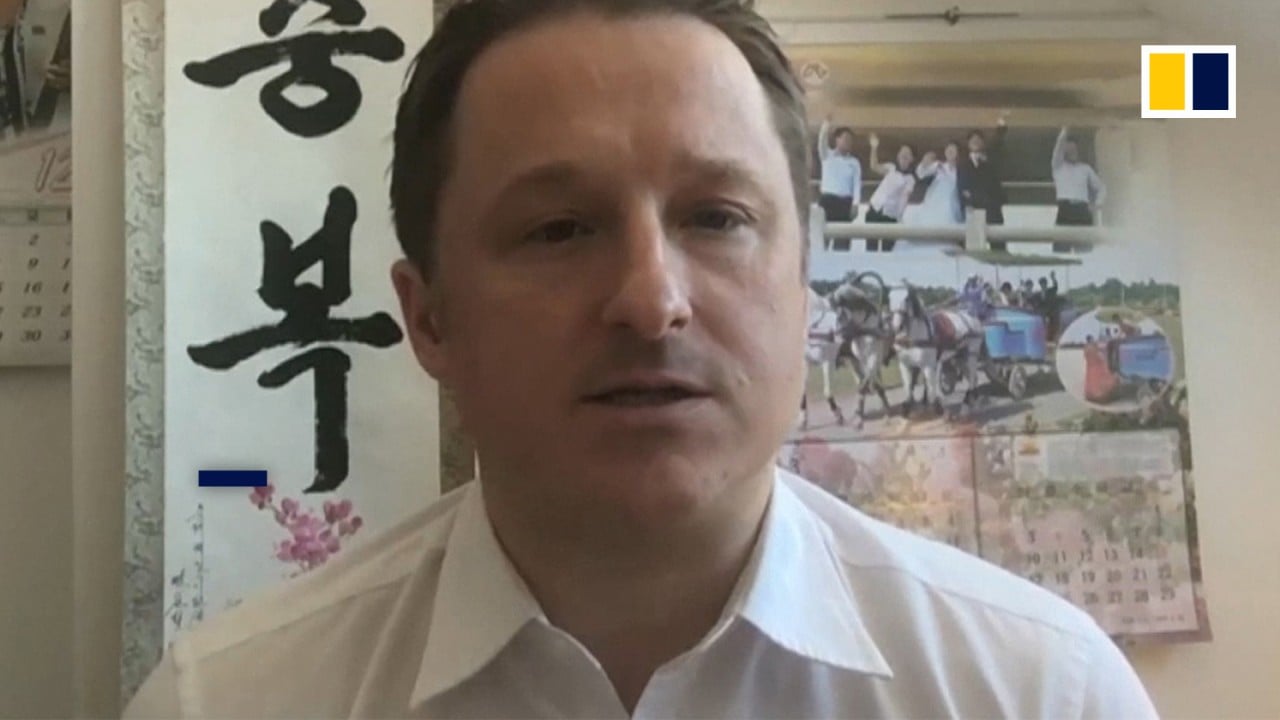 01:27
Second Canadian citizen detained in China
Second Canadian citizen detained in China
He said that with Biden's US election victory, these interlocutors held "a sense of relief they will not be subject to the kind of erratic policy actions towards China we saw under Trump". But he said: "On the China relationship, the US will pursue its interests. It will not pursue Canada's interests."
Unless Meng were freed, "the [Canada-China] relationship will remain at a very low level", Woo said.
David Mulroney, who was Canadian ambassador to China under former prime minister Stephen Harper, has been a harsh critic of Trudeau's approach to China.
Canada has "tried to be at the back of the pack" in criticising Beijing, he said. "It's very much trying to stay out of trouble, keep our heads down, until there is a sense of where Washington is."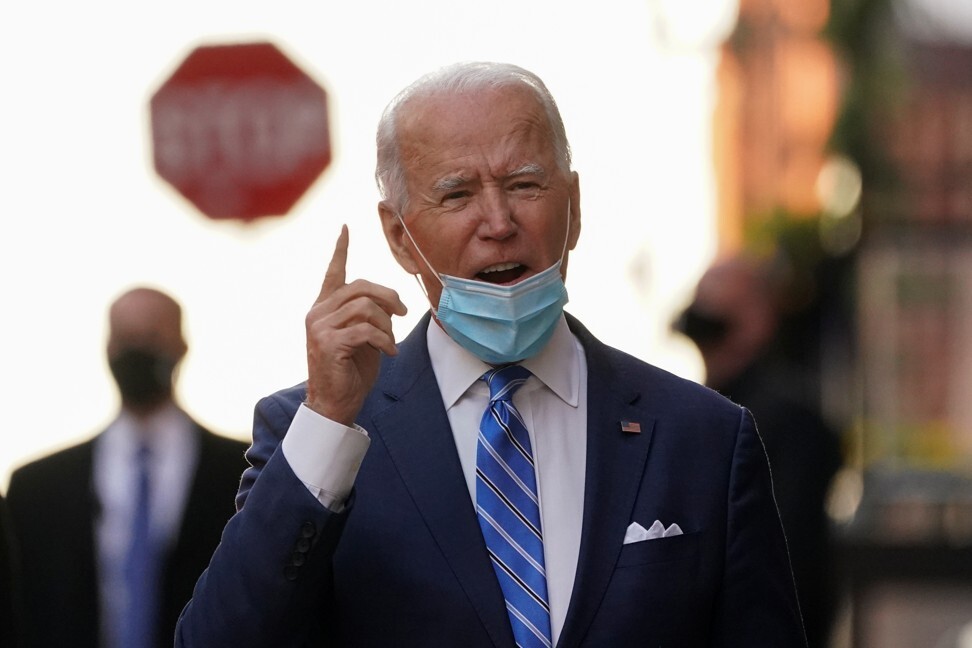 In an article in Foreign Affairs magazine in January, Biden called for "a united front of US allies and partners to confront China's abusive behaviours and human rights violations".
"On its own, the United States represents about a quarter of global GDP," Biden wrote. "When we join together with fellow democracies, our strength more than doubles. China can't afford to ignore more than half the global economy."
Burton predicted such a strategy could force Canada to clarify and toughen its stance on China. Mulroney, too, said that if Biden managed to forge a "coalition of the willing" to counter China, Ottawa would probably join it.
For instance, Trudeau has yet to release his long-promised China policy, and has failed to match allies by
banning Huawei from construction of 5G networks
. Last month, parliament passed a non-binding motion demanding Trudeau's minority government decide within 30 days whether to ban Huawei; Conservative opposition leader Erin O'Toole said it was time for the government to "grow a spine".
But Mulroney said: "We won't be on anybody's speed dial... I think that's unfortunate in terms of Canadian interests and Canadian influence … we want to tag along, without aspiring to a leadership role."
Bargaining chips
As for Meng, Mulroney said he doubted Biden would be inclined to let her go without an admission of guilt and/or penalties.
He was speaking before The Wall Street Journal reported on Friday that the US Department of Justice was in talks with Meng about a deferred prosecution agreement, to let her return to China.
Such deals typically require an admission of wrongdoing and some form of cooperation, in exchange for the dropping of charges at a later date. Meng was resisting the deal because she believed she had done nothing wrong, the report said.
A spokesman for Canada's justice department, whose lawyers represent US interests in Meng's extradition case in the Supreme Court of British Columbia, told the
South China Morning Post
it "cannot comment on what, if any, discussions Ms Meng may be having with the United States".
Hearings in the case resumed on Monday
.
Previous cases offered hints about how the US could seek to resolve Meng's situation, but the case had taken on such significance that admissions of wrongdoing may be frowned upon by Beijing, Mulroney said.
He cited the US ban on Chinese telecoms giant ZTE, lifted in 2018 after the firm paid a US$1.4 billion penalty, and the arrest of Su Bin, a Chinese national living in Canada who pleaded guilty in 2016 to a hacking plot to steal US military data.
After Su's 2014 arrest in British Columbia, China retaliated by jailing Canadian missionaries Kevin and Julia Garrett. Ultimately, Su took a plea deal in which he was sentenced to 46 months in jail, and the Garretts were released.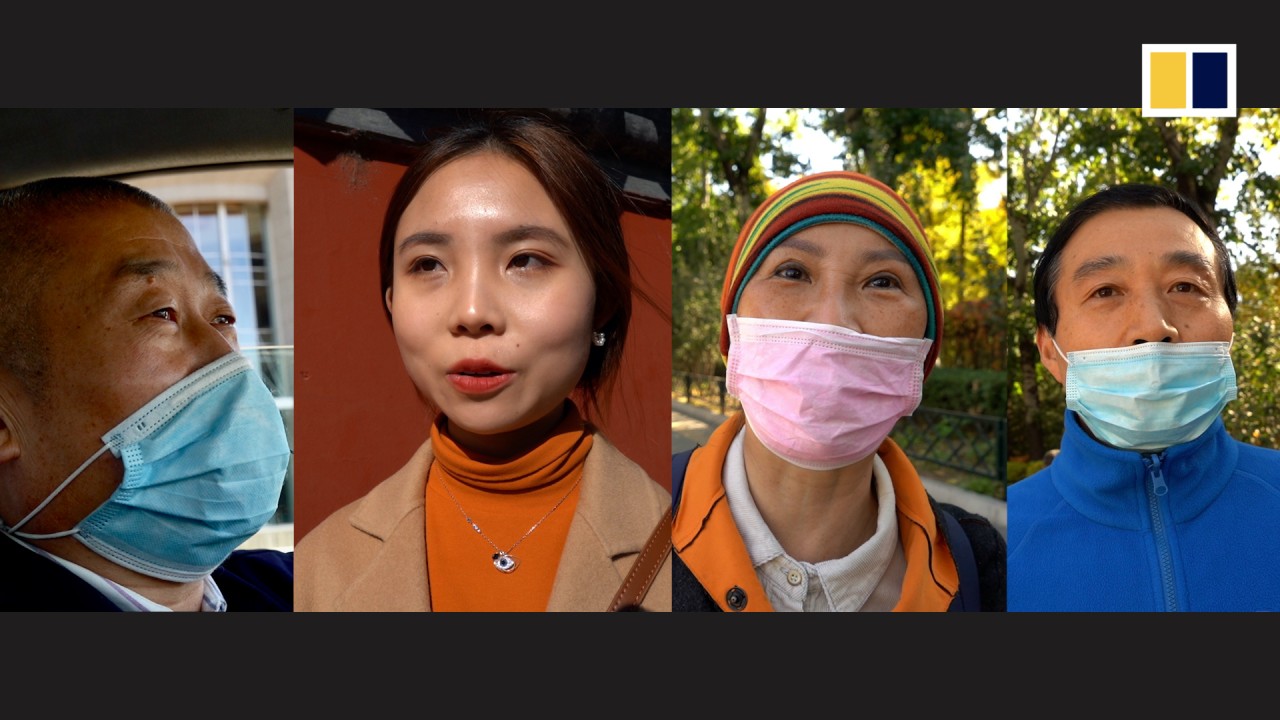 03:58
People on the streets of Beijing react to Biden's US presidential election victory over Trump
People on the streets of Beijing react to Biden's US presidential election victory over Trump
"The Americans have been down this road more than once," Mulroney said. "In the case of ZTE, they demanded a significant penalty, and I don't think they can resolve [Meng's case] without securing something like a significant penalty too.
"And Su had to plead guilty. That's something the Chinese would view with real concern, if Meng Wanzhou were asked to plead guilty. She's a highly placed person."
Any deal with Meng could not be seen to be rewarding China, either by Canada or the US, he said. "[The US is] in the same position we are. They can't be seen to be responding to hostage diplomacy."
Canadian Green MP Paul Manly, whose party has called on Ottawa to demand the US drop its case against Meng, said a Biden presidency would be "more receptive to talking to the Canadian government about these things".
He said that although it was incumbent on Canada to follow its extradition treaty obligations, Trump had abused the process for political purposes. "He said he wanted to use [Meng] as a bargaining chip in his trade negotiations, which is outrageous and irresponsible," Manly said. "There are a lot of things to hold China to account for. But the rhetoric and the way those things are done … it can escalate or de-escalate a situation."
Canada, he said, had been "placed in the middle of Trump and China's tit-for-tat", and he expected Biden to be "less bellicose, more rational" than Trump.
But what mattered most to Canadians was the fate of Kovrig and Spavor. "That's the top priority that Canadians want," he said. "They just want the two Michaels released."
This article appeared in the South China Morning Post print edition as: Neighbourly favours