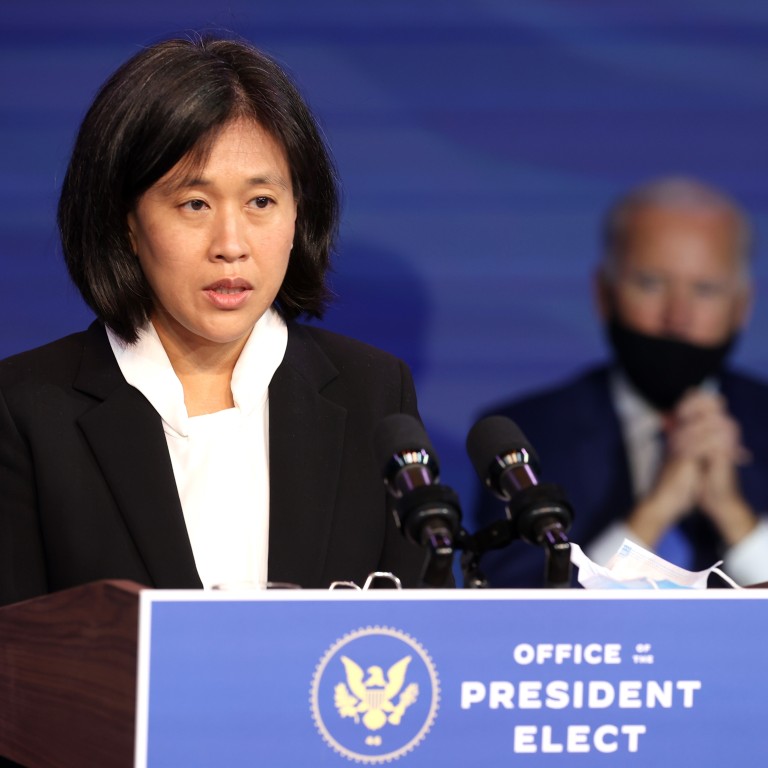 US-China trade war: Joe Biden hints he will keep up pressure on Beijing with pledge to fight 'unfair trade practices'
President-elect nominated Katherine Tai to post of US trade representative by touting her experience of taking on Beijing
Biden says trade policy will be a 'critical pillar' of his administration's foreign policy
Joe Biden has said his nominee for trade chief Katherine Tai will target abusive trade practices by China in a possible sign that Donald Trump's trade war will continue.
On Friday, the president-elect nominated Tai for the role of US trade representative, saying: "She was the chief trade enforcer against unfair trade practices by China, which will be a key priority in the Biden-Harris administration.
"Trade will be a critical pillar in our ability to build back better and carry out our foreign policy – foreign policy for the middle class."
Biden also highlighted Tai's experience as chief counsel for China trade enforcement at the World Trade Organization.
Tai led a series of cases in that post between 2011 and 2014, most noticeably building an international coalition – including the European Union, Japan and Australia – to oppose Chinese export limits on rare earth metals.
In 2014, the WTO ruled that the quotas on these strategically important metals were an unfair trade practice. They were dropped the following year.
Biden said Tai would work closely with his economic, national security and foreign policy teams, adding: "She understands that we need … to be considerably more strategic than we've been in how we trade, and that makes us all stronger, how we're made stronger by trade."
Tai, the first Asian-American nominated for the role, recalled her pride when she presented the US case to the WTO alongside a colleague of Indian heritage.
"My heart swelled with pride as we raised our placard and stated that we were there to present the case on behalf of the United States of America," Tai said.
"I am very proud to be an advocate for American workers, to stand up for their ingenuity and their innovation and for America's interests across the globe. I look forward to harnessing the power of our trade relationships, to help communities lift themselves out of the current crisis."
Tai, a Connecticut native whose parents were both born in mainland China and raised in Taiwan, is a fluent Mandarin speaker. She studied at Yale and Harvard Law School and also spent two years teaching English at Sun Yat-sen University in Guangzhou as a Yale-China Fellow.
Tai now serves as the chief lawyer on trade for the House of Representatives ways and means committee, which has jurisdiction over taxes, tariffs and other revenue-raising measures. If her nomination is confirmed by the Senate, she will be the first non-white woman to serve as trade representative.