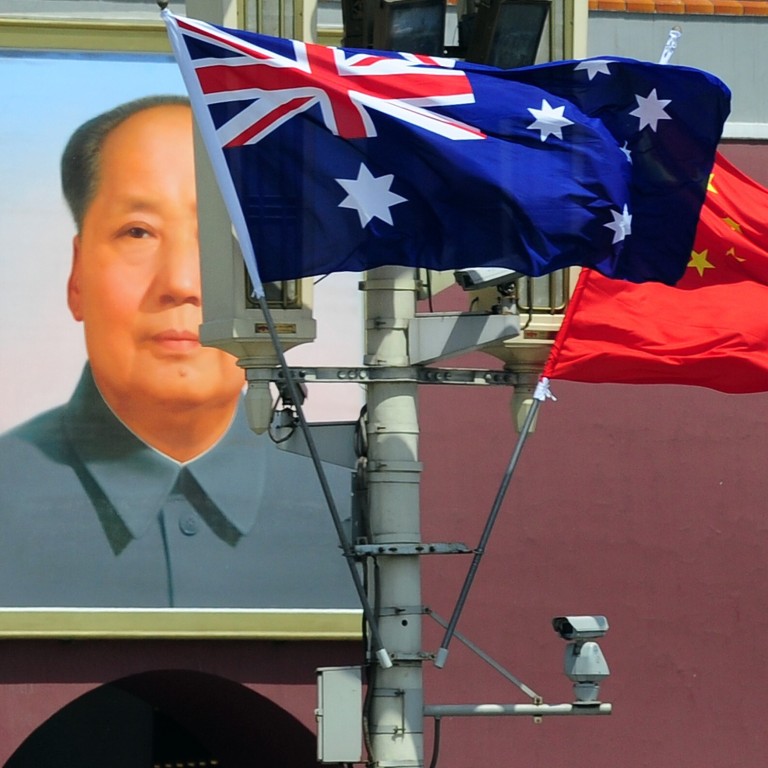 China-Australia relations: Beijing's trade restrictions are meant as a warning to Canberra, but will they work?
China is 'seeking to both punish Australia for taking certain decisions and warn off other countries from adopting similar policies', John Lee, a former national security adviser to Canberra, says
'Beijing is trying to make an example of Australia,' international relations expert Pichamon Yeophantong says
The trade dispute, which looks set to get worse, is part of China's efforts to punish Australia and warn other countries against taking similar actions, they say.
Chinese state media reported recently that Beijing is planning to extend the import curbs to Australian coal.
John Lee, a senior fellow at the Hudson Institute in Washington, said that despite Beijing's intentions, its trade curbs could have the opposite effect.
"China is seeking to both punish Australia for taking certain decisions and warn off other countries from adopting similar policies," the former Australian national security adviser, said.
"[But] China's actions have given rise to a growing Australian discussion among government and business leaders about the need to diversify and lower reliance on China.
"The problem for China is that it needs to cooperate with these advanced economies to achieve its economic objectives, hence, it is shooting itself in the foot in the long term."
Relations between the two countries have been tense since 2017 over issues including Chinese interference in Australia, Beijing's regional influence, technology and trade. But Australia's calls for an investigation into the origins of the coronavirus appears to have been the straw that broke the camel's back for Beijing, which reacted by imposing anti-dumping duties on Australian barley and wine, and other restrictions on its beef, timber logs, lobsters, sugar, cotton and copper.
The Chinese government has also warned citizens against travelling or studying in Australia, and in August, detained Chinese-Australian journalist Cheng Lei on national security grounds.
A recent poll by the Lowy Institute, a think tank in Sydney, found Australians' trust in China was at an all-time low, with 94 per cent of respondents saying they wanted Canberra to reduce its dependence on the world's second-largest economy, and just 23 per cent saying they trusted China to "act responsibly in the world".
Pichamon Yeophantong, an international relations and China specialist at the University of New South Wales Canberra, said Beijing was using its spat with Australia to stoke nationalistic sentiment and as a warning against certain types of behaviour.
It was unlikely to be concerned with what the average Australian thought about China, she said.
"Escalating tensions with Australia through tariffs and other tools is seen as a way for Beijing to deter such behaviour in the future," she said. "Beijing is trying to make an example of Australia."
Fu Ying, a former Chinese ambassador to Australia, said in October that the two countries should "show their sincerity and courage to get out of the dilemma" and avoid "resorting to confrontation and abusing language", but the dispute goes on.
Lee said it was highly unlikely Morrison would make any compromises on domestic policy or legislative decisions.
"In this sense, China is demanding conditions over the making of domestic policy, which Australia could not agree to," he said.
Zhiqun Zhu, a political science and international relations professor at Bucknell University in Pennsylvania, said that Beijing had been upset by Australia's actions but was unsure how to respond.
"Beijing is aware that its image in the West has declined, but it does not seem to know how to improve it," he said.
"Beijing insists that Australia should change its attitudes in words and deeds, [but] it is unclear what exactly China expects from Australia. On the other hand, Australia has sent mixed signals. For example, Prime Minister Morrison demanded China apologise for the tweet by Zhao Lijian, but a couple of days later, he softened his tone and talked about how Australia and China should cooperate and live peacefully."
Also, Beijing insists that its restrictions on Australian products have nothing to do with a trade dispute but were imposed as anti-dumping measures or in response to health and safety and logistical errors made by Australian exporters.
"There is no trade war between China and Australia," said Yu Lei, a research fellow at Liaocheng University in east China's Shandong province.
"Chinese restrictions on Australian coal imports are meant to reduce emissions and part of a collective call from Pacific countries," he said.
Pichamon said the crux of the dispute was the unwillingness of both sides to set aside their differences.
"Canberra needs to realise that it cannot change China from the outside and that confrontational tactics will only harden Beijing's siege mentality," she said.
"Similarly, Beijing needs to exercise greater caution in how it wields its global power and influence, so as not to unnecessarily upset its close neighbours."
This article appeared in the South China Morning Post print edition as: Targeting Australia seen not in China's long-term interests