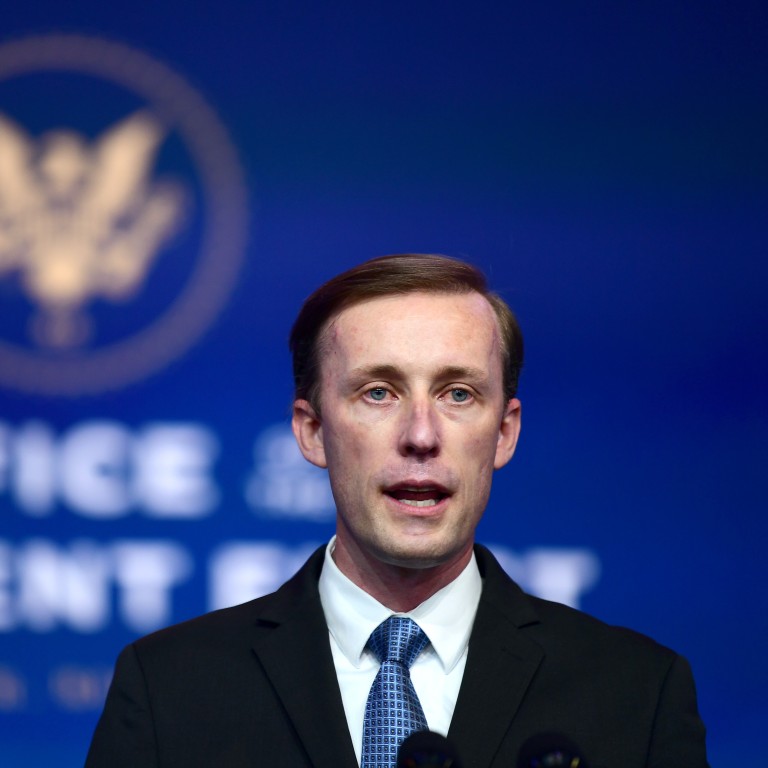 China-US trade war: Biden team to tackle EU differences and 'then take on Beijing'
In the backwash of China and the EU signing an investment accord, the incoming US government wants leverage to end China's 'problematic trade abuses'
Key Biden adviser says the new administration aims to end the multi-front trade war Trump's government started
The
United States
aims to end its trade war with European allies and work with them to deal with China's trade practices, a key official in the upcoming administration of
Joe Biden
said after Beijing and Brussels signed a
major investment deal
.
Jake Sullivan, Biden's national security adviser, told CNN on Sunday that the new administration in Washington would recognise China as a serious strategic competitor to the US.
He also said president-elect Biden would work out the economic differences between the US and its European allies to improve their relations and jointly counter China on multiple fronts, from trade and technology, to the military and human rights.
Observers said that by naming Beijing as a strategic competitor, the Biden administration would not only put more economic and
trade pressure
on China but also push ahead in other key areas for the long term, including control over the
Indo-Pacific
.
"The Biden administration's formulation of 'strategic competitor' indicates that he believes the competition with China is comprehensive and long-term competition, which is not only in the economy, but also in ... global influence," said Tang Xiaoyang, a specialist in international relations at Tsinghua University.
"Therefore, he will not carry forward short-term policies towards China like [US President Donald] Trump did."
But he also said Biden might not see China as a threat and would look for ways for the two countries to cooperate.
On June 1, 2018, this was extended to the European Union, Canada, and Mexico. Retaliatory tariffs by the EU took effect on June 22 that year, with the bloc imposing tariffs on 180 types of products for more than US$3 billion of US goods.
"Our goal is to go out right away and sit down not just on the question of China, but to work out the economic differences that we have, so that we can end the multifront trade war that the Trump administration started," Sullivan said on CNN on Sunday.
Sullivan's remarks came after China and the EU wrapped up negotiations on a comprehensive investment agreement last week. The EU said the deal would provide a level playing field for EU investors by laying down clear obligations for Chinese state-owned enterprises, and prohibiting
forced technology transfers
and other distortive practices.
The conclusion of the negotiations is seen as offering diplomatic leverage for Beijing ahead of the inauguration of Biden as US president on January 20.
Biden has signalled his intent to counter a rising China
and spoken of the need for stronger coalitions against Beijing on the trade front.
Sullivan said the US would not reverse tariffs with China but would consult partners in Europe and Asia to "bring leverage to bear on China to change its most problematic trade abuses".
Referring to the US and "like-minded economies", Sullivan said: "We are confident that we can develop a common agenda on issues where we share deep concerns about China. And it's not just on trade. It's on technology. It's on human rights. It's on military aggression.
"That will put us in a stronger position to be able to deal with China effectively, in a clear-eyed way and in a way that will ultimately deliver the kind of results that have entirely escaped the Trump administration of the last four years."
Critics have also said the EU rushed the deal with China and remain unconvinced that Beijing's commitment to implement International Labour Organization conventions would lead to the end of
forced labour in Xinjiang
. Beijing has denied the existence of forced labour camps in Xinjiang, and says actions rolled out in the region are educational measures to tackle terrorism.
Sullivan said that while Biden would recognise China as a strategic competitor to the US, he would also work with China on issues such as
climate change
.
Zhao Minghao, senior fellow at the Centre for American Studies at Fudan University, said the Biden administration would not be willing to start a "new cold war" with China.
"It ... will stress the need to 'compete positively' with China, and cooperate in areas with common interests, such as climate change," Zhao said.
He said the Biden administration might ease some of the pressure on Chinese tech businesses but tighten up on science and technology research linked to US national security.
Zhang Henglong, vice-director of the Public Diplomacy Institute of the Shanghai Cooperation Organisation at Shanghai University, said Biden would focus more on domestic affairs than on foreign issues.
"It's hard to say how much resources and energy can be put into confrontation with China. But generally speaking, it is necessary to lower the expectation that Sino-US relations will be eased after the Biden administration takes office," Zhang said.
This article appeared in the South China Morning Post print edition as: Biden to 'tackle EU trade differences, then take on China'