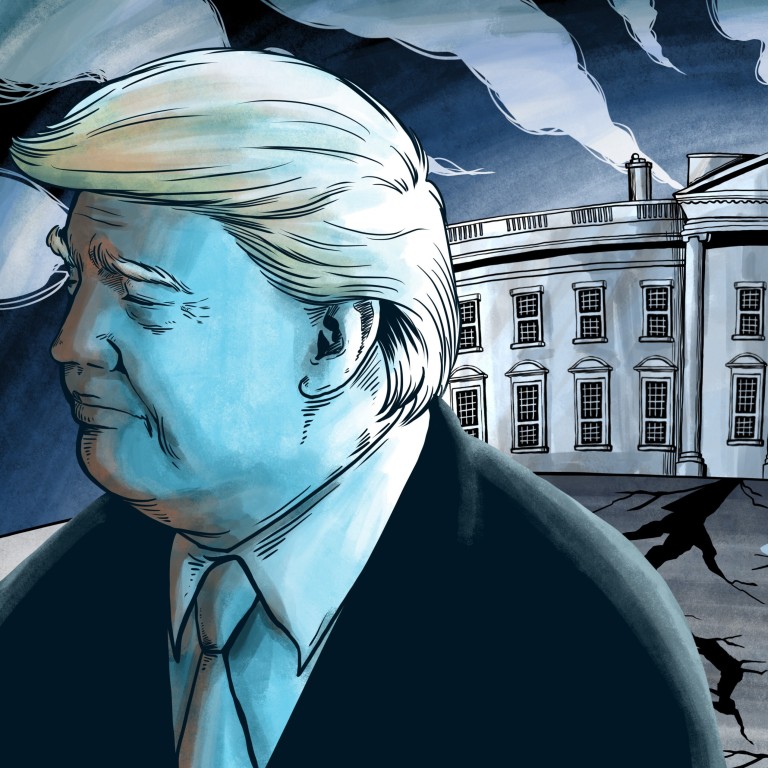 Can the US-China relationship ever recover from four years of Donald Trump?
The soon to be former US leader's constant clashes with Beijing have left Joe Biden with a mountain to climb if he wants to revitalise America's links with China, observers say
But Beijing is far from blameless for the poor state of the relationship between the world's two largest economies, they say
As preparations get under way for the inauguration of a new president in the United States, the South China Morning Post looks at the legacy left by Donald Trump and the challenges created for Joe Biden. In the first of two articles we look at how US-China ties changed under Trump and investigate how the two nations might get their relationship back on track.
As
Donald Trump
's presidency comes to a messy end after weeks of post-election turmoil, the United States is more divided than ever and its global standing is in tatters. It is a legacy his successor
Joe Biden
will find it difficult to undo.
As the first US president to be impeached twice, Trump is likely to go down in history as one of the country's most polarising and disruptive leaders. Upending the fundamentals of US diplomacy, his unilateral and transactional "America first" approach has accelerated Washington's global retreat, alienated its allies and partners, and arguably more importantly, ushered in a new cold war with China.
Thanks to his unconventional, populist style of governance and a disruptive foreign policy largely defined by controversy, the past four years have seen a tumultuous ride in
US-China relations
. For his critics and countries caught up in the showdown, Trump's China policy has been too confrontational, undiplomatic and counterproductive.
But in the eyes of China hawks, it is too little, too late to contain an increasingly assertive Beijing, especially after China emerged victorious from the coronavirus pandemic, which is still taking a heavy toll on Trump's America and his presidency.
Yet despite their mixed views on Trump, China observers, scholars and former diplomats generally agree that the actions of the outgoing president caused a fundamental shift in how China's increasingly authoritarian, one-party rule is perceived in Washington and around the world.
His presidency saw a hardening of US policy and a growing convergence of perceptions towards China across political parties, businesses and communities, and perhaps the most momentous and consequential change since former US president Richard Nixon's groundbreaking visit to Beijing in 1972.
This remarkable shift has effectively spelled the demise of America's engagement policy with China and brought about the most adversarial rivalry between the world's two largest economies in five decades amid months of rancorous confrontation.
According to George Magnus, a research associate at Oxford University's China Centre, the most important aspect of Trump's legacy is the strategic rebooting of China's relations with the US and the West on his watch.
"Notwithstanding the near universal aversion to most things that Trump did or said, it would be churlish not to acknowledge that he captured the mood and the moment in calling for a reset of the China relationship," he said. "Perhaps it was inevitable, but he will take credit for having pulled the problem out of the long grass."
Frans-Paul van der Putten, a senior research fellow and coordinator at the Dutch think tank Clingendael Institute's China centre, said it became obvious during Trump's presidency that US-China confrontation would remain the core dynamic of global geopolitics for a long time to come.
"This dynamic was made visible and intensified by Trump, but it was not caused by him," he said.
From his protracted trade war, the single-minded crusade against Chinese telecoms giant Huawei Technologies Co to the boiling tensions over the Taiwan Strait,
South China Sea
, Hong Kong and Xinjiang, Trump has created one battleground after another.
Trump's about face on China marks the end of an era when successive American governments since Nixon maintained a bipartisan consensus that regardless of their views on the communist country, they believed it was in America's interests to engage Beijing.
"The death of engagement represented an unfortunate end to an effective common framework that was supported by eight US presidential administrations and succeeded in keeping the peace for almost five decades," said Orville Schell, Arthur Ross director of the Centre on US-China Relations at the New York-based Asia Society.
But for his critics, Trump will go down in history as a disrupter for the changes and chaos he spearheaded to basic tenets of the often tumultuous US-China relationship, according to Shi Yinhong, an expert on US affairs at Beijing's Renmin University.
"He has done so much damage on so many fronts, covering almost every aspect of bilateral ties," Shi said.
What started largely as a trade dispute in 2018 has morphed into an all-encompassing, tit-for-tat rivalry ranging from technology, cultural and educational exchanges to human rights, geopolitics and national security. In a major departure from the previous US-China feuds, including the aftermath of the bloody 1989 Tiananmen crackdown, the two sides have embarked on a cycle of disengagement, with little effort to prevent tensions over specific disputes contaminating the wider relationship.
The coronavirus pandemic has driven China and the US further apart and set them on a hazardous collision course as each appears desperate to shift the blame for their mishandling of the unprecedented crisis. In the lead-up to the US presidential election, Trump felt the heat over the pandemic's devastating human and economic toll and ratcheted up the pressure on China in a last-ditch attempt to rescue his beleaguered re-election bid.
Trump and his top administration officials were "almost unhinged", according to Shi.
"It became clear that Trump was determined to make irreversible changes to bilateral ties and leave no chance for the incoming administration to unwind his legacy," he said.
Apart from Trump's Twitter tirades and a slew of executive orders and legislations to punish Chinese officials and companies over Xinjiang, Hong Kong and the South China Sea, Washington has deliberately played the
Taiwan
card, which Beijing sees as off-limits to foreign governments. In its final weeks, the Trump administration's efforts to elevate ties with Taiwan have incurred Beijing's wrath, following the scrapping of decades-old restrictions on American officials' contact with the self-ruling island and a series of arms sales and economic and military dialogues.
"Trump is Nixon in reverse," said Gal Luft, co-director of the Washington-based Institute for the Analysis of Global Security. "Nixon went to Beijing to stick a wedge between China and the Soviet Union. Trump did the exact opposite: he brought Beijing and Moscow together in a united front against the US. This is a strategic blunder of epic proportions."
Luft also blamed Trump for killing people-to-people relations, harassment and intimidation of scholars and journalists, and the criminalisation of academic exchanges, which has deepened the rift between the two societies and would "cause remoteness and misunderstanding for generations to come".
Trump's binary world view forced many small- and medium-sized countries that were equally resentful of China's retaliation to reluctantly pick a side in the US-China rivalry, which according to Luft is the biggest mistake of his diplomacy.
"It [the US] approached China the way it approached terrorism, essentially telling countries: 'you're either with us or with them'. Many countries resent US attempts to turn them into pawns in a new cold war and even more so the attempts to erode their sovereignty," he said.
"Both China and the US are supersensitive to any foreign attempts to interfere in their own affairs yet they are both constantly coercing and intimidating other countries. The challenge of the Biden administration will be not only to strengthen US posture vis-à-vis China but also to compete with China in ways that do not compromise other countries' sovereignty and economic development," he said.
But for Beijing, the biggest damage is the suspension of almost all the official exchanges, especially the high-level diplomatic and security dialogue and the summit diplomacy between Xi and Trump that helped avert a crisis in the first months of Trump's presidency, according to Chinese experts.
"As the continued decoupling between the two countries looks inevitable, there is little hope that talks and dialogue could be resumed any time soon," Shi said.
"Engagement" is a term first used by President George H.W. Bush after the end of the Cold War and later widely used as a catch-all to characterise America's policy towards China since the 1970s. However, for the US, the demise of the engagement policy may not necessarily be bad news, as it put an end to a disheartening pattern in ties since the Tiananmen crackdown.
According to Schell, whenever crises hit, "it would be the US that would be expected to bear primary responsibility for remaining flexible enough to keep it together".
In other words, engagement was effectively seen as an offer of a "no fault China" policy to Beijing. "The US commitment to engagement proved an enormous providence for Beijing: it could focus on economic growth and augment its wealth and power in an unchallenged environment," he said.
In Nixon and Henry Kissinger's realpolitik balance of power design, Washington's need to use China as a counterweight to the Soviet Union largely justified the rapprochement with the communist country.
But in the wake of the Tiananmen tragedy and the end of the Cold War, Washington's continued engagement with Beijing was widely questioned. The first Bush administration came up with a "comprehensive policy of engagement", which entertained a vision of "peaceful transformation of a once militant, Marxists-Leninist state", according to Schell.
In exchange, Beijing promised to deepen its reform and opening up, which turned out to refer to the economic front only, instead of the political reform Washington's political elites had anticipated.
Former American diplomat Robert Daly believes Trump did a better job on China by alerting the US and the world to military, economic, technological, and ideological threats from Beijing, compared to his overall performance and diplomacy in Asia that "swerved between bluster and neglect".
He also spoke highly of the Trump administration's efforts to lay a foundation for effective quadrilateral geostrategic cooperation between the US, Japan, India and Australia to collectively counter China, upon which the incoming Biden administration could build.
But international support for Trump's America fell through the floor as global perceptions of the US hit historic lows this year.
"Many of his policies and, above all, the style of his administration caused allies and partners to doubt the values and staying power of the US," Daly said.
Beijing initially welcomed Trump's election victory over Hillary Clinton, a former secretary of state and hardliner on China and human rights.
According to Australian sinologist Geremie Barmé, Trump's surprise win was also "a boon, a new source for anti-US schadenfreude", which offered further evidence of the bankruptcy of Western-style politics and America's relative decline from Beijing's perspective.
Trump's reckless norm-breaking steps to withdraw the US from international bodies and treaties and his estranged relations with partners has further emboldened Beijing's belief in its authoritarian, one-party system, prompting President Xi Jinping to proclaim that China was "on the right side of history".
However, Trump's hardline stance on China and his disdain for multilateral diplomacy and expertise has turned the tide against Beijing and politicised the debate over whether to engage or confront China. As a result, China hawks and ardent critics of the Communist Party who had largely been excluded in the making of America's China policy have taken the driving seat in the Trump era and moved to unravel the decades-old bipartisan consensus on how to handle China.
The hardening of Washington's China policy also empowered nationalist hardliners in China who insisted on a tit-for-tat approach to push back against the perceived American bullying tactics.
"Policy hawks on both sides have practically been helping each other, diminishing hopes to climb down from escalating tensions," said Huang Jing, dean of the Institute of International and Regional Studies at Beijing Language and Culture University.
Many experts say China should be held equally responsible for the breakdown in the US-China relations.
"No one should have imagined it was possible to contain China, so Sino-US competition and tension was preordained, I'd argue," Magnus said. "Yet, if US administrations were guilty of being naive or complacent about China, China too under Xi has been deaf to criticism of its commercial policies, and truculent, even bully-like in the conduct of its foreign policy, having recourse to intimidation, kidnapping and often illegal interference."
Daly said there were few signs Beijing would reconsider its goals and behaviour in the face of international opposition.
"Beijing's position remains that the emergence of a Sino-centric Asia is natural, inevitable and desirable, and that foreigners, and Americans in particular, must accept this truth or suffer the consequences of their delusions," he said.
"The distrust China now faces is not the result of misunderstandings or a Western smear campaign, it is a rational reaction to China's behaviour."
Schell warned that the free-falling US-China relationship faced grave uncertainties in the post-engagement era in the absence of a steady and feasible guiding strategy.
"[Trump's] malfeasance in office does not diminish China's role in the 'the relationship' and its collapse. Our broken relations are something that Biden cannot and will not fix alone," he said.
"Chinese leaders must also remember that their behaviour, too, influences the equation. If we are to find any new balance point, they, too, must make radical policy changes (just as Mao and Zhou did in 1972)," he said.
"With Trump's demise and his destabilising behaviour now gone, China has a brief moment of opportunity to try to find a less antagonistic relationship with the US. To attain any new equilibrium both sides will have to compromise. But what is China willing to put to the table?"
The South China Morning Post will have a live blog of Joe Biden's inauguration on Wednesday, January 20, so stay tuned for that.
This article appeared in the South China Morning Post print edition as: An agent of disruption