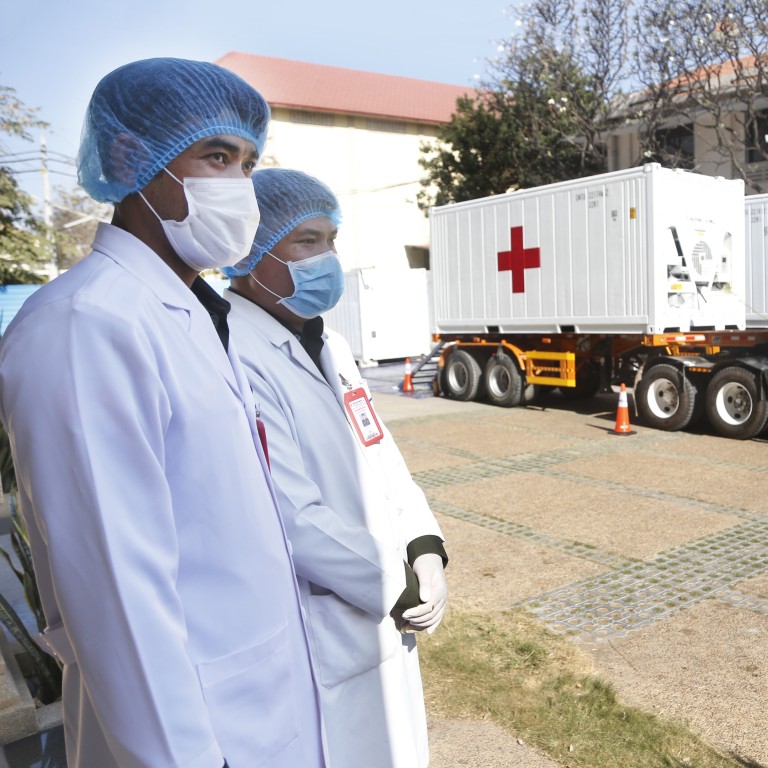 Coronavirus: Cambodia becomes latest country to sign up for Chinese vaccines as Brazil looks to buy 20 million more doses
Cambodian citizens will start receiving jabs from Wednesday with a goal of inoculating 500,000 people by April
Meanwhile, the governor of Sao Paulo says Brazil is in talks to secure extra doses of another vaccine developed in China
Cambodia will become the latest country to use Chinese Covid-19 vaccines despite persistent doubts over their effectiveness.
On Friday it also emerged that Brazil was in talks to buy another 20 million doses of a vaccine developed by another Chinese company.
There has been scepticism over the effectiveness of the Chinese jabs, including the Sinopharm vaccine that China has donated to Cambodia, because the producers have not made their final trial data public.
On Thursday French President Emmanuel Macron warned that "absolutely no information" had been shared about trials.
"What it means is that in the medium to long run it is almost sure that if this vaccine is not appropriate it will facilitate the emergence of new variants, it will absolutely not fix the situation of these countries," he told the Atlantic Council think tank.
But a growing number of countries have now given emergency use approval for Chinese vaccines. The Sinopharm vaccine that Cambodia will receive has received approval from about a dozen countries, including Hungary, Pakistan, the United Arab Emirates, Bahrain, Morocco, Serbia, Egypt, Jordan and Iraq.
Interim analysis announced by the Chinese firm shows the vaccine is safe and 79 per cent effective against Covid-19. The vaccine can be transported and stored at 2 to 8 degrees Celsius (35.6 to 46.4 Fahrenheit) and remain stable for 24 months.
The first batch of vaccines, developed by state-owned Sinopharm, will arrive in Cambodia on Sunday, Prime Minister
Hun Sen
said.
The shipment of 600,000 doses is part of a donation of 1 million doses of the Sinopharm vaccine.
Hun Sen said that he would be the first Cambodian to receive a jab and that the event would be broadcast live on Facebook.
In Brazil, Sao Paulo governor Joao Doria told Reuters that the country was in talks to buy an additional 20 million doses of Sinovac's CoronaVac on top of 100 million doses which have already been secured.
Doria, governor of Brazil's wealthiest and most populous state, has been the driving force behind CoronaVac's testing and roll-out in the country.
The governor said he expects Butantan, the Sao Paulo institute that has partnered with the Chinese firm, to receive shipments of active ingredients from China on a rolling weekly or 10-day basis, overcoming initial hitches that threatened to slow production.
A new Butantan facility is due to start producing the vaccine's active ingredients from January next year.
Doria said Butantan is in talks to acquire the extra 20 million doses to keep its finishing line active until the new plant starts up.
Authorities have approved the CoronaVac vaccine after final-stage clinical trials in Brazil showed it was 50 per cent effective, barely passing the threshold set by most health regulators and well below the 70 per cent recommended by the Chinese government and the World Health Organization.
Both China and Russia have prompted their Covid-19 vaccines as part of their diplomatic outreach, and a number of lower and middle income countries have already turned to their developers as they wait for supplies under the WHO's Covax Facility.
Julian Tang, a clinical virologist at the University of Leicester in Britain, said that countries suffering from massive Covid-19 outbreaks may think any vaccine is better than none.
"If the vaccine appears safe and efficacious and Covid-19 is spreading quickly and killing lots of people, the vaccine will be helpful. So far all the Covid-19 vaccines have been very successful in preventing death," Tang said, adding that the early trial data suggested CoronaVac was safe and effective.
Tang said the Chinese firms, and the makers of Russia's Sputnik V vaccine, had published early data from the phase 1 and 2 trials before distributing them more widely.
He added that the inactivated vaccines made by Sinopharm and Sinovac were made using a traditional technique of cultivating then killing the virus "so you could also argue that these Chinese vaccines actually use a more trusted technology."
03:27
Coronavirus: weird and wonderful vaccination centres around the world to fight Covid-19
Coronavirus: weird and wonderful vaccination centres around the world to fight Covid-19
"It may be that the Chinese companies are happy to let the different populations perform their own clinical trials then let them decide whether or not to approve the vaccines themselves," Tang continued.
"This is a bit unusual, but this also removes any potential accusation of the Chinese vaccine manufacturers attempting to control or manipulate the data."
Cambodia aims to vaccinate 500,000 people before Khmer New Year in mid-April. The country is among the least affected by the global pandemic, with 470 Covid-19 infections and zero deaths.
Hun Sen has said vaccines would be provided free for Cambodians who were at high risk of infection, including medical staff, teachers, the armed forces, drivers and rubbish collectors, among others.
The donation came after media reports in December that
misquoted Hun Sen
as saying Cambodia would not buy supplies from China. The Cambodian Ministry of Health has rejected reports that Hun Sen publicly shunned the use of Chinese vaccines and clarified that he said Cambodia would only use vaccines approved by the WHO.
In January, Hun Sen said the Chinese jabs were needed despite his previous position.
"Many countries are already using vaccines, including those of the People's Republic of China, Sinopharm and Sinovac, which are our necessities and we cannot wait any longer," Reuters quoted the prime minister as saying then.
WHO documents last updated on Monday showed that the Sinopharm vaccine was in the process of being
assessed for emergency use listing
and the decision was expected in March at the earliest. The Pfizer-BioNTech vaccine, which must be stored in ultra-cold facilities, was the first to receive emergency validation from WHO.
Cambodia has joined the
Covax Facility
, the WHO-led global initiative for fair distribution of inoculations. Local media reported that the country would have access to 7 million doses through Covax.
The programme, which aims to give poor and rich countries fair access to shots, is largely supplied with vaccines developed by Western pharmaceutical companies. WHO has said that Covax is on track to deliver at least 2 billion doses by the end of the year.
Chinese foreign ministry spokesman Wang Wenbin said on Wednesday that China would contribute 10 million doses to the scheme "to make vaccines a global public good and make them more accessible and affordable to developing countries".
Gavi, the Vaccine Alliance – the public-private global partnership that co-leads Covax – said it would consider procuring vaccines from any producer once they had received approval from a stringent regulatory authority and/or prequalification by the WHO, provided they complemented its existing portfolio.
"China has committed to make the Covid-19 vaccine a global public good and their commitment of supplying early doses, once they have the necessary approvals, to the Covax Facility is an important, and welcome, step towards this objective," Gavi said on Thursday.
This article appeared in the South China Morning Post print edition as: Cambodia to start inoculations with Sinopharm vaccine