Myanmar
Get more with myNEWS
A personalised news feed of stories that matter to you
Learn more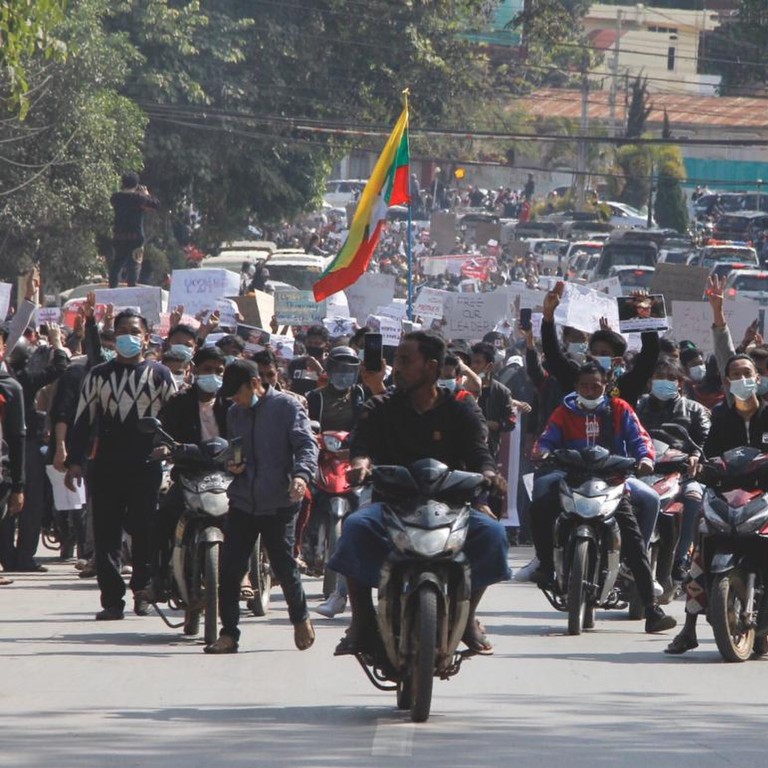 Thousands take to streets in northern Myanmar as unrest spreads to near Chinese border
Up to 10,000 people marched in Lashio on Monday the day after a smaller protest
Earlier attempts to organise a mass rally had been frustrated by a lack of internet access but the service was restored on Sunday evening
Thousands of protesters took to the streets in northern Myanmar on Monday as mass demonstrations
spread across the country
from the largest city Yangon to close to the Chinese border.
Participants estimated that close to 10,000 people took to the streets on Monday afternoon in Lashio, the largest town in northern Shan state, after internet access was restored the previous day.
Protesters began their two-hour march at noon outside the front gate of Lashio University, before making a circuit of the town and finishing back at the start point.
"I strongly oppose this military coup," said Say Nay Nay Win, president of the Burmese-Chinese Youth Association in Lashio. "If we don't come out to resist, then we won't be able to topple the military government."
The demonstration followed a much smaller one involving around 500 people on Sunday in the town, which is home to a mixture of Bamar, Shan and ethnic Chinese inhabitants.
The 22-year-old student said efforts to organise the protests had been frustrated by intermittent internet blackouts over the weekend, which meant they had resorted to a chain of phone calls and text messages. "It was a pain, everyone was sending each other texts and it slowly got bigger," he said.
"Yangon is the first place that starts the protests and after that Lashio is the second. So I really hope that I can see more protests all around the country."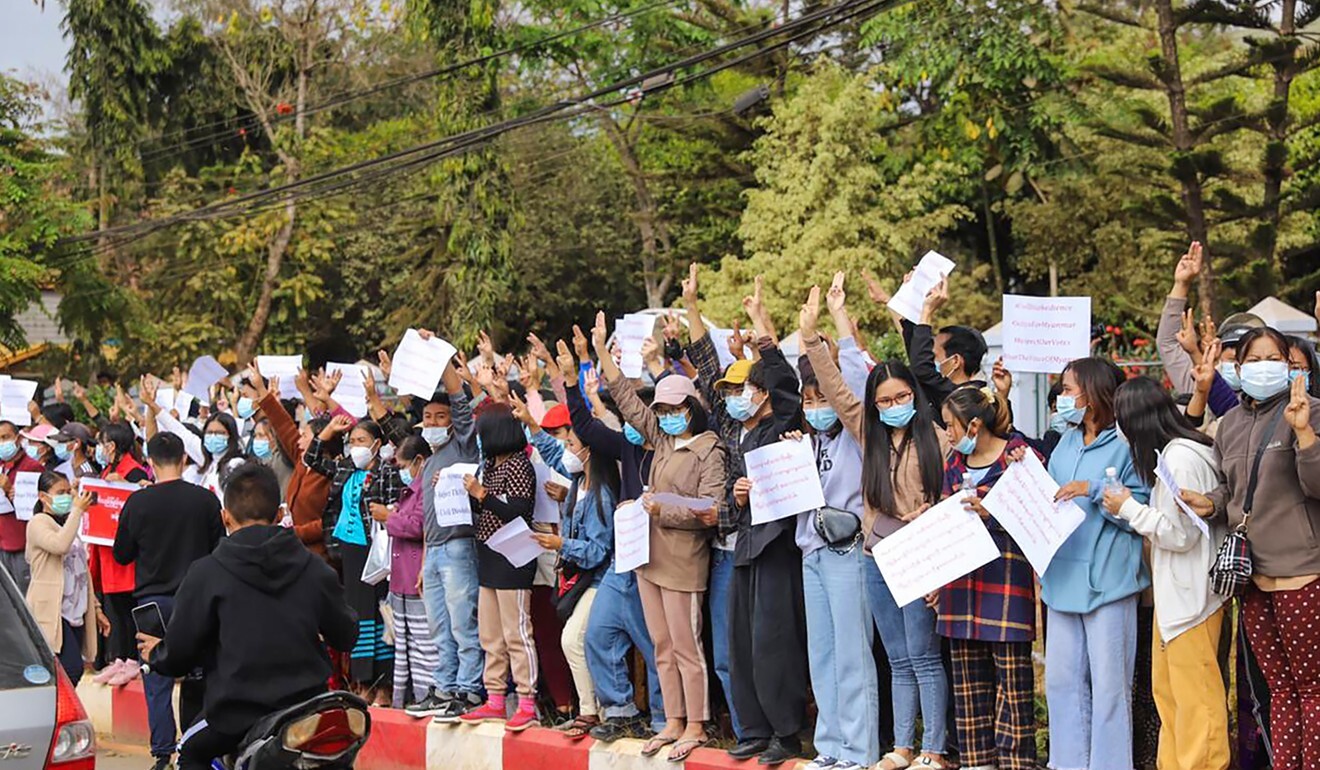 Some protesters chanted slogans, sang songs and raised their hands in a three-fingered salute of defiance.
The salute, borrowed from
The Hunger Games
film trilogy, was first popularised during last year's
Thai protests
and is increasingly being used by opponents of Myanmar's military regime.
Residents in the town have been heard banging
pots and pans
in the evening, a tactic that has also been seen in Yangon.
Demonstrations began in Yangon in the wake of a widely opposed military takeover of the country by General Min Aung Hlaing on February 1. The coup deposed the democratically elected civilian government led by Aung San Suu Kyi and the National League for Democracy (NLD).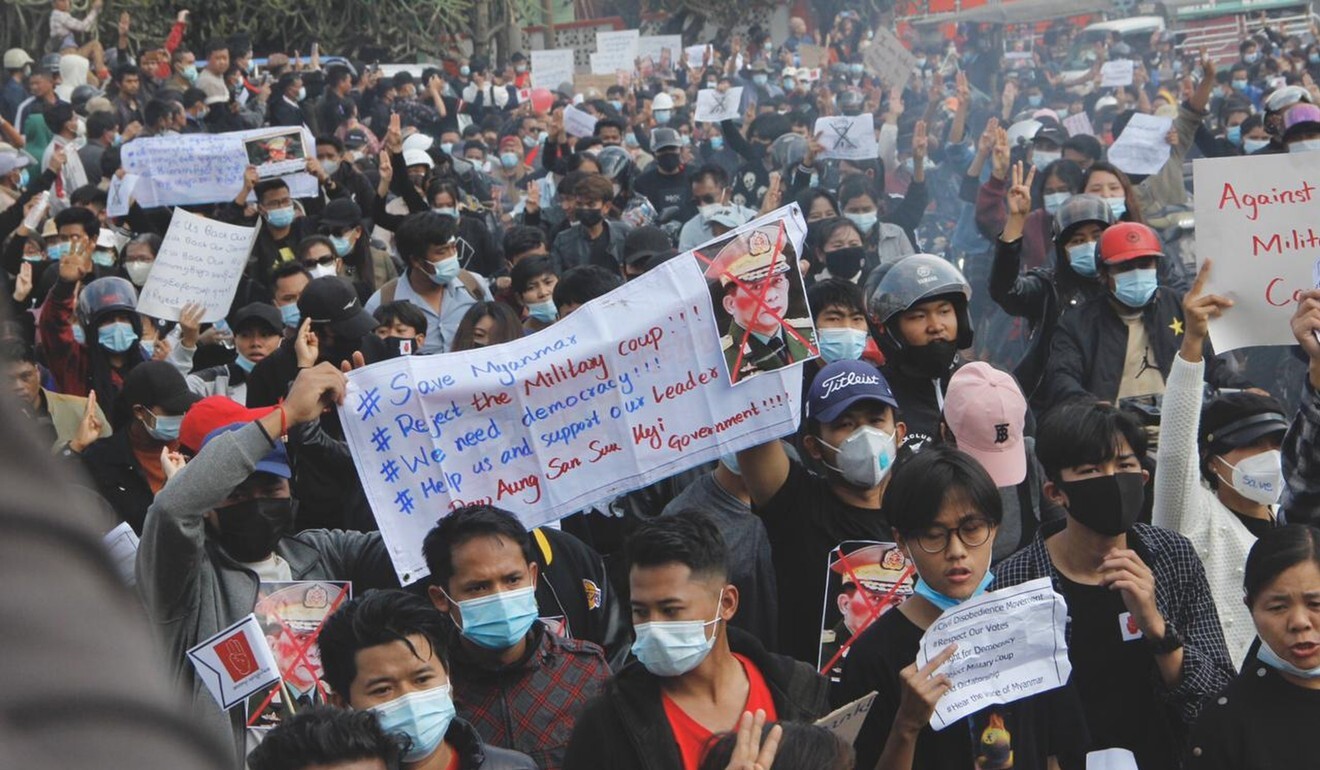 Leading members of the government have been arrested and a national state of emergency declared, installing Min Aung Hlaing as leader of the country.
The NLD came to power in 2015 after the country's first successful democratic transition of power in 58 years, bringing an end to more than five decades of military rule. A second landslide victory for the party in November elections was declared fraudulent by the military.
"I think now we are looking at the spread of protests across the country, more so in the Bamar-dominant regions than ethnic states," said Yun Sun, co-director of the east Asia programme at the Stimson Centre, but added it was not surprising that protests were breaking out in peripheral areas too.
"The ethnic areas have traditionally been more supportive of the NLD, much more than the military," she said.
This article appeared in the South China Morning Post print edition as: Songs and three-fingered salutes from 10,000 in rally at Shan state town