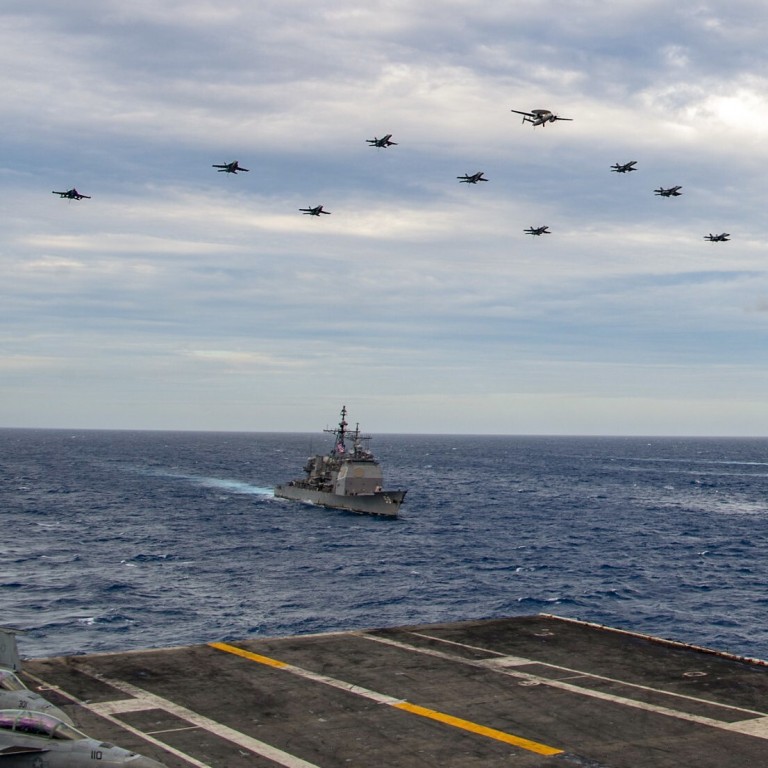 Beijing vows to work with neighbours after US' latest South China Sea transit
Two aircraft carrier strike groups enter disputed waters, which Chinese foreign ministry says 'is not conducive to regional peace and stability'
US Navy says operation was 'to show our partners and allies in the region that we are committed to promoting a free and open Indo-Pacific'
Beijing said it would work with other countries in the region to maintain peace and stability after the United States sent two aircraft carrier strike groups to the
disputed South China Sea
on Tuesday, the latest sign of continued military tension under the
Biden administration
.
"The United States frequently sends ships and planes into the South China Sea to show off its force, which is not conducive to regional peace and stability," Wang Wenbin, a spokesman for China's foreign ministry, said in a regular press briefing.
"China will continue to take necessary measures to firmly safeguard national sovereignty and security, and work with countries in the region to firmly maintain peace and stability in the South China Sea."
Two US Navy aircraft carrier strike groups began operations in the disputed waters of the South China Sea on Tuesday, seven months after two aircraft carriers manoeuvred in the same region and prompted Beijing to send two missiles in an attacking test.
01:56
Diaoyu-Senkaku islands spat deepens as Japan warns China over coastguard ships in East China Sea
Diaoyu-Senkaku islands spat deepens as Japan warns China over coastguard ships in East China Sea
The carriers USS Theodore Roosevelt and USS Nimitz and their accompanying guided-missile cruisers and destroyers were showing the US Navy's ability to maintain peace and commitment to a free and open Indo-Pacific, the US Navy said in a statement.
"The ships and aircraft of the two strike groups coordinated operations in a highly trafficked area to demonstrate the US Navy's ability to operate in challenging environments," the statement said.
"Through operations like this, we ensure that we are tactically proficient to meet the challenge of maintaining peace and we are able to continue to show our partners and allies in the region that we are committed to promoting a free and open Indo-Pacific," rear admiral Doug Verissimo, commander of Carrier Strike Group Nine, said.
Beijing reacted harshly to the two aircraft striking groups' operation last summer, which was the first such operation in six years in which two carriers had operated in tandem in the South China Sea.
Since assuming office on January 20, the Biden administration has reaffirmed its commitment to US allies and partners in the region, specifically offering reassurances about its obligations to the Philippines and Japan, which have island disputes with China.
The USS John S. McCain, an Arleigh Burke-class guided missile destroyer,
last Thursday passed through the Taiwan Strait
, the waterway separating mainland China and the self-ruled Taiwan, prompting criticism from Beijing, which considers Taiwan a breakaway province.
Late last month, warplanes from the US and China flew in proximity and a Chinese military drill was announced as an American aircraft carrier group entered the contested South China Sea, suggesting the military rivalry of the Donald Trump presidency would continue into Biden's tenure.
This article appeared in the South China Morning Post print edition as: Beijing vows to work for peace in region