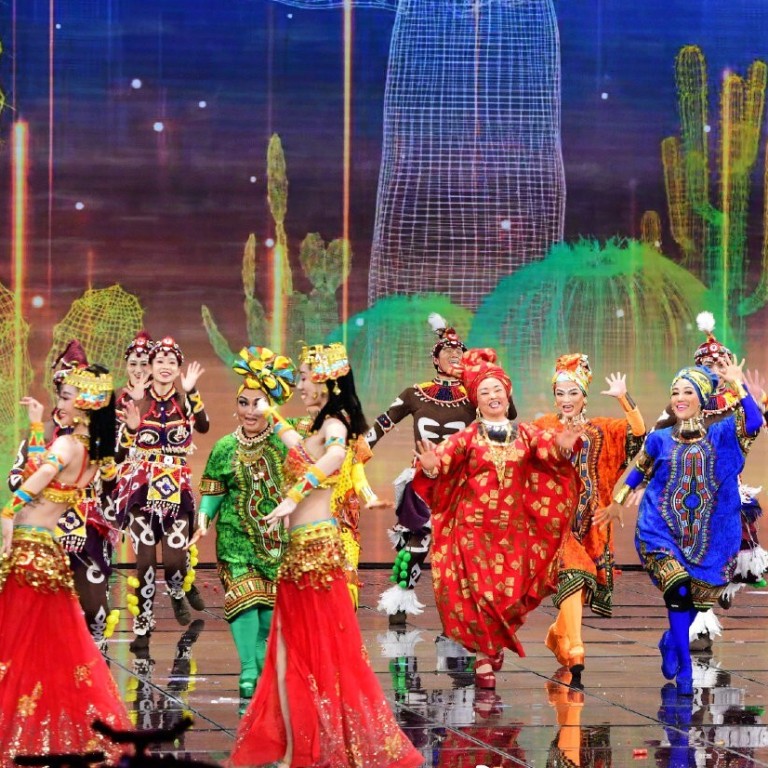 China's Lunar New Year TV extravaganza hit again by blackface scandal
Criticism over the 2021 Spring Festival Gala follows a similar controversy in 2018 after a Chinese actress in blackface make-up wore costume with huge fake buttocks
Singer Zhu Mingying says the show aimed to emulate art performances along the belt-and-road route
A dance performance opening China's biggest
Lunar New Year
gala show has sparked debate and criticism online for putting blackface onstage once again.
The performance during state broadcaster CCTV's Spring Festival Gala on Thursday began with a group of dancers dressed in African-style clothing with their faces darkened with paint.
It was followed by dances from Egypt, Spain and Russia – countries taking part in China's ambitious interconnectivity programme, the
Belt and Road Initiative
. By Thursday, the programme had attracted more than 1.8 billion views online.
But the opening performance was criticised both within China and from outside the country. International audiences condemned the blackface incident while Chinese people said they could not understand why dances from other countries should be included in the programme, a celebration of the country's most important holiday.
As a form of theatrical make-up used by non-black performers to portray black characters, blackface is considered highly
offensive, disrespectful and racist
in much of the West.
That is particularly true in the United States where minstrel shows featuring white performers using blackface to depict black people emerged in the 19th century and remained on television until as recently as the 1970s.
But awareness of blackface and its dubious connotations in the West are low in China and other Asian countries.
Organisations and advocates for Africans in China condemned the show.
"Blackface once again at the Spring Festival Gala on CCTV. Not the first time and extremely disappointing to see," tweeted Black Livity China, a platform that documents African and Afro-diasporic experiences both in China and in relation to China, on Thursday.
"We cannot stress enough the impact scenes such as these have on African and Afro-diasporic communities living in China."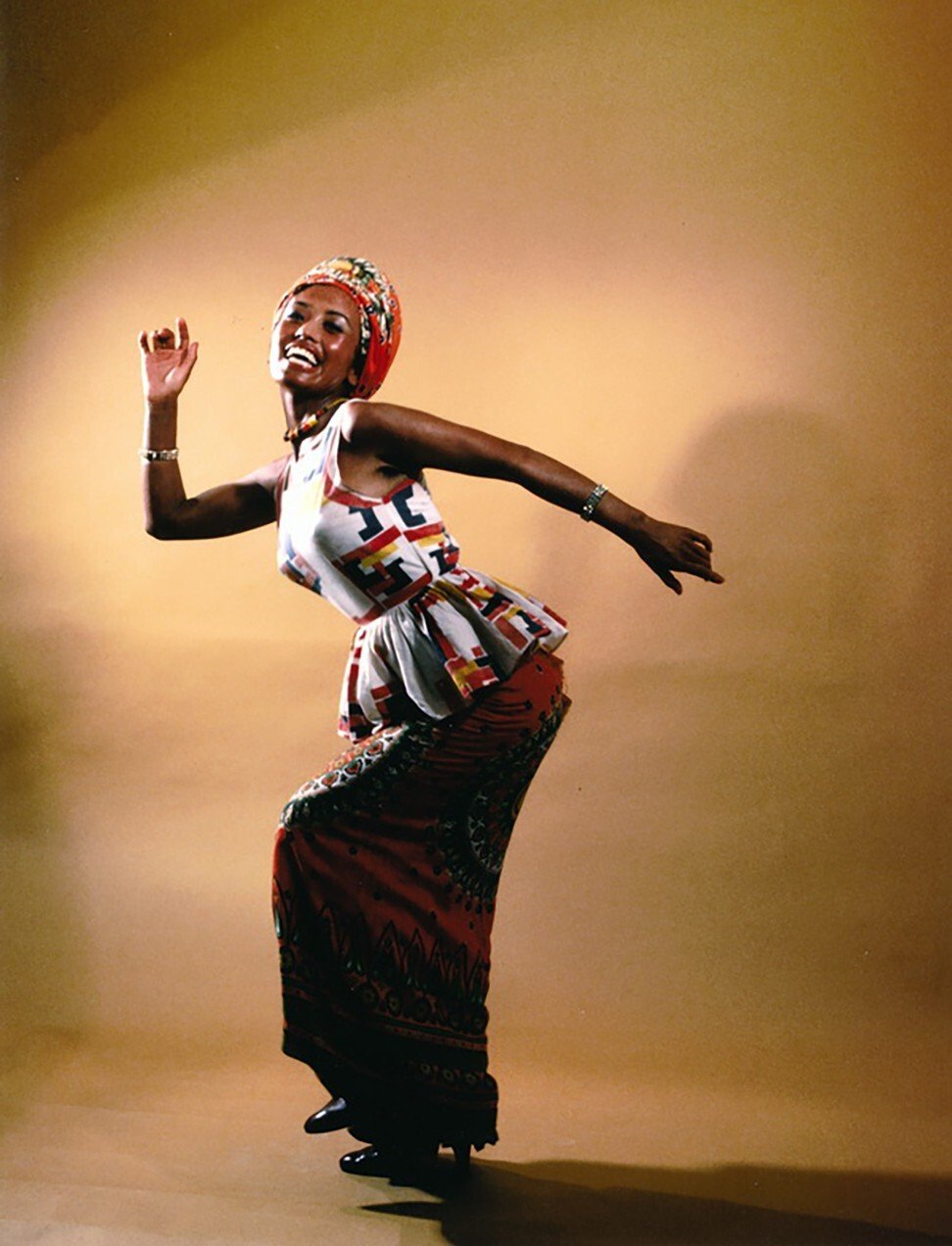 Black Livity China said after the 2018 blackface incident, a contact at CGTN – an international English-language news channel owned by CCTV – contacted the group to host a conversation with the team behind the incident, but it did not happen.
"At the time it felt like real change might come about. Sad to say we were wrong," Black Livity China said on Twitter.
On Friday, Zhu Mingying, lead singer of the opening African dance, told the online news portal ThePaper.cn the show aimed to cover many distinctive art performances along the way of belt and road projects.
Zhu said all the performers had their skin painted dark. "Professional make-up artists have carefully observed the skin of the local people. It takes one or two hours to put on the make-up and one hour to remove it," she said.
"The aim is to be more like [Africans] that Chinese audiences can have an intuitive feeling at first sight, so they can be quickly brought into the atmosphere," she said.
But she added the performers would not use make-up when they performed overseas.
"People would feel amazed when they see the Chinese can beautifully perform African songs and dances."
An activist group called Black China Caucus also tweeted that this annual tradition had no signs of stopping.
"While supporters of the practice allege that blackface centres on empathy and realism, it's difficult to disassociate it from a long history of minstrelsy and fixation on problematic caricatures," Black China Caucus said on Twitter.
"Next year, we hope organisers decide to end this practice and hire some of thousands of Black people living in many parts of China."
The show also sparked controversy among Chinese audiences – but for different reasons.
"The opening dance makes me feel it's the African or Egypt Spring Festival Gala. As the camera zooms in, it turns out to be Chinese actors wearing make-up. Why are they doing this?" one person said on Weibo, China's Twitter-like platform, on Thursday.
"Those artists who perform African and Egyptian songs and dances are wonderful but why don't we show our own performances as the main audience is Chinese?" another wrote on Weibo. "Why must we have to show international integration in the gala?"
Some have argued that Chinese people have little knowledge of the culture of blackface and less understanding of racism. Therefore, the Spring Festival Gala skit in 2018 was not racist because there was no racist intention behind it.
In 2018, Dr Hodan Osman Abdi, executive director at Zhejiang Normal University's Centre for East African Studies, said that showing a blackface Chinese actress in the gala did not show how racist China was but rather the extent of the ignorance in China towards unfamiliar concepts.
"What people from different backgrounds and different nationalities communicate or interact with one another according to their own norms and values, sometimes their messages may be interpreted in ways different than those intended … this is called cross-cultural misunderstanding," she said.
However, Runako Celina, the co-founder of Black Livity China, said in another article that ignorance could not be a defence to the re-creation of racial stereotypes.
"Ignorance should never justify racism or mitigate the ultimate impact of said actions," she said.
Beyond the gala, other recent Chinese depictions of Africa have sparked controversy.
In 2016, a television commercial for a Chinese laundry detergent Qiaobi featured a black man with paint splattered on his face and T-shirt. After being placed into a washing machine with the detergent, he emerged as a light-skinned Asian. The company later apologised and the commercial was pulled.
The movie Wolf Warrior 2 was also criticised for portraying an anonymous African country as a helpless and war-torn place that needed Chinese soldiers' help.