Myanmar
Get more with myNEWS
A personalised news feed of stories that matter to you
Learn more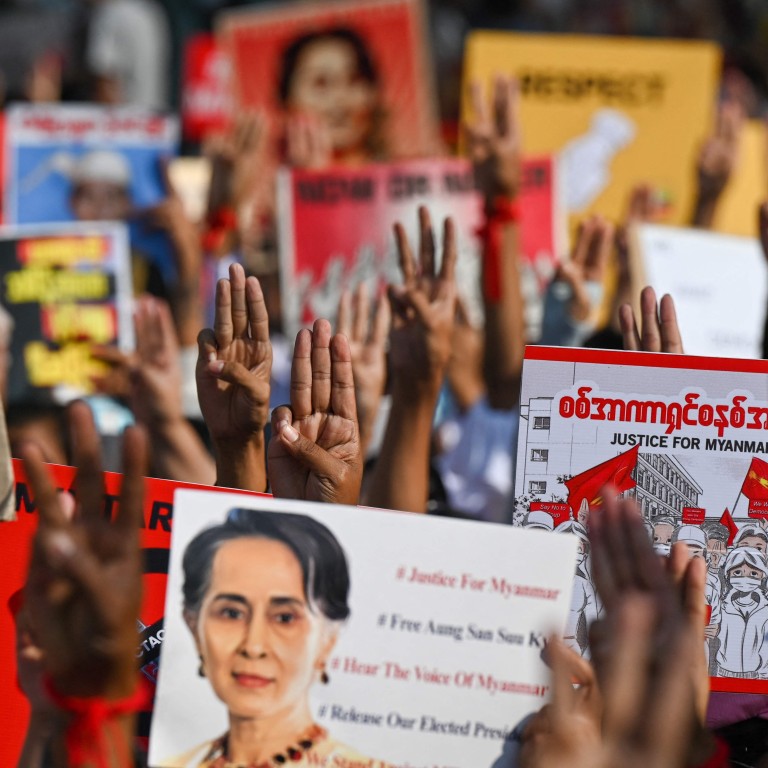 China denies helping Myanmar coup after pro-democracy protests outside embassy
The country's ambassador Chen Hai told local media that Beijing had no prior knowledge of the takeover
The country's armed forces have annulled the result of November's election and detained key civilian leaders like Aung San Suu Kyi
China's ambassador to Myanmar has dismissed rumours that Beijing was assisting a military coup in its southeast Asian neighbour, days after hundreds of pro-democracy protesters demonstrated outside the Chinese embassy.
Ambassador Chen Hai told a group of local media outlets on Monday that Beijing had no "prior knowledge" of the coup and insisted rumours it was helping the military junta set up a firewall to prevent protesters from organising online were "laughable". The ambassador's interview was posted on the embassy's website on Tuesday.
"We have friendly relations with both the NLD and the military. The current situation is absolutely not what China wants to see," said Chen.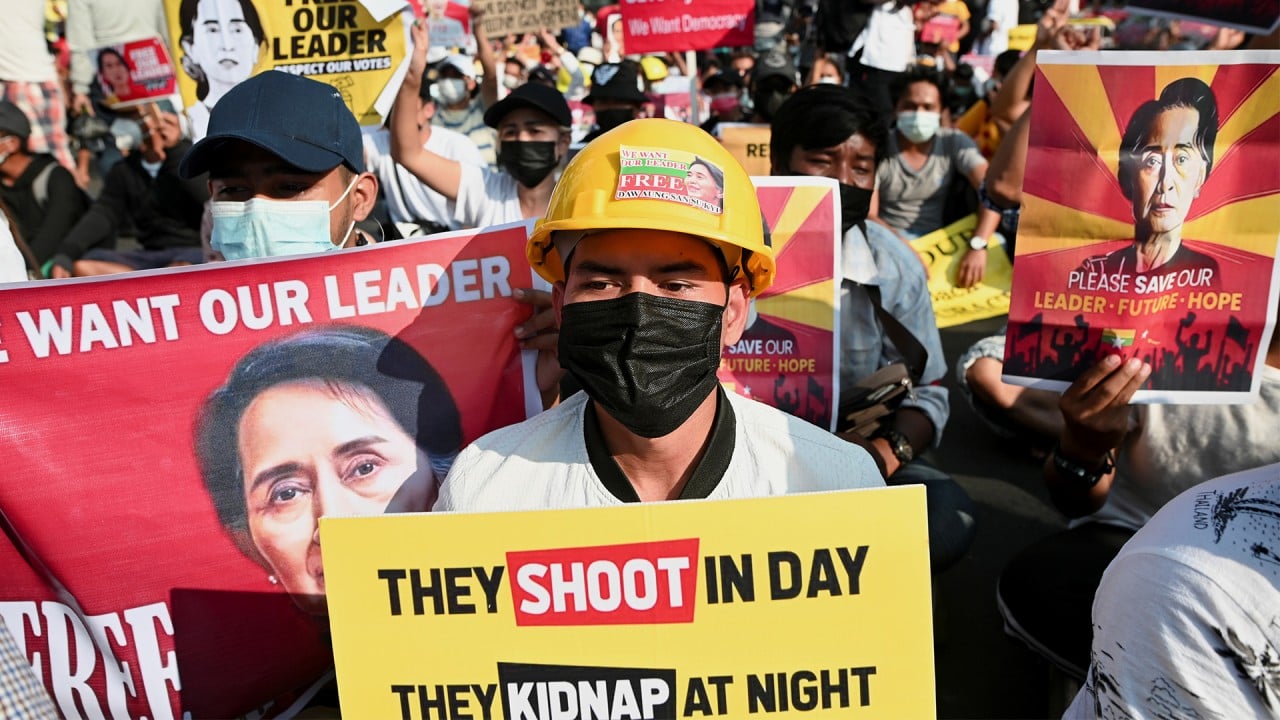 03:08
Myanmar protesters return to streets as military tightens grip
Myanmar protesters return to streets as military tightens grip
This was the closest Beijing has come to criticising the current unrest that has gripped one of China's most important partners in Southeast Asia. No other country has more infrastructure investments in Myanmar than China, which regards its southeast Asian neighbour as a key part of its strategic goal of avoiding being encircled by US allies.
While the international community has rushed to condemn the coup, China and Russia used their veto power as permanent members of the UN Security Council to block a joint statement condemning the military junta.
These actions and others have angered locals opposed to the military takeover. On Thursday, hundreds of anti-coup protesters gathered outside the Chinese embassy in Myanmar's largest city Yangon.
Protesters held signs in English and Chinese with slogans such as "support Myanmar, don't support dictators" and "stop helping the military coup."
Chen referred to the UN Security Council debate on Monday, but stopped short of endorsing the critical stance of fellow council members like Britain.
"Recently, the UN National Security Council published [Britain's] remarks to the press, which expressed deep concern at the state of emergency declared and the house arrest of figures like State Counsellor Aung San Suu Kyi and President Win Myint," said Chen.
"As a member of the Security Council, China participated in these discussions. I believe everyone in Myanmar is aware of this situation."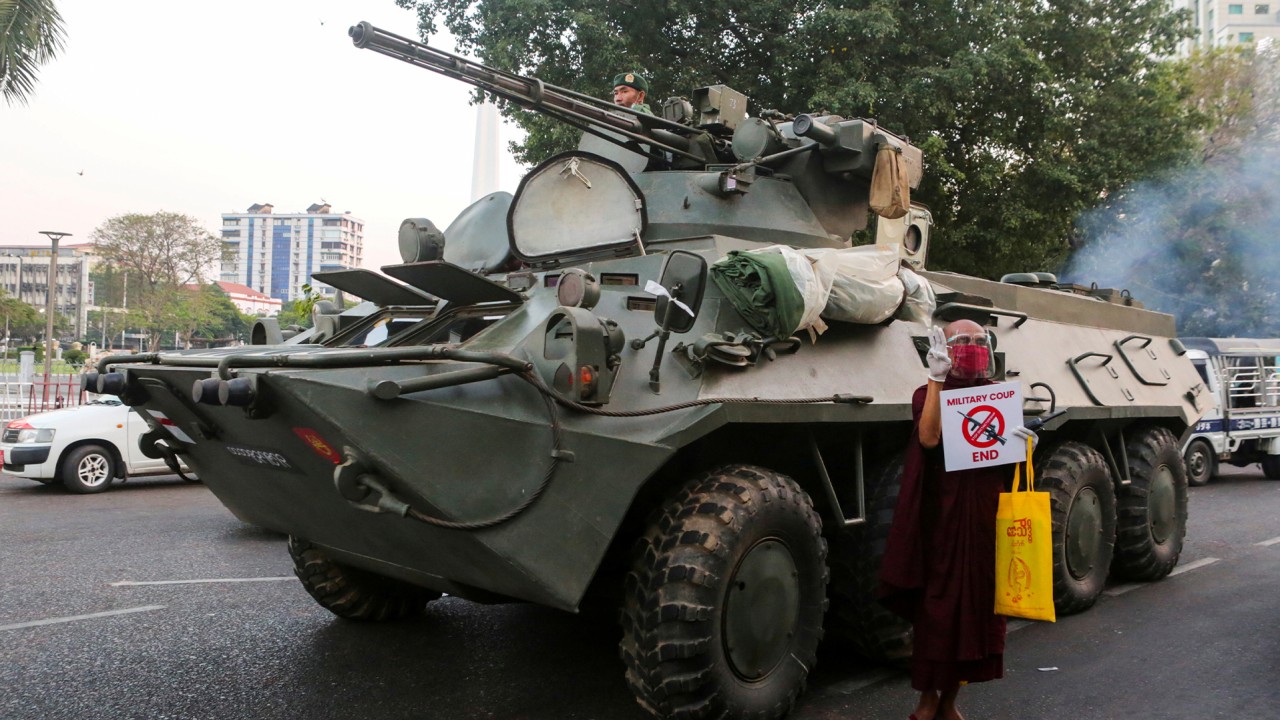 01:37
Myanmar coup: junta cuts internet as troops open fire to break up protest
Myanmar coup: junta cuts internet as troops open fire to break up protest
The ambassador also strongly denied rumours that China has sent weapons or technical assistance to Myanmar or that it was helping the military to reinforce a firewall to censor the internet, saying they were "total nonsense and laughable".
He said Chinese cargo planes pictured landing in Myanmar were ordinary freight aircraft and were not carrying troops or weapons.
"If rumours like these are circulating in Myanmar, it suggests they were being inflamed and instigated by people with ulterior motives … We hope that Myanmar people can tell right from wrong and would not be influenced by politics causing harm to the good friendship between the people of our two countries," Chen added.
This article appeared in the South China Morning Post print edition as: Beijing dismisses claims of aiding military junta