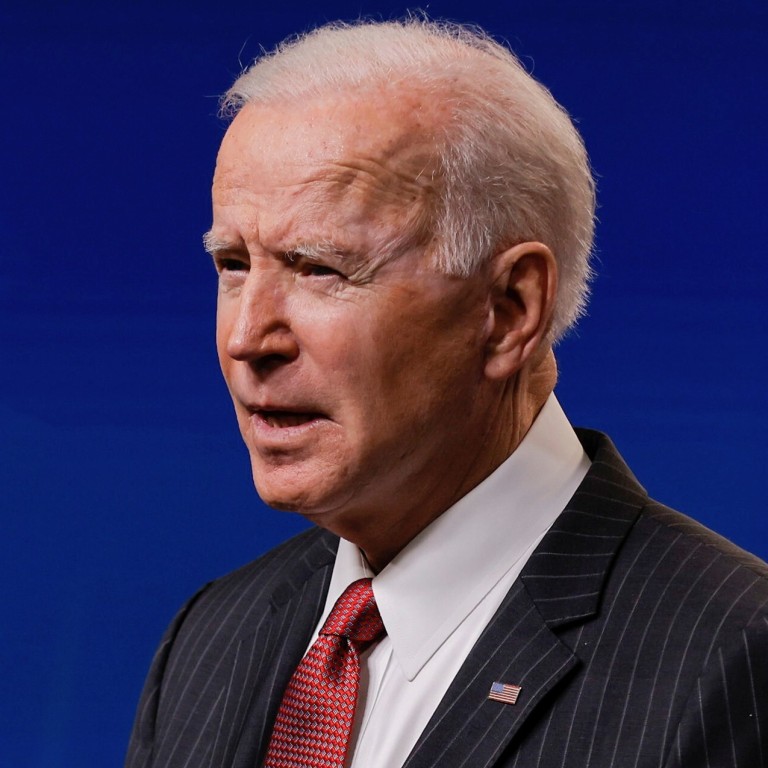 China-US relations: Xi knows there will be 'repercussions' for human rights violations, Biden says
Biden says he told China's president the US would speak up against abuses and crackdowns that contravened American values
Secretary of state deems US in a stronger position against China when it works with allies and leads from the front rather than using Trump tactics
US President
Joe Biden
said there would be "repercussions" for China's human rights abuses, saying he made the message clear to his Chinese counterpart Xi Jinping in their first phone call.
In a CNN town hall on Tuesday evening, Biden said he stressed to Xi during their two-hour phone conversation last week that the US would continue to assert its role as a voice for
human rights
on the world stage, including at the
United Nations
and other international agencies.
"We must speak up for human rights. It's who we are," Biden said.
"There will be repercussions for China, and [Xi] knows that," he said, without giving details. "China is trying very hard to become the world leader and to get that moniker, and to be able to do that, they have to gain the confidence of other countries. And as long as they're engaged in activity that is contrary to basic human rights, it's going to be hard for them to do that."
Analysts say Biden signalled before entering the White House that human rights issues would be a priority in US foreign policy, particularly as former president Donald Trump was criticised for his remarks, including initially describing the Hong Kong protests as "riots" and for reportedly privately endorsing Beijing's mass internment camps in Xinjiang.
Liu Weidong, a US affairs expert from the Chinese Academy of Social Sciences, said Biden's warning of potential consequences was a sign to China and the American public that the administration would not let go of its human rights concerns.
"In China, there is an understanding that there is some room for improvement in bilateral relations under Biden's administration, so if he is just engaging in rational rhetoric on this issue, China will not have an excessive response," he said. "Biden will definitely take action on this going forward, as he has already said he would on Hong Kong and Xinjiang issues, things that Trump did before with sanctions on relevant companies and individuals.
"Biden definitely will not be softer than Trump on this and will continue the policy approach, but may not be more severe than Trump's policies right off the bat," Liu said.
The White House has previously said Biden had raised concerns in the highly anticipated call with Xi about Beijing's "crackdown in Hong Kong, human rights abuses in Xinjiang and increasingly assertive actions in the region, including toward Taiwan".
During the town hall on Tuesday, Biden said he and Xi knew each other well from their time working together while both were vice-presidents. Biden argued that because the country historically had been "victimised by the outer world" while not unified domestically, Xi relied on the central principle that there needed to be a "united, tightly controlled China".
"[Xi] uses his rationale for the things he does based on that," Biden said.
"I point out to him, no American president can be sustained as the president if he doesn't reflect the values of the United States."
He said Xi understood Biden would "speak out against what he is doing in Hong Kong, what he is doing with the Uygurs in western mountains of China, and Taiwan trying to end the one-China policy, by making it forceful … he gets it."
"When we pull back from that, when we abdicate our responsibility, when we're not engaged in helping to write the rules and shape the norms that govern relations among nations, then guess what happens – China fills in and takes our place," he said.
"That puts us in a position of weakness, not strength.
"We're in a position of strength when we actually stand up for our values, when we don't say it's OK for China to create concentration camps for Uygurs in Xinjiang or to trample on democracy in Hong Kong."
"Those are all things that we can take action on, and we'll look at any of these other issues as they as they come up," he said.
This article appeared in the South China Morning Post print edition as: Beijing to face repercussions on human rights, Biden warns