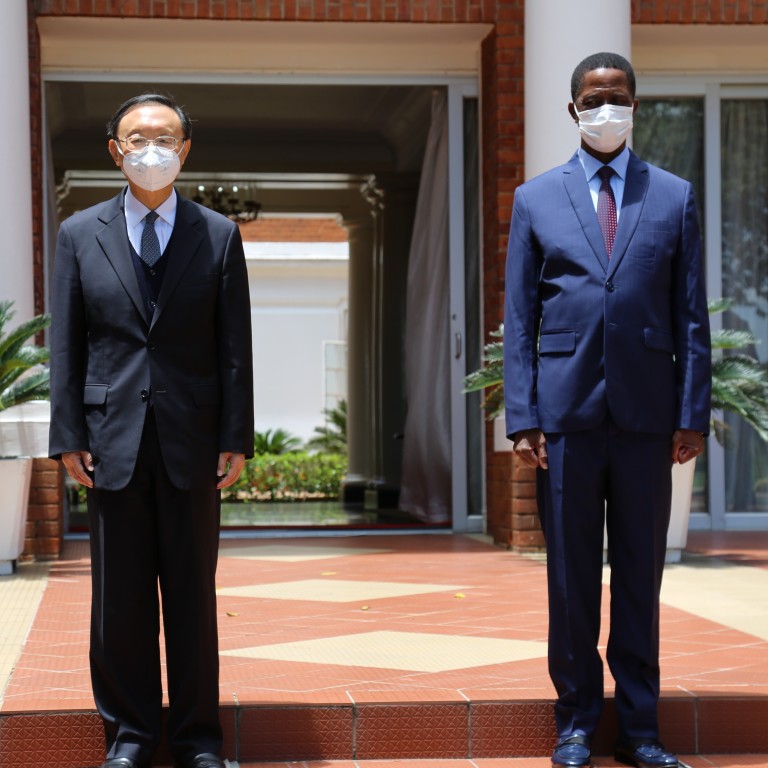 China's top diplomat holds debt talks with Zambia after appeal for restructure under G20 common framework
Zambia's request is a test case of how China approaches the common framework, say analysts
Yang Jiechi underscores the long relationship between the two nations and promised Beijing would continue to support Lusaka
Top Chinese diplomat Yang Jiechi's Zambia visit could not have come at a better time.
Africa's second-biggest copper producer has asked to restructure its debts under a new "common framework" supported by the
Group of 20
major economies in which Beijing – Zambia's largest bilateral lender – holds the key to easing the country's debt troubles.
With the common framework, China and other G20 countries are expected to coordinate their discussions to restructure Zambia's debts. China will be the lead bilateral creditor for essentially all the countries involved, and so will be the key actor negotiating the memorandum of understanding with countries in the G20 framework.
Further, Lusaka is in discussions with the
International Monetary Fund
for a possible bailout after headed for another default on some debts.
Mark Bohlund, a senior credit research analyst at REDD Intelligence, said Yang's visit to Lusaka needed to be put in the context of the ongoing IMF mission and upcoming negotiations for restructuring Zambia's debt.
Bohlund said China, as Zambia's largest bilateral creditor, "will be integral in deciding how much debt relief can be extended to Zambia".
On Monday, Yang, a member of the Politburo of the Chinese Communist Party and special envoy of President Xi Jinping, held a closed-door technical meeting with officials from Zambia's ministries of foreign affairs and finance.
At the meeting the two countries reportedly discussed Zambia's debt troubles. Zambian Minister of Foreign Affairs Joseph Malanji said the meeting "focused on the various areas of cooperation between the two countries for the mutual benefit of the two peoples" but neither side revealed details of the discussion.
The country failed to make a US$42.5 million repayment on one of its dollar-denominated Eurobonds. Zambia also failed to pay a US$56.1 million coupon payment on January 30 on its Eurobond maturing in 2027.
It had asked holders of US$3 billion worth of bonds for a six-month grace period, but that request was rejected in November.
Analysts said Zambia's debt restructuring request would be a test case of how China approaches the common framework. Unlike the Paris Club, China usually conducts debt negotiation case by case and it will be the first time for Beijing to work with other G20 countries through the new framework to restructure debt for countries that have requested debt relief – countries that so far include Zambia, Ethiopia and Chad.
Virag Forizs, Africa economist at London-based consultancy Capital Economics, said that under the G20's earlier Debt Service Suspension Initiative (DSSI), some loans from Chinese state-owned entities were treated as ineligible for the debt payment holiday. Instead, China negotiated with the debtors bilaterally, prompting criticism.
"The common framework tries to address this by forcing participants to seek similar debt-relief terms from all external creditors," Forizs said.
But it does not compel creditors outside the G20 and the Paris Club to provide relief.
"So, while Chinese creditors will probably be engaged in Zambian talks, we may see a similar divergence in treatment of official bilateral loans and debt owed to state-owned entities that characterised the DSSI," she said.
Chinese lenders, including China Exim Bank and China Development Bank (CDB), hold about US$3 billion of Zambia's US$12 billion external public debts. On October 27, Lusaka said it had reached a deal with CDB to defer interest and principal repayments for six months until April 25.
Tim Zajontz, a research fellow at the African Governance and Space project at the University of Edinburgh, said both the IMF and private creditors repeatedly insisted that the Zambian government disclose all its liabilities. This includes terms and conditions of loans and export credits from China as well as state guarantees by Lusaka to Chinese lenders.
"The negotiations between Zambia and the IMF are therefore not only of economic concern to Chinese creditors but also politically very sensitive," Zajontz said.
He said Lusaka would plead for further concessions from Chinese policy banks which hold the lion's share of debt owed to China, as the government of Zambian President Edgar Lungu faces a major dilemma.
Zajontz, who is also a research fellow at the Centre for International and Comparative Politics at Stellenbosch University, said any concession from Chinese lenders would give the government fiscal breathing space and would be extremely handy for Lungu in a heated election campaign.
On Monday, Yang met Lungu at the State House in Lusaka, and promised Beijing would continue to support Lusaka "on the development path that suits the Zambian people". Yang said Zambia was the first country in Southern Africa to establish diplomatic ties with the People's Republic of China.
"Under the guidance of our founding fathers of China and Zambia, chairman Mao Zedong and Dr Kenneth David Kaunda, ever since the two countries established diplomatic ties, our countries have been growing from strength to strength," Yang said.
Chinese companies have invested billions of dollars in the country's copper belt and many are involved in the building of mega projects, including highways, power dams and airports.
In the 1970s, Zambia was among the first African nations to receive a major investment in the form of the Tazara railway, linking its Copperbelt region to Dar es Salaam port in Tanzania, built by China.
The railroad was built between 1970 and 1975 at a cost of US$500 million via an interest-free loan to be repaid over 30 years and saw 25,000 Chinese workers deployed. It stretched 1870km (1,160 miles) from Dar es Salaam Port to Zambia's town of Kapiri Mposhi.
"Tazara is a symbol of sincere friendship between Zambia and China," Yang said.
Lungu also expressed gratitude to the Chinese government for its support in areas such as Zambia's fight against the Covid-19 pandemic, construction of hospitals, airports, stadiums and roads. Beijing is funding the building of a new international conference centre that will host the African Union Heads of State Summit in 2022.
"We eagerly look forward to the completion of other joint projects, such as the Kafue Gorge Lower Project," Lungu said.