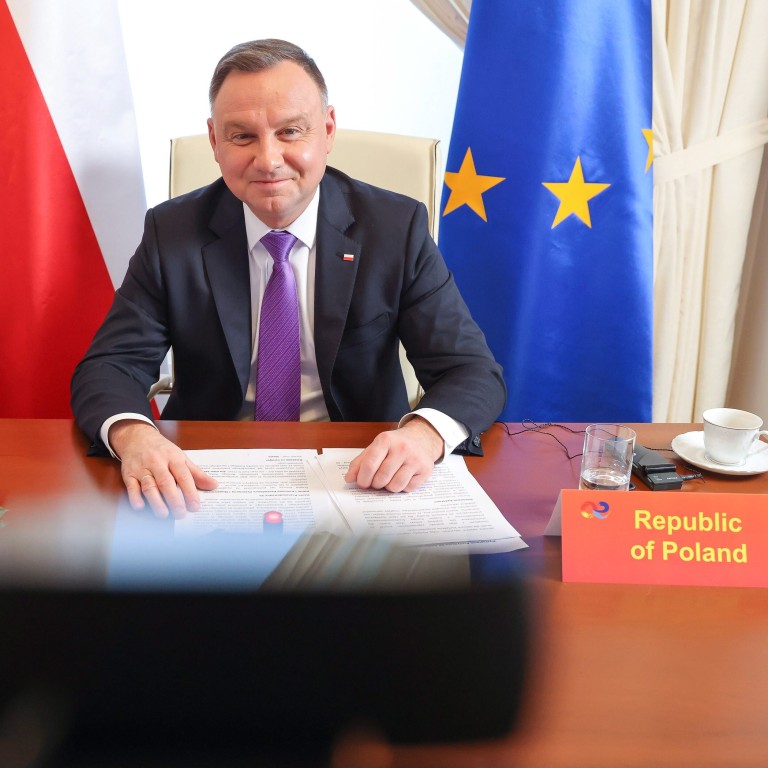 Coronavirus: Xi Jinping offers Poland access to China's vaccines and a bigger market for farm goods
In a phone call with Polish President Andrzej Duda, Xi seeks to smooth a path to better ties with central and eastern Europe
Analysts in Europe say less promotion and more transparency about Chinese vaccines 'would go a long way towards improving China's reputation in the EU'
China is willing to offer
coronavirus vaccines
to Poland and buy more of its agricultural products, Chinese President Xi Jinping told his Polish counterpart as Beijing tries to counter growing scepticism in central and eastern Europe about China.
Xi told Polish President Andrzej Duda over the phone on Monday that the two countries should strengthen strategic communication "to deepen pragmatic cooperation to jointly deal with every risk and challenge".
Xi also referred to Poland as "a major country in central and eastern Europe and an important member of the European Union, as well as a comprehensive strategic partner of China in Europe",
According to a Chinese foreign ministry statement, Xi also promised to share China's experience in fighting the
pandemic
and provide vaccines "according to the needs of Poland and within the limits of China's capabilities".
In response, Duda said Poland was willing to work with China in the pandemic fight and keep contributing "to cooperation between central and eastern European countries and China", the Chinese foreign ministry said.
The platform was launched in 2012 to bring together China and 17 countries in central and eastern Europe to promote trade and investment links, particularly Beijing's Belt and Road Initiative.
During a summit in early February, the leaders of six EU countries – Bulgaria, Romania, Slovenia, Lithuania, Latvia and Estonia – all failed to attend a long-delayed meeting hosted by Xi, sending more junior representatives instead.
Meanwhile, countries in central and eastern Europe are increasingly dissatisfied about the lack of tangible results of the 17+1, ranging from the lack of greenfield investment by Beijing to China's market barriers to agricultural products which are the major exports of the region.
In the 17+1 summit, Xi promised China would import US$170 billion worth of goods and double the purchase of agricultural products from the region over the next five years, a pledge Duda said was a "a good step in the direction" to increase bilateral trade, according to a separate statement by the Polish president's office.
Duda also raised the possibility of buying vaccines made in China, which would be discussed at the intergovernmental level, the Polish president's office said.
As the EU struggles with shortages and delays in vaccine supplies, a number of central and eastern European countries have looked to Beijing for support.
But such offers by Beijing also prompted concerns in Europe, according to an analysis by the Berlin-based Mercator Institute for China Studies (Merics) last week.
"China's vaccine diplomacy appears to be bearing fruit in these countries, and that threatens to deepen the rift between them and Brussels," wrote Grzegorz Stec, a Merics analyst, and Lucrezia Poggetti, a former analyst.
"While the availability of additional Chinese options should certainly be welcomed, it seems Chinese manufacturers are not particularly keen on having their products licensed for the European market.
"So far, no Chinese vaccine maker has sought authorisation from the European Medicines Agency for the use and distribution of their vaccine. To do that, they would need to hand over their trial data to allow for an assessment of their products' safety and efficacy. Less promotion – legitimate or otherwise – and greater transparency about its vaccines would go a long way towards improving China's reputation in the EU."