Don't cross Hong Kong, Taiwan 'red lines', China tells US
But there is potential for common ground on climate change and the pandemic, Chinese foreign minister says
Confrontation likely to continue even if two countries can work together on some issues, analysts say
China has drawn a line in the sand on its
relations with the United States
, saying there is no room for compromise on Hong Kong and
Taiwan
but other issues are up for discussion and cooperation.
In his annual media conference on Sunday, Chinese Foreign Minister Wang Yi outlined Beijing's core concerns for the development of
China-US relations
, saying Beijing was willing to work with Washington on various issues, including pandemic control, economic recovery and climate change.
But he stressed that ties between the two countries should be founded on the principle of non-interference in domestic affairs and respect for sovereignty.
"The US always interferes in other nations affairs on the pretext of human rights and democracy. But it is creating a lot of trouble, and it is the origin of chaos in the world," Wang said on the sidelines of the
National People's Congress
.
"As long as the US is not aware of that, the world will not be calm."
Wang also described Taiwan as a "red line" that should not be crossed, saying the White House should abandon the Trump administration's relationship with the self-ruled island, which Beijing claims as its own territory.
"The Chinese government has no room for compromise on the issue of Taiwan, and also no room for concession," he said.
"We urge the new US administration to be fully aware of the sensitivity of the Taiwan issue ... and completely change the previous government's dangerous practices of 'crossing the line' and 'playing with fire'."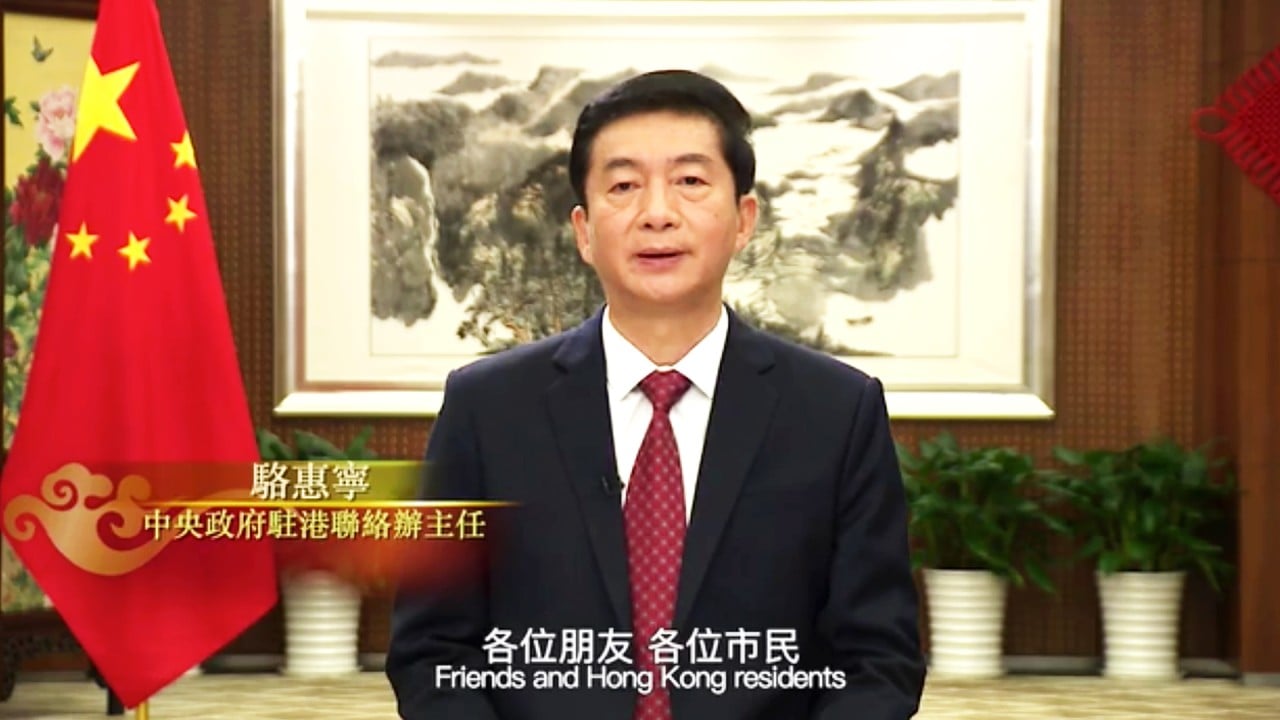 02:42
Beijing's liaison office chief Luo Huining stresses principle of 'patriots governing Hong Kong'
Beijing's liaison office chief Luo Huining stresses principle of 'patriots governing Hong Kong'
He said Taiwan, the South China Sea, Xinjiang and Hong Kong were China's internal affairs to be managed by the Chinese people.
Wang's comments come after Washington labelled Beijing's plan to change Hong Kong's electoral system a "direct attack" on the city's autonomy and democratic processes, adding that the US would consider collective action over rights abuses by China.
Wang defended the electoral changes as "constitutional, lawful, legitimate and reasonable", saying they would help the city to maintain long-term prosperity and stability.
"The reform is needed to implement '
patriots governing Hong Kong
', and for advancing 'one country, two systems'," he said, referring to the constitutional principle that grants Hong Kong a high degree of autonomy.
"The Chinese constitution also gave the NPC the power and responsibility to do so, so this is completely constitutional, lawful, legitimate and reasonable."
Wang also said it was standard practice around the world to require public officers and electoral candidates to bear allegiance to their country.
"If a person does not love the country, how can he or she love Hong Kong? Loving Hong Kong and loving the country are entirely consistent," he said.
"Hong Kong's transformation from chaos to peace is in the interest of all sides, and will offer stronger safeguards to protect Hong Kong residents' various rights and foreign investor's legal interests."
China's relations with the US have hit a decades low in recent years amid a bitter trade war, confrontation in the South China Sea, ideological conflicts and accusations of human rights abuses in Xinjiang and Hong Kong.
Beijing has signalled that it wants to reset that relationship, with President Xi Jinping saying confrontation with the US would only lead to disaster. At the same time, Chinese officials have demanded that Washington respect China's bottom line.
Diplomatic observers said confrontation would continue, even if the two countries could work together on areas like climate change.
"It is not likely that bilateral ties will return to a normal track in the foreseeable future," said Pang Zhongying, an international relations professor at Ocean University. "Even if they could cooperate on climate change, the US would still treat other issues in a different manner."
But Gu Su, a political scientist at Nanjing University, said Wang Yi was restrained about the administration of US President Joe Biden.
"He apparently tried not to provoke or attack the new administration. His remarks were cool-headed and fairly reasonable, which stood in sharp contrast to the way Beijing attacked the Trump administration," Gu said.
"He showed restraint and did not name any officials of the new administration when commenting on contentious issues such as Xinjiang, Hong Kong and Taiwan. It may offer hope and leave some room for possible improvement in bilateral ties."
Despite repeated calls by Beijing, US officials have said the tariffs imposed on Chinese products will not be scrapped. The White House has also agreed with the Trump's administration's declaration that China is committing genocide in Xinjiang.
On Sunday, Wang said the accusation was a fabrication based on political manipulation.
He also blamed the US for creating turbulence in the disputed South China Sea.
But Wang also struck a more conciliatory tone by calling on the US to remove unreasonable restrictions that hinder cooperation between the two nations, and to engage in more dialogue to manage their conflicts.
"As two nations with different social systems, it is inevitable that China and the US have differences. The key is that both should manage the differences through frank communication, avoiding strategic misjudgment and confrontation," he said.
"As the world's top two economies, it's not surprising that China and the United States are competing against each other. The key is to compete on a fair and just basis, which pushes each one to make advances and help the other, rather than attacking each other in a zero-sum game."
Huang Jing, dean of the Institute of International and Regional Studies at Beijing Language and Culture University, said Wang's overall tone was a departure from the much-criticised Wolf Warrior-style diplomacy.
Huang said Wang avoided classifying the US-China rivalry as strategic competition, as the US and many other Western countries had done in recent few years.
"The biggest problem facing the US-China relations is Washington sees Beijing as its top economic, national security and geostrategic competitor and threat," he said.
"Beijing obviously is aware of the risks [of being a strategic competitor] and Wang is appealing to both sides to manage their differences and tensions."
Additional reporting by Shi Jiangtao