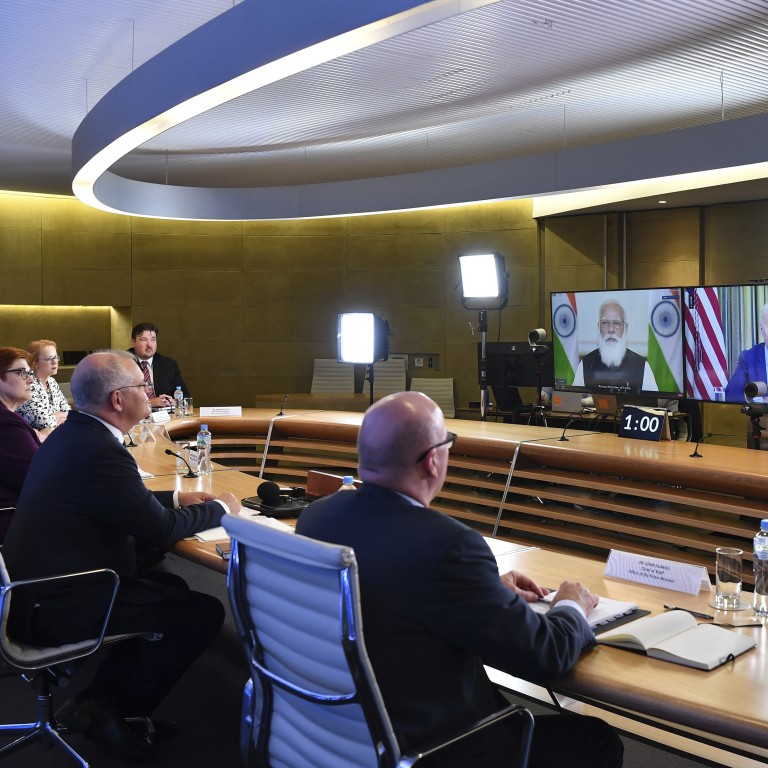 Quad summit: US, India, Australia and Japan counter China's 'vaccine diplomacy' with pledge to distribute a billion doses across Indo-Pacific
Promise to help fight against Covid-19 could help security grouping counter Beijing's influence in the region
US President Joe Biden has made the region and the growing rivalry with China a major focus of his foreign policy
The United States, India, Australia and Japan have pledged to deliver a billion doses of Covid-19 vaccine throughout the Indo-Pacific by the end of 2022 in what is widely seen as a bid to counter China's influence in the region.
Observers said it will allow the group known as the Quad to stake out a role in a region that has been a major beneficiary of Beijing's so-called
vaccine diplomacy
, but its success may hinge on how severe India's outbreak is.
The promise, the keynote of a Friday summit between the leaders of the four countries, follows the Biden administration's decision to make the region – and competition with China – a critical focus of its national security agenda.
The leaders also discussed maritime issues in the South China Sea and upholding democratic values.
"With steadfast commitment to the health and safety of our own people, we also recognise that none of us can be safe as long as the pandemic continues to spread. We will, therefore, collaborate to strengthen equitable vaccine access for the Indo-Pacific," the group said in a joint statement.
The plan focuses on expanding vaccine manufacturing and distribution capacities with the goal of "further accelerating the end of the Covid-19 pandemic", according to details released by the office of Australian Prime Minister Scott Morrison.
The US will support Indian biopharmaceutical company Biological E Ltd, in scaling up its production capacity to produce at least a billion doses by the end of 2022, including a vaccine developed by the US company Johnson & Johnson.
The US, Japan and Australia have pledged to give at least US$600 million to support the roll-out of vaccines throughout the Indo-Pacific, including "last-mile" vaccine delivery. The countries will also work with the World Health Organization and Covax Facility, its global vaccine drive.
Drew Thompson, a former US defence department official responsible for China affairs, said the announcement marked a "dramatic change" in Washington's commitment to the global supply of vaccines, and was a good strategy for helping security and trade partners in region.
"There's a blend of interests, including ensuring these countries have access to safe, proven and effective vaccines," said Thompson, now a visiting senior research fellow at the National University of Singapore, who contrasted this to how China's vaccine makers have yet to publish their efficacy data.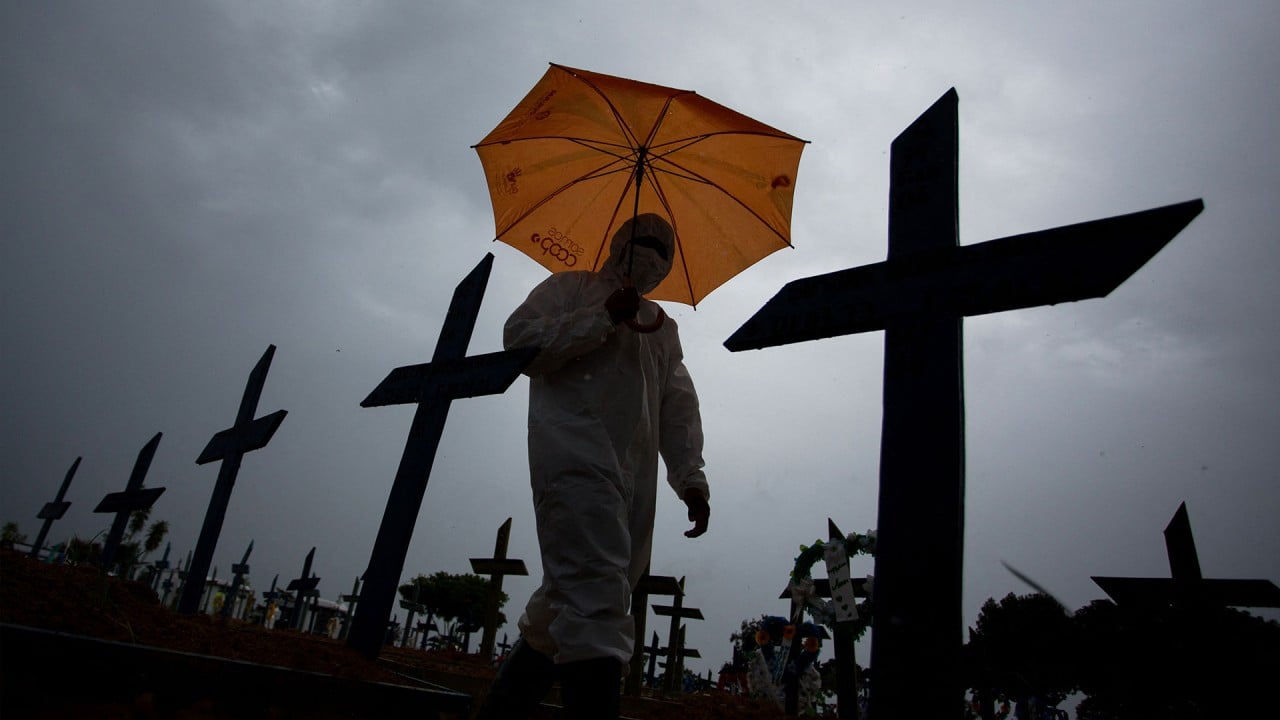 06:05
One year into Covid-19 pandemic, world marks anniversary of WHO's declaration on coronavirus
One year into Covid-19 pandemic, world marks anniversary of WHO's declaration on coronavirus
"Arguably the [most] important reason is the attempt to limit China's efforts to score diplomatic points by providing Chinese-made vaccines to Southeast Asian countries," said Shahar Hameiri, an associate professor of international relations, at the University of Queensland.
"This is one aspect of the overall intensification of strategic competition with China in the region, with the Quad increasingly seen as the main, but not only, mechanism."
Southeast Asia has been a major recipient of Chinese-made doses in recent months, with hundreds of thousands of donations from Beijing being sent to Cambodia, Laos and the Philippines. Thailand and Indonesia have also secured millions of doses through commercial deals.
Domestic considerations in the four countries may also be a factor. While Australia has had a relatively low number of cases, Japan is keen to ensure the delayed Olympics go ahead this year, and the US has had more infections than any other country with more than 29 million cases.
While the new administration has now pledged US$4 billion over two years to support a WHO vaccination programme that Donald Trump refused to join, President Joe Biden has said the US will not share its supplies until its own population is vaccinated.
Karthik Nachiappan, a research fellow at the Institute of South Asian Studies at the National University of Singapore, said the delay in backing the programme had given China "headway to get started" in vaccine distribution.
"One motivation of the Quad's vaccine diplomacy is to outflank China's vaccine exports and blunt diplomatic influence gained through that", he said, adding that the initiative also showed renewed American interest in transnational issues.
Nachiappan said the proposal also played to the strengths of the different countries and gave India, a global leader in pharmaceutical manufacturing, an incentive to further ramp up its capacity.
Besides Biological E Ltd, another major producer, the Serum Institute of India, is already slated to produce over a billion doses for Covax.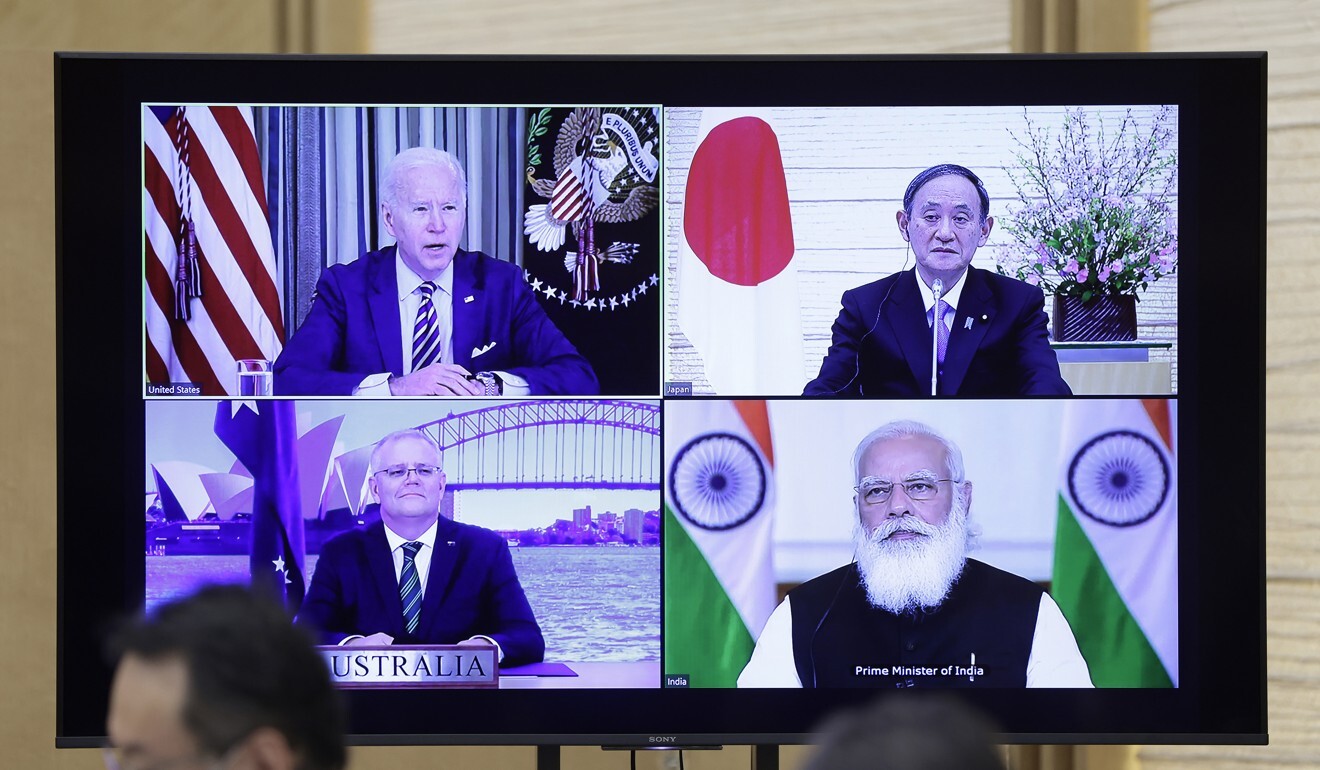 But India has recorded over 11 million cases, and Nachiappan said the efficacy of its domestic vaccination campaign and the course of the outbreak may determine whether these plans are feasible.
The vaccine imitative was one of several topics discussed at Friday's summit, the Quad's first leader-level meeting.
The US has signalled that the group will play a key role in America's Indo-Pacific policy, at a time of growing tension with China covering a range of issues from trade to human rights.
Meanwhile, Japan, which has a long-running territorial dispute with Beijing in the East China Sea, has been increasingly vocal in its criticisms of China and recently expressed concern about a
new Chinese coastguard law
that would allow pre-emptive strikes on foreign vessels.
In the online meeting, Biden, Morrison, Indian Prime Minister Narendra Modi and his Japanese counterpart Yoshihide Suga, laid out a vision of working together on a "free and open Indo-Pacific" that was "anchored by democratic values and unconstrained by coercion" according to their joint statement.
They also pledged to cooperate on a range of issues including maintaining order in the East and South China Seas, working towards the complete denuclearisation of North Korea, and supporting democracy in Myanmar.
Working groups covering issues such as critical and emerging technologies and climate change were also established, and plans made for an in-person summit involving the four leaders by the end of 2021.
Friday's meeting came before next week's meeting between US Secretary of State Antony Blinken and China's foreign policy chief Yang Jiechi on Thursday – the first face-to-face meeting between senior US and Chinese officials since Biden took office in January.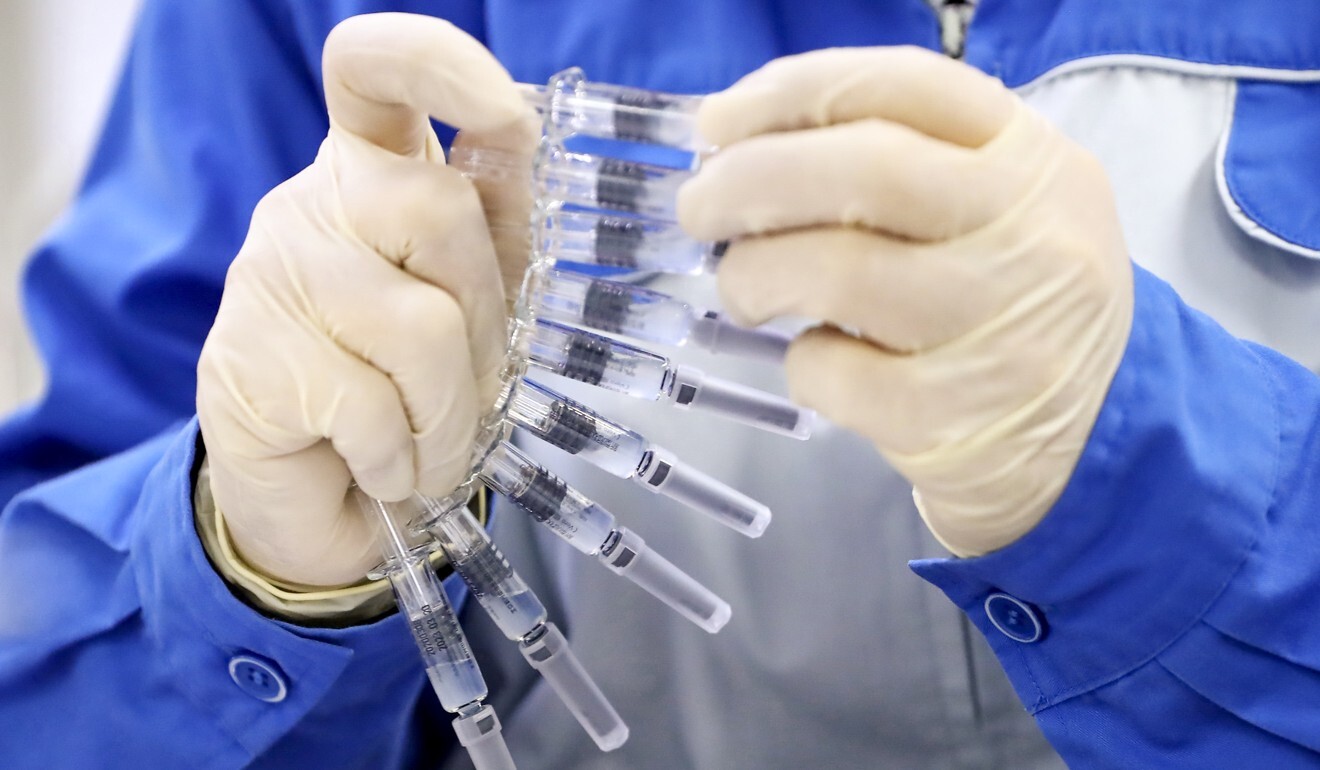 Liu Zongyi, an associate research fellow at the Shanghai Institutes for International Studies, said the fact that Quad meetings now involved heads of government, rather than more junior officials, had created a more negative atmosphere for China.
"It shows that there will be strengthened political and strategic coordination between these countries," he said.
But he added China could push back against Quad through working more closely with Southeast Asian nations and Russia.
Additional reporting by Kinling Lo