Myanmar
Get more with myNEWS
A personalised news feed of stories that matter to you
Learn more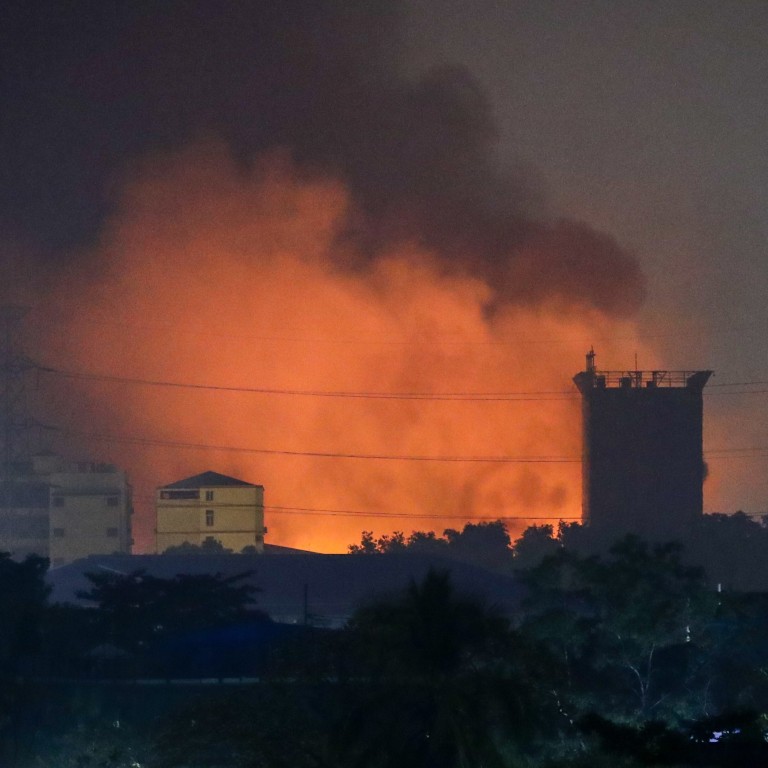 Chinese in fear in Myanmar after attacks on factories
Buildings in industrial zone torched and two employees wounded as anti-Chinese sentiment rises in coup aftermath
China calls on Myanmar's authorities to protect the community's life and property
Chinese investors in an industrial zone in
Myanmar
said they might have to arm themselves after dozens of factories were vandalised and torched on the weekend in an outbreak of
anti-Chinese sentiment.
Chinese tabloid Global Times, affiliated with People's Daily, reported on Monday that 32 Chinese-invested factories in the Hlaingthaya industrial zone in the commercial capital Yangon had been damaged since Sunday, with two Chinese workers wounded and 240 million yuan (US$37.8 million) in property losses.
Chinese state broadcaster CGTN reported that attackers armed with iron bars, axes, and petrol set fires at the factories' entrances and to warehouses. Vehicles and nearby shops were also vandalised.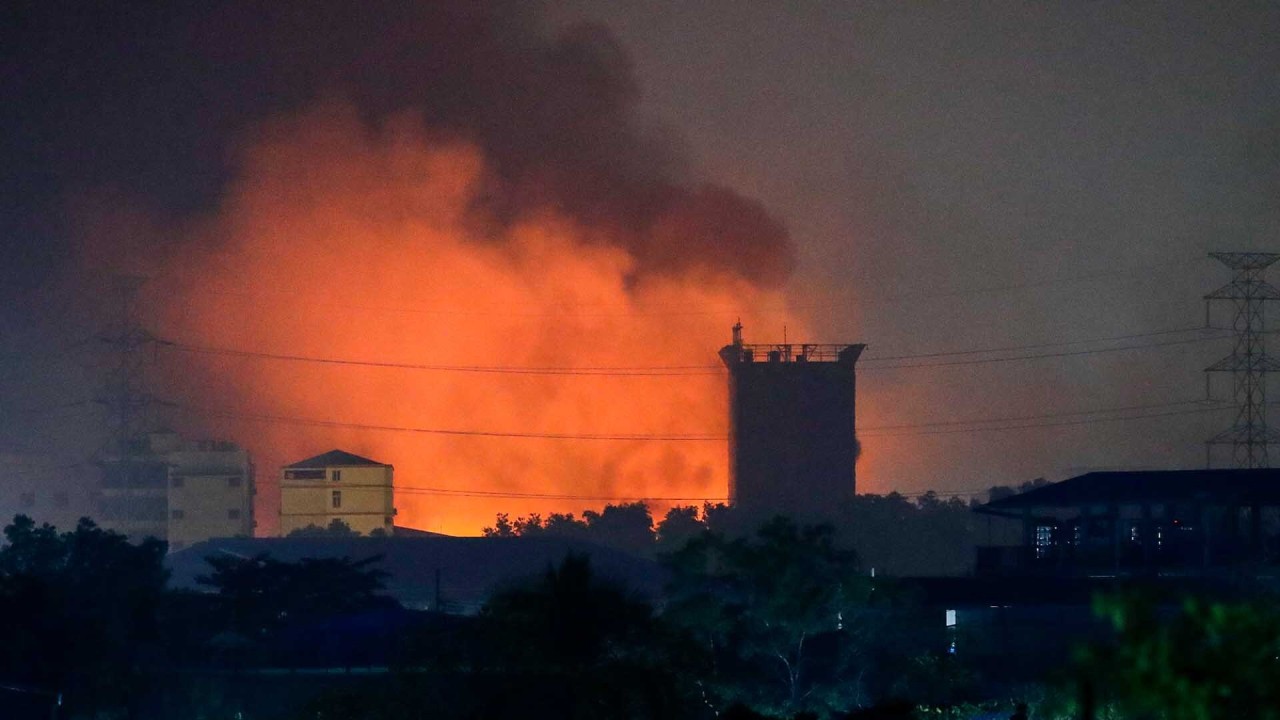 03:26
Fires set at Chinese factories in Myanmar during deadliest day of anti-coup protests
Fires set at Chinese factories in Myanmar during deadliest day of anti-coup protests
Martial law was imposed on Hlaingthaya and several other districts of Yangon on Sunday night but Chinese businesspeople said another Chinese factory was torched just after martial law went into effect.
Citing advocacy group Assistance Association for Political Prisoners, Reuters reported that security forces killed at least 22 protesters against the country's military coup in the industrial area on Sunday after the factories were set ablaze.
One Chinese factory owner said that more than 20 arsonists riding motorcycles carrying Molotov cocktails and knives broke into factories in the zone, smashing property and looting before setting the buildings ablaze.
"Plumes of smoke rose from the industrial area and the raging fire continued until three or four o'clock in the morning," he said, adding that he lost US$200,000 in property when his warehouse in the zone was torched on Sunday.
"As foreigners, there is nothing we can do."
Hlaingthaya is one of the biggest industrial zones in the city, with more than 100 Chinese-invested garment factories.
The attacks come as Beijing is seen as being supportive of the military junta that took power in a coup on February 1.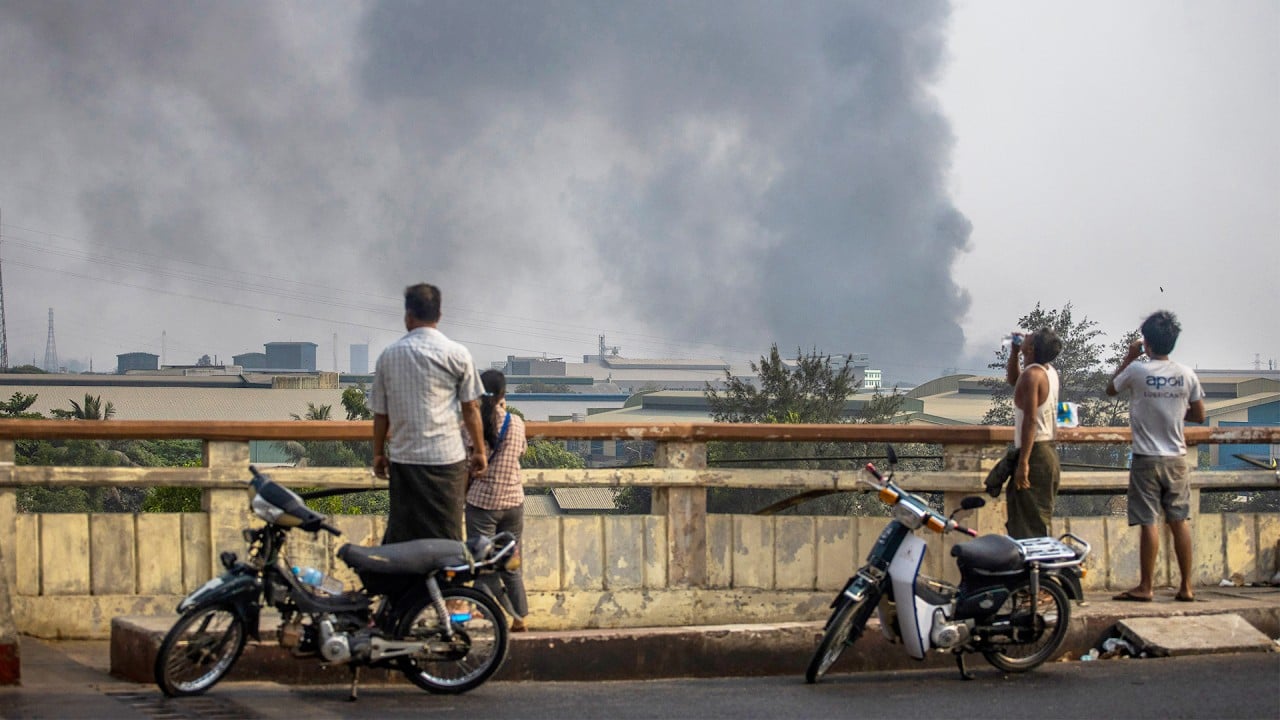 01:04
Beijing urges Myanmar to protect Chinese citizens after factory arson
Beijing urges Myanmar to protect Chinese citizens after factory arson
Demonstrators have massed outside the Chinese embassy in Yangon in recent weeks, calling on Beijing to condemn the coup.
Chinese officials have said that Beijing was not aware of the coup before it happened, and that it is not backing the military junta.
Chinese businesspeople said they had increased security for their properties.
"We have sealed all the windows of factories and assigned more security guards to patrol with electric batons. We also bought a large number of fire extinguishers today," another businessman said.
Lee Htay, an ethnic Chinese operator of a transport business in Yangon, said some in the business community were considering whether to arm themselves.
"But we are very cautious. Such moves might not go well with the military side," he said.
Lee said his worst fear of a repeat of the 1967 anti-Chinese riots was becoming a reality.
He said some factories were destroyed even though they were joint ventures between Chinese and Myanmese businesspeople.
"I heard all the Japanese, Korean and Singaporean companies have been raising their own national flags, trying to tell the mobs that they are not the target," he said.
Taiwan's de facto embassy in Myanmar has advised Taiwanese companies operating in the country to fly the island's flag and hang signs stating they are from Taiwan to avoid being confused with China.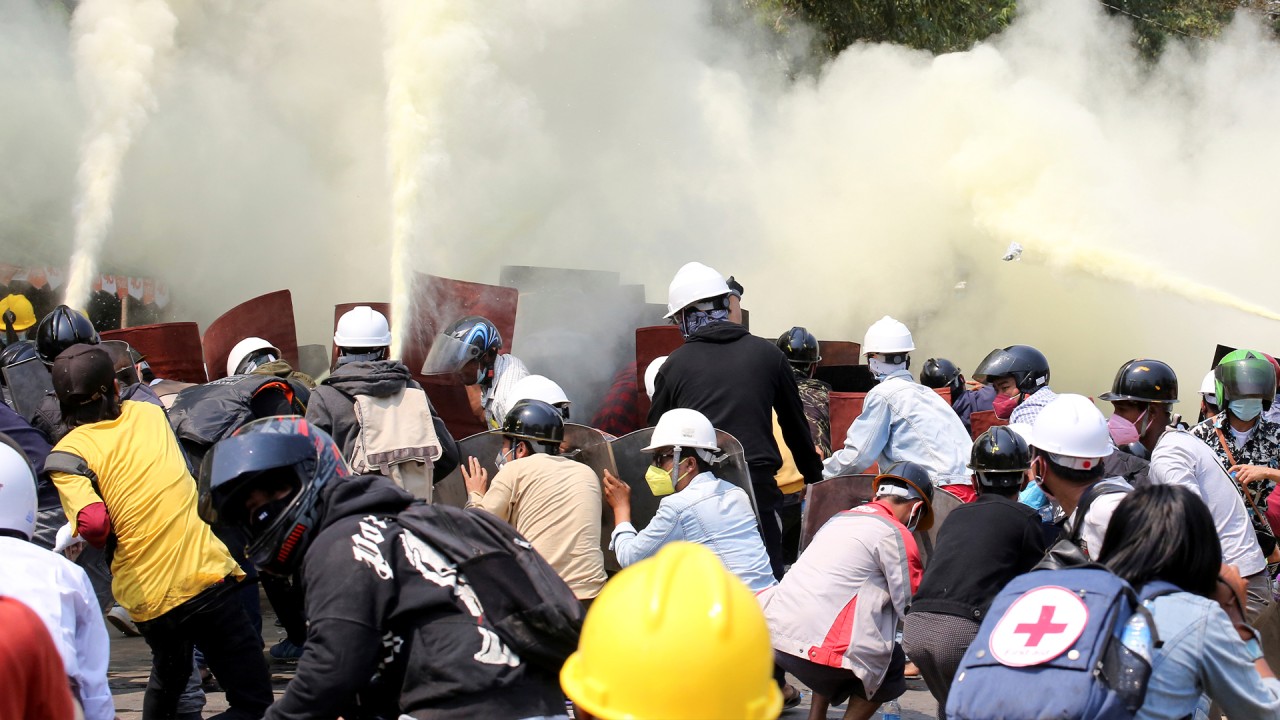 03:01
Myanmar anti-coup protests death toll climbs to over 50 as junta revokes media licences
Myanmar anti-coup protests death toll climbs to over 50 as junta revokes media licences
Some Chinese in Myanmar have called for Chinese citizens to be evacuated from the country but the factory owner said this could be complicated.
"Some Chinese who work for companies want to go back, but entrepreneurs who have their own entities won't consider leaving unless the situation is out of control," he said.
"There are more than 400,000 Chinese people here and many of them are doing business. It is impossible for them to give up their businesses and go back.
"There is also no clear information from officials yet. I will make a decision if the situation gets worse."
On Sunday night, the Chinese embassy urged Myanmar to take action to stop violence and punish perpetrators.
"China urges Myanmar to take further effective measures to stop all acts of violence, punish the perpetrators in accordance with the law and ensure the safety of the life and property of Chinese companies and personnel in Myanmar," it said.
China also called on the people of Myanmar to express their demands in a lawful manner, according to the statement.
Henry Chan, senior visiting research fellow at the Cambodia Institute for Cooperation and Peace, said the situation would be brought under control now that China had put pressure on Myanmar's military and police to protect Chinese investment there.
"As the Chinese government has put pressure on the military government to send police or troops to defend Chinese factories, as long as the army does not split and cause civil war in the future, the situation will not be out of control," he said.