Britain
Get more with myNEWS
A personalised news feed of stories that matter to you
Learn more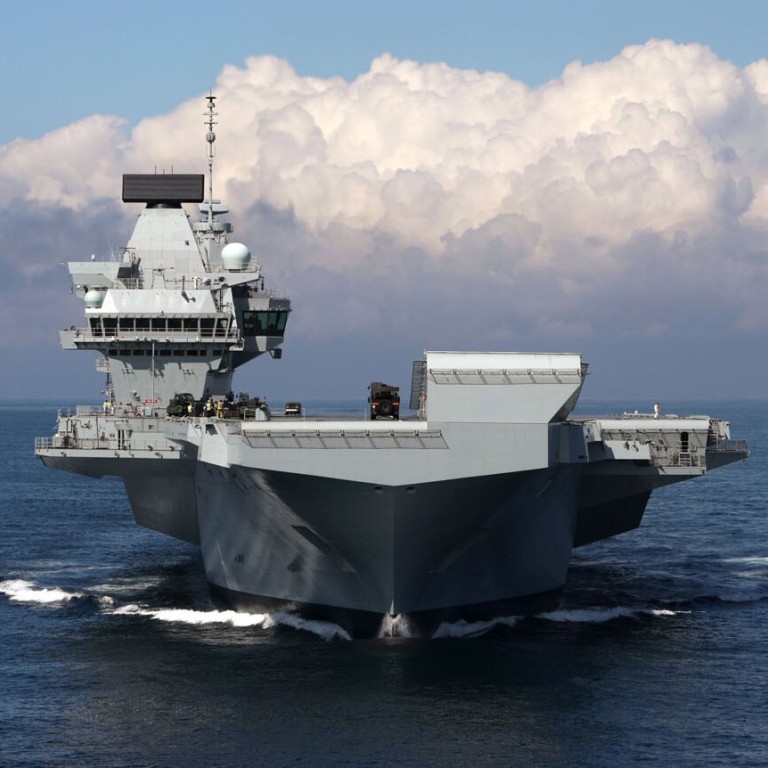 'Global Britain' to put more attention on China and Indo-Pacific
Report outlines plan for post-Brexit Britain to be the European nation with the most integrated presence in Indo-Pacific by 2030
London reveals it is walking a fine line between its economic needs and its security fears, says Beijing academic
Britain
aims to forge stronger engagement in the Indo-Pacific region over the coming decade to counter and adapt to China's rising influence in the region.
Releasing a 120-page report on Tuesday, Britain revealed it was putting deeper strategic focus on Asia and said cooperating with China would be vital to addressing global challenges.
"By 2030, we will be deeply engaged in the Indo-Pacific as the European partner with the broadest, most integrated presence in support of mutually beneficial trade, shared security and values," said the report titled
"Global Britain in a Competitive Age".
Calling China a systemic challenge, the report said "the significant impact of China's military modernisation and growing international assertiveness within the Indo-Pacific region and beyond will pose an increasing risk to UK interests".
"China's increasing power and international assertiveness is likely to be the most significant geopolitical factor of the 2020s," said the report, adding that Britain "will do more to adapt to China's growing impact on many aspects of our lives as it becomes more powerful in the world".
"We will invest in enhanced China-facing capabilities, through which we will develop a better understanding of China and its people, while improving our ability to respond to the systemic challenge that it poses to our security, prosperity and values – and those of our allies and partners."
Liang Yunxiang, an international relations expert from Peking University, said the report's nuanced approach towards China indicated the British government wanted to strike a balance between economic gains and security threats.
"As a major Western democracy, Britain is not satisfied with Beijing's handling of a lot of issues, including Hong Kong, Xinjiang, Taiwan and the South China Sea. And this is the prime reason why London would see the increasingly strong China as a competitor," Liang said.
"But compared to China, threats from Russia are more imminent for London, thus leaving little room for the country's cooperation with China in trade and economic fronts," he added. "But bumpy roads abound in the future while London chooses to both compete and cooperate with Beijing."
The report came ahead of British Prime Minister
Boris Johnson's
visit to India next month, his first major international visit since
Brexit.
Chinese foreign ministry spokesman Zhao Lijian said on Wednesday that China's development meant opportunities – not threats or challenges – and London should focus more on bilateral cooperation in a mutually beneficial manner.
Wang Yiwei, an international relations specialist at Renmin University in Beijing, said the report showed London was trying to change its position and approach in international affairs after Brexit.
"London now has fewer limits to cooperate with the US and I expect London will liaise with Washington more on world affairs. However, London is still trying to figure out how to optimise its economic interests, such as through more financial cooperation with China," Wang said.
Kerry Brown, a professor of Chinese studies at King's College London, said the future relationship between China and Britain would be complex.
"China is on the rise. The UK is half accepting that in this report, but still giving itself the illusion of more choices than it has," Brown said. "The UK might be more present as an economic force in the Indo-Pacific region if it goes ahead successfully with its 'Global Britain' ambitions. "
Relations between China and Britain have frayed in recent years over issues related to 5G, Hong Kong, Xinjiang and the South China Sea.
Last week, Beijing summoned
British ambassador Caroline Wilson
over an article she wrote in Chinese social media, which Beijing deemed "full of lecturer arrogance and ideological prejudice".
In February, the British regulator Ofcom revoked the licence for Chinese state broadcaster China Global Television Network to operate in Britain in part because of its affiliation with the Chinese Communist Party.