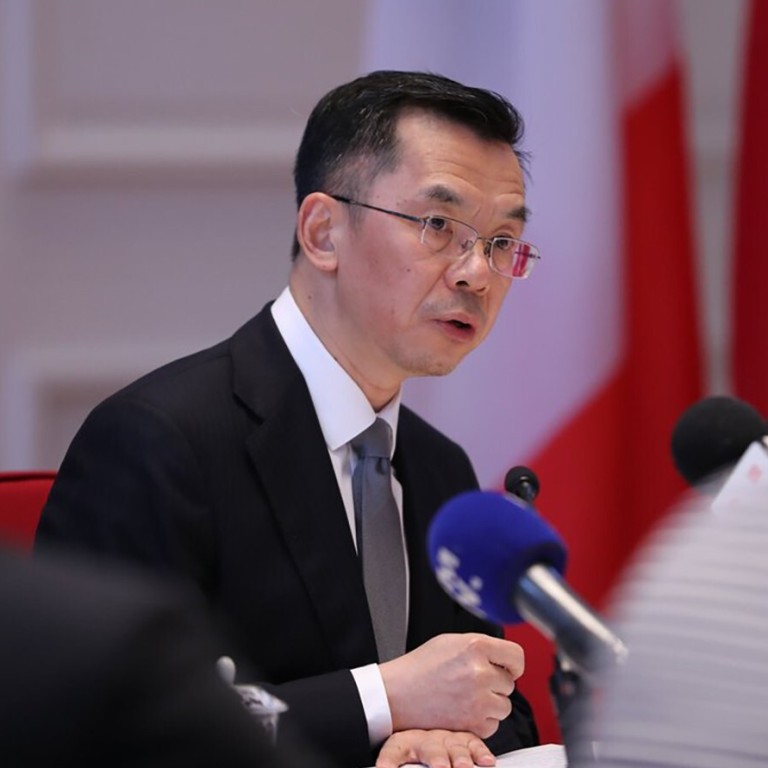 China's embassy in Paris attacks 'mad dogs' and defends Wolf Warriors in public row with French scholar
Diplomatic triangle of Beijing, Paris and Taipei gives rise to Twitter barbs and screed over 'anti-China provocations'
Research fellow Antoine Bondaz urges Beijing to 'stop before it has gone too far'
China's embassy in
France
released a long screed defending its criticism of a French scholar for "anti-China provocations" and maintaining that its aggressive tactics were necessary to defend Beijing's interests and international image.
The harshly worded statement, published on the embassy's website on Sunday, sought to justify the mission's attack on Antoine Bondaz, a research fellow at the French think tank Foundation for Strategic Research, as a "petite frappe", a derogatory term in French meaning "little thug".
The insult came in response to Bondaz's tweet to the Chinese embassy offering "a big kiss to you and your trolls", after the French foreign ministry said it would not interfere in French Senator
Alain Richard's plans to visit Taiwan this summer
.
"A few days ago, China's embassy on its official Twitter account engaged in a legitimate counter-attack to provocative remarks from a so-called China expert in France, sparking the dissatisfaction of some French people and media, and causing a wave of criticism," the embassy said in its statement, without naming Bondaz.
"Freedom of speech is equal. He has the freedom to provoke the Chinese embassy and we have the freedom to counter-attack. You cannot say that just because he is a scholar, he is sacred so we cannot say anything about him and he cannot be touched."
The controversy is the latest instance of incendiary rhetoric from the Chinese embassy in France, which observers have said reflects the increasingly aggressive Wolf Warrior style of Beijing's diplomats abroad.
China's ambassador to France
Lu Shaye
has been seen as one of the strongest embodiments of the more combative style embraced by some Chinese diplomats.
China's media has likened the diplomatic style to the nationalistic
Wolf Warrior film franchise
about Chinese soldiers defeating foreign mercenaries.
In its statement on Sunday, the Chinese embassy said it was not "insulting" Bondaz, describing him as someone who "does not count as a scholar" and is "an ideological troll".
"You can see how he kneels and licks Taiwan's government, and how he crazily opposes everything related to China, constantly pestering the Chinese embassy," it said. "If China's national interests and image have been threatened or harmed, then our embassy must rush out to safeguard it at all costs."
The embassy compared the label of Wolf Warrior applied to Chinese diplomats with "mad dogs who are too aggressive, including some 'mad dogs' who use their status as scholars or the media to crazily attack China".
"Some people want China's diplomacy to be 'lamb diplomacy', which is more tolerant and calm towards external attacks," the embassy said. "This era has gone forever."
Bondaz, whose research includes a focus on China's foreign and security policy, tweeted that the embassy's comments were "unjustifiable".
"The embassy feels it has total impunity," he wrote, suggesting in Chinese that the embassy "stop before it has gone too far".
In a separate tweet, the French researcher responded to an opinion piece from the Chinese state-run tabloid Global Times defending the Chinese embassy's comments, writing that he faced "coordinated attacks" from China meant to "discredit and silence me".
"This will be a failure," Bondaz wrote. "This will only prompt me to pursue the very research that [China] is so concerned about."