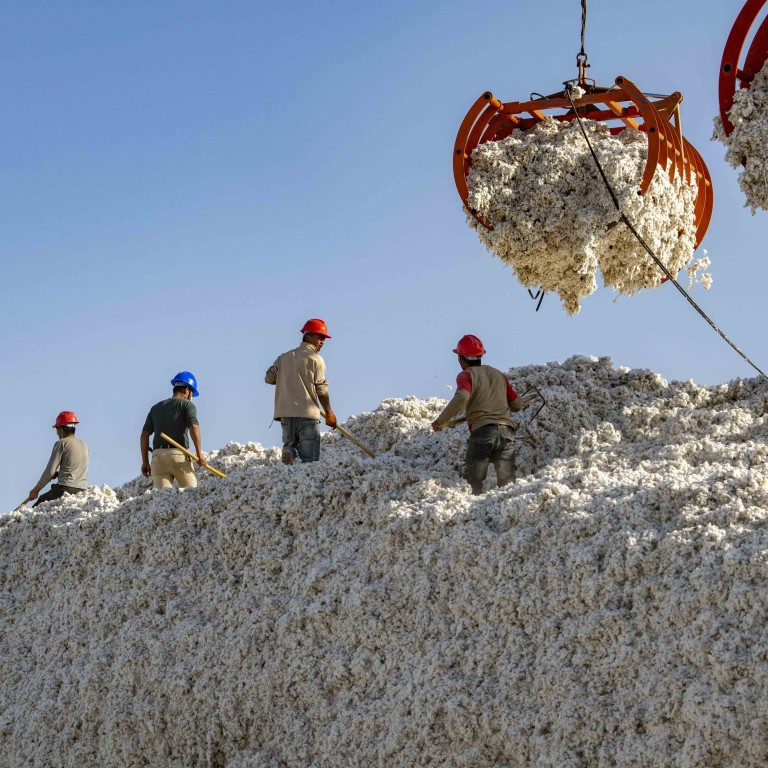 China presses global fashion brands to reverse Xinjiang cotton boycott
Chinese social media users and clothing consumers strike back at firms refusing to buy cotton because of human rights issues against Uygurs
Celebrities in China terminate brand arrangements, adding to the backlash against labels such as Converse, Adidas and Calvin Klein
The Chinese government added to the backlash against foreign brands boycotting
Xinjiang
cotton, pressing the companies to "correct their mistakes" and respect the views of Chinese customers.
The ministries of foreign affairs and commerce upped the rhetorical ante on Thursday as more brands came under fire for refusing to buy Xinjiang cotton over claims of genocide and forced labour in the region.
"Chinese people do not allow some foreigners to eat Chinese food while smashing Chinese bowls," Chinese foreign ministry spokeswoman Hua Chunying said.
Commerce ministry spokesman Gao Feng said Beijing opposed external interference in Xinjiang, and that Xinjiang cotton could not be tarnished.
"Chinese consumers have responded with concrete actions to the so-called business decisions made by individual companies based on false information," he said. "It is hoped that relevant companies will respect the laws of the market, correct wrong practices and avoid politicising commercial issues".
The list of foreign firms embroiled in the controversy continued to grow on Thursday, with American shoe brand Converse and apparel firm Phillips-Van Heusen, which owns Tommy Hilfiger and Calvin Klein, joining the ranks of brands being boycotted by Chinese consumers.
The European Union Chamber of Commerce said it would not comment on individual cases, but added that European firms were between "a rock and a hard place" because of "increased politicisation of business".
In a social media post on Thursday, Communist Party mouthpiece People's Daily named the British luxury brand Burberry, Nike, New Balance and Adidas as companies that did not source Xinjiang cotton.
"There are many foreign companies that have released statements which 'cut ties' with Xinjiang cotton in the past two years. This included the Better Cotton Initiative members Burberry, Adidas, Nike, New Balance and others," said the post published on Weibo, China's equivalent of Twitter.
"Online users have said the Chinese market does not welcome malicious back-stabbers."
Hong Kong singer Eason Chan posted a statement on Thursday saying he had ended all relationships with Adidas, the latest in a string of Chinese celebrities who have stopped endorsing the brand.
US Secretary of State Antony Blinken has described Beijing's policies in the region as "genocide" and the Canadian parliament passed a motion that declared China's treatment of the Uygur people genocide.
Human rights groups, the United Nations and victim testimonials have accused China of detaining about 1 million of the Turkic-speaking Uygur people and other Muslim minorities in camps, where they allegedly have been subjected to indoctrination, torture and forced labour.
H&M said last year it did not source cotton from Xinjiang. Nike said last year there was no employment of Uygurs or other ethnic minorities in its supply chain in China. The sports brand also said it did not directly source cotton and would work to ensure its supply chain used responsibly produced cotton. None of these company statements provoked a widespread reaction in China until this week.
China produces 22 per cent of the world's cotton, of which 84 per cent comes from Xinjiang, according to a report by the Centre for Strategic and International Studies.
The Better Cotton Initiative (BCI), also highlighted by People's Daily, is the largest cotton sustainability programme in the world and was started in a round table discussion by the WWF in 2005. It covers 14 per cent of global cotton production and aimed to improve cotton production for farmers and the environment in 21 countries, including China.
BCI, headquartered in Switzerland, issued statements last year saying research findings corroborated its own research that there were increasing risks of forced labour at the farm level in Xinjiang.
The statements also said BCI had suspended licensing Xinjiang cotton production since March and in October had ceased field-level activities in the region. However, both statements have since been removed from its website.
But the BCI Shanghai branch released a statement on its WeChat account on March 1 this year stating that the BCI China team had not discovered any evidence of forced labour in Xinjiang since audits started in 2012.
The BCI did not respond immediately for requests for comment about the statements made last year and why they were removed from the website.
Chinese sports brand Anta said it would withdraw from the BCI and that it had always bought and used cotton produced in China, including Xinjiang, and would continue to do so.
Stephen Olson, a research fellow with trade NGO Hinrich Foundation, said the incident showed trade was becoming increasingly intertwined with human rights issues and companies were trying to strike a delicate balance between the values their customers expected them to uphold and commercially attractive arrangements contrary to those values.
The situation was even more complex with China, he said.
"A sourcing adjustment which is embraced by customers outside of China could very well cause a negative backlash with customers in China, to say nothing of the reaction of the Chinese government, which has a variety of means at its disposal to make life very uncomfortable for foreign companies," Olson told the South China Morning Post.
"These are some of the issues that companies like H&M and Nike are now wrestling with."
The winners from the controversy seem to be Chinese fashion brands, with the share prices of Heilan, Septwolves and Xinjiang Sayram Modern, a cotton production firm, rising 5-10 per cent on Thursday morning, Sina Finance reported.
Additional reporting by Orange Wang