Asean
Get more with myNEWS
A personalised news feed of stories that matter to you
Learn more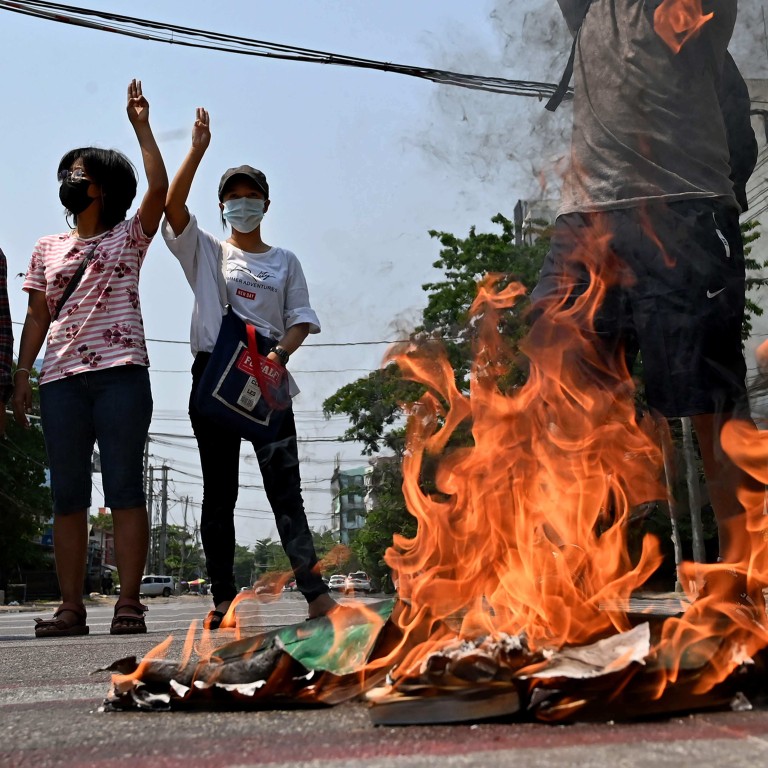 China backs Asean meeting to mediate in Myanmar crisis
Beijing tells Southeast Asian foreign ministers that it supports the bloc's intervention but does not want outsiders 'meddling' in Myanmar's internal affairs
China has also stepped up patrols along the border following a Covid-19 outbreak in the city of Ruili
Beijing has said it will support a special meeting of Southeast Asian leaders to mediate in the
current crisis in Myanmar
as it stepped up patrols along the border following a Covid-19 outbreak.
The question of how the Association of Southeast Asian nations should handle the crisis has been one of the main topics of discussion this week in meetings between Chinese Foreign Minister Wang Yi and four of his Asean counterparts in Fujian province.
Wang said after his meeting with Malaysian Foreign Minister Hishammuddin Hussein on Thursday that China supports Asean's efforts at mediation but insisted that the international community should not "meddle in Myanmar's internal affairs." Wang made a similar call in his meeting with Singapore Foreign Minister Vivian Balakrishnan on Wednesday.
"The Chinese side supports Asean's efforts to mediate through the 'Asean approach' and to hold a special meeting among Asean leaders as soon as possible," Wang said on Thursday.
He continued that China hopes that "different forces in Myanmar can start a dialogue as soon as possible based on the long-term interests of their country, to solve divergence under the framework of the law and the constitution and promote hard-won democratisation".
"We all believe the international community should create a favourable environment for Myanmar's internal politics based on the principle of noninterference, rather than meddling and intervening in Myanmar's internal affairs, or arbitrarily imposing pressure," he said.
Hishammuddin said the bloc would work with China and "appreciates China's recognition of Asean's role and initiatives on this front to lower tensions". 
Myanmar has been in crisis since the army ousted the elected government of Aung San Suu Kyi in a February 1 coup, detained her and officials of her National League for Democracy party and set up a junta.
The coup sparked mass uprisings across the country and reignited hostilities between the armed forces and ethnic minority insurgents across several regions, plunging the country into further turmoil that many fear could lead to state collapse.
Meanwhile, China has stepped up patrols along the border with Myanmar amid a fresh outbreak of coronavirus cases in a city bordering Myanmar.
Ruili, a key transit point and gateway for China-Myanmar trade in China's southwestern Yunnan province, has reported a wave of new Covid-19 cases this week.
The city has entered lockdown that includes home quarantine, restrictions on exiting the city and mass testing on Wednesday after authorities reported a rise in Covid-19 cases this week, many involving citizens of Myanmar.
The city rolled out similar curbs in September last year after imported infections from Myanmar were detected, including two cases where people had entered the country illegally.
The local authorities in Ruili have deployed close to 4,000 government workers and militia officers to patrol the border in shifts.
The Chinese embassy in Myanmar on Thursday called on the ruling junta to "work together with China" in strengthening border control and prevent more infections from being exported to China.
Health authorities have yet to identify how Ruili's latest cluster started and it remains unclear how many of them were refugees who had fled violence across the border.
This week Thailand reportedly sent back more than 2,000 ethnic Karen refugeeswho fled military air strikes in Myanmar.
Myanmar's military, the Tatmadaw, has been facing increasing international pressure with sanctions from the US and the UK, although Myanmar's biggest trade partners in Asia have rejected sanctions.
As armed conflicts continue to escalate and spread across Myanmar, China is facing an increasing challenge in balancing both international pressure and the spillover impact of the unrest.
"Unlike Western nations' sole focus on human rights, China has much more complicated interests and considerations in handling Myanmar — the need to balance relations with both the civilian and military government, its heavy investment in the country, and now the new wave of coronavirus ," said Fan Hong-wei, associate professor at the Research School of Southeast Asian Studies at Xiamen University.
"China needs the military's support in strengthening border controls and protecting its investments in the country, but it has put China on the opposite side to the Myanmar people," he said. "All these considerations have limited China's options and prevented it from taking a more active role in mediating in the crisis."