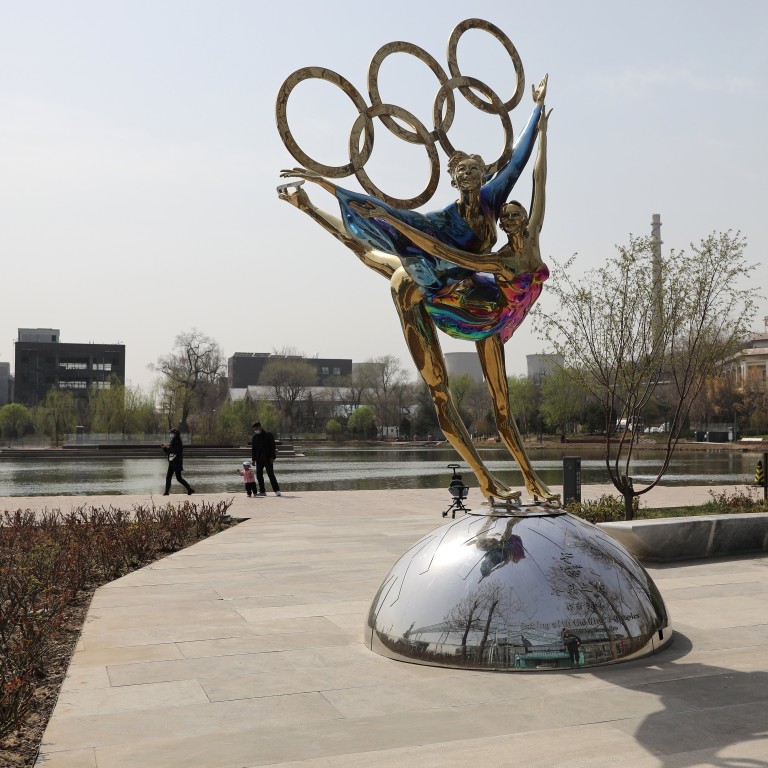 China lashes out over boycott calls that 'politicise' Beijing Winter Olympics
It follows US State Department walking back remark that it is discussing a possible joint boycott with allies
Calls have been driven by concerns over alleged human rights abuses in Xinjiang, which Beijing again denied
China has condemned calls in the United States to boycott the
2022 Beijing Winter Olympics
over human rights concerns, saying it is a move to politicise sports that will fail and only harm the athletes.
"This so-called boycott politicises the Games and goes against the Olympic spirit. It will only hurt the interests of the athletes and the work of the International Olympic Committee," foreign ministry spokesman Zhao Lijian told reporters on Wednesday. "It will not receive support from the international community, including from the US Olympic Committee."
He made the remarks after the US State Department denied it was discussing with allies a possible joint boycott of the Winter Olympics in China next year.
There have been growing calls from lawmakers and advocacy groups in the US to back away from the Games in February because of alleged human rights abuses against Uygurs and other Muslim minority groups in
China's Xinjiang region
- allegations Beijing again denied on Wednesday.
"The claim that there is genocide in Xinjiang is the lie of the century," Zhao said. "We have clarified on many occasions but the US has turned a blind eye to the facts and discredited China based on lies."
He added that Beijing was confident about working with all parties to hold a successful Winter Olympics.
It came after US State Department spokesman Ned Price clarified on Tuesday that Washington had no announcement to make on the Olympics and it would continue talks with allies to decide on a coordinated approach on China, after he
earlier told reporters a joint boycott was possible
.
"We will continue to consult closely with allies and partners to define our common concerns and establish our shared approach to [China]," he tweeted on Tuesday, adding that "2022 remains a ways off".
A further clarification from a senior State Department official read, "Our position on the 2022 Olympics has not changed. We have not discussed and are not discussing any joint boycott with allies and partners," according to Kyodo.
During the earlier press conference on Tuesday, Price was asked if a joint boycott with allies was being considered, responding that "it is something that we certainly wish to discuss".
"We understand that a coordinated approach will be not only in our interests but also in the interests of our allies and partners," he said.
China has sought to rally support for the Beijing Winter Olympics during recent overseas trips by Foreign Minister Wang Yi and Defence Minister General Wei Fenghe.
Calls for a boycott have been driven by concerns in the far western Xinjiang region, where human rights groups cite United Nations reports and witness accounts that as many as 1 million Uygurs and other Muslim minorities are held in "re-education camps". The reports allege that detainees face indoctrination, torture and forced labour.
Joining scores of advocacy groups including the World Uygur Congress and the US Tibet Committee, US Republican senator and former presidential candidate Mitt Romney called for an economic and diplomatic boycott by US delegates, corporations and tourists in a column in The New York Times on March 15.
However, Romney - who oversaw the 2002 Winter Olympics in Salt Lake City, Utah - expressly did not call for US athletes to forego competing at the Beijing Games.
Chen Qi, a resident scholar in
US-China relations
at the Carnegie-Tsinghua Centre for Global Policy in Beijing, said American ally Japan - which is set to host the Summer Olympics this year - would be the first to feel the pressure if the US announced a boycott against China, a move that would prompt retaliation from Beijing.
"The US needs to consider the views of its allies, especially Japan's situation," Chen said. "Yet it is unwilling to give up on the convenience of attacking China through the Winter Olympics, a move that is full of diplomatic risk."
In a phone conversation on Monday night, the foreign ministers of China and Japan agreed to step up exchanges and offer mutual support on the two Olympic Games.