Myanmar
Get more with myNEWS
A personalised news feed of stories that matter to you
Learn more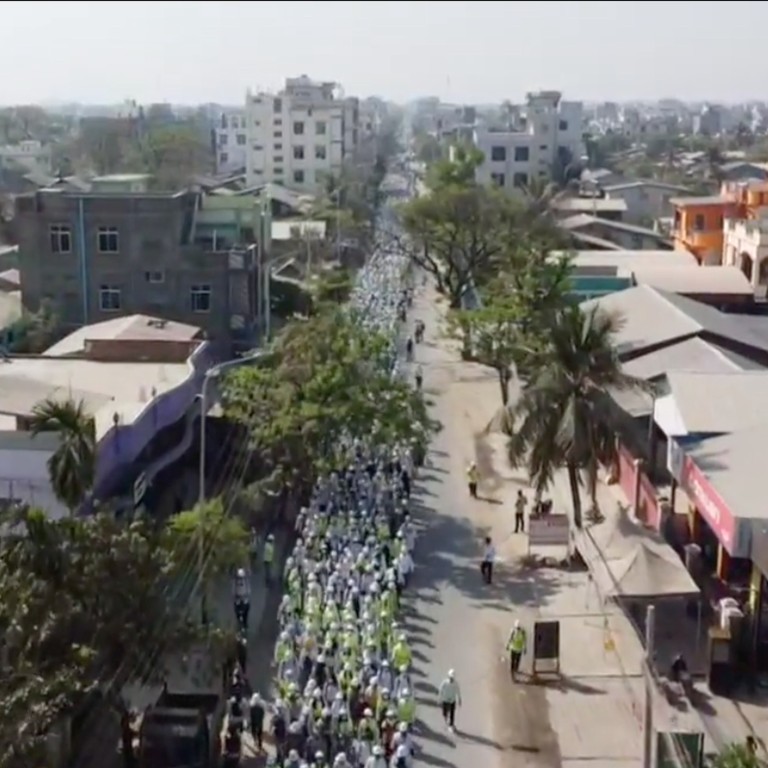 Myanmar junta deploys Chinese drones to monitor protesters and aid military after coup: report
Drones may be emerging as psychological warfare tactic to intimidate the population, says Jane's International Defence Review
China's CH-3A unmanned aerial vehicle can be reconfigured to carry out communications intelligence and electronic warfare
Myanmar's military junta deployed Chinese
drones
to support its operations against protest movements, according to a report by British military intelligence publication
Jane's International Defence Review
on Wednesday.
The report cited images on social media showing low-flying drones in March over Mandalay, where protests erupted after the military, known as Tatmadaw, seized power from the National League for Democracy-led government in a
coup
on February 1.
The images showed two types of drones flying at altitudes low enough to be seen and heard by residents in Mandalay,
Myanmar's
second-largest city.
Among them was the CH-3A drone, developed by Chinese state-owned defence contractor China Aerospace Science and Technology Corporation (CASC), the Janes report said.
It is believed between 10 and 12 of the CH-3A drones – about a squadron's worth of aircraft – were delivered to Myanmar around the period 2013 to 2015 and operated by the Myanmar Air Force. They are reportedly based at Meiktila Air Base in north-central Myanmar, according to Janes.
Military drones such as the CH-3A are typically used to collect aerial surveillance images and data to support the military's planning and decision-making, and conduct counter-insurgency operations against ethnic rebel groups across the country, according to the report.
"It is therefore likely that the UAVs seen operating over Mandalay were used to observe ground activity, enabling the Tatmadaw to visually monitor the situation in real time to identify specific threats and direct security forces as required," the report said.
Besides intelligence gathering, the drones could also be an emerging psychological warfare tactic designed to intimidate the population, the report said.
"For the Tatmadaw, such deleterious psychological effects could eventually provide a critical advantage as it attempts to pacify a population that is clearly growing increasingly resistant by the day to its self-declared rule," Janes said.
The Caihong drone, abbreviated as CH and meaning rainbow in Chinese, has a maximum take-off weight of 650 kg (1,430 pounds) with a wingspan of 8 metres (26 feet) and a payload capacity of 180kg. With an operating endurance of up to 12 hours, it can operate up to a service ceiling of 19,685 feet, although its optimal operating altitudes are in the 9,842–16,404 feet range.
According to CASC, the drone can easily be reconfigured to undertake a wide range of missions besides its primary intelligence-surveillance-reconnaissance role, with other possible uses including communications intelligence and electronic warfare.
China is fast becoming a top global arms supplier, with drones leading its foray into at least 18 countries between 2011 and 2018, including Pakistan and Saudi Arabia, according to a paper published late last year by researchers at the University of Pennsylvania and Texas A&M University.
The research paper concluded that non-democracies were over four times more likely to pursue armed drones than democracies since China had entered the armed drone export market.
The United States and its allies have ramped up sanctions on Myanmar's military junta and companies that financially support the military.