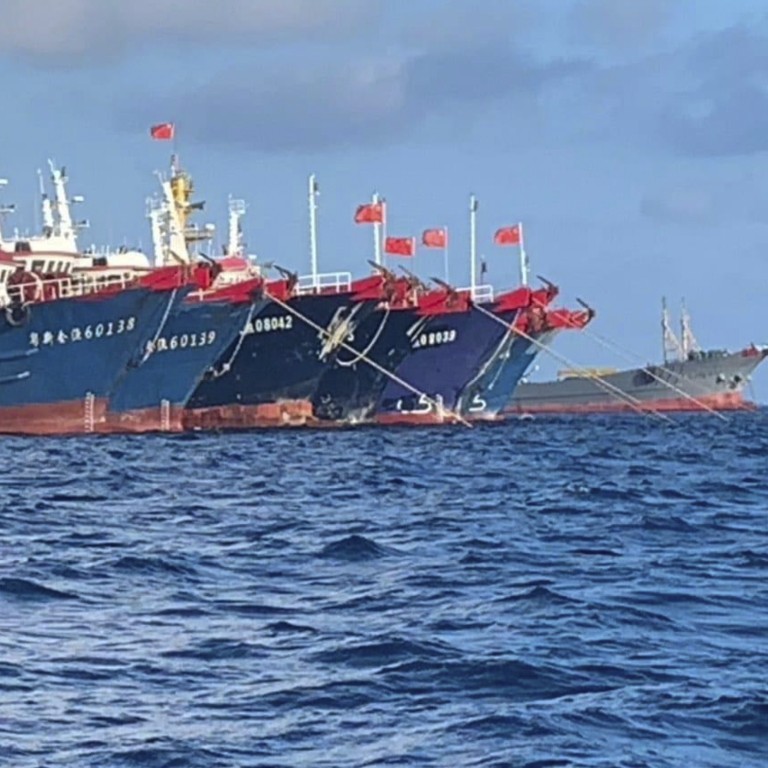 China-Philippines Whitsun Reef dispute could get worse as US chips in
US Secretary of State Antony Blinken expresses concern over massing of Chinese vessels at South China Sea reef and reaffirms that a mutual defence treaty between Washington and Manila applies to the disputed waters
China's foreign ministry spokesman Zhao Lijian urges US to stop 'inciting quarrels and sowing discord'
The deepening row between Manila and Beijing over the weeks-long presence of Chinese vessels at a disputed reef in the
South China Sea
could escalate as anger grows in the Philippines and the US signals its support for its Southeast Asian ally, analysts say.
Beijing has insisted that what it says are fishing vessels at
Whitsun Reef
are sheltering from bad weather and have "no plan" to stay there permanently, but Philippine Foreign Secretary Teodoro Locsin Jnr warned that Manila would lodge diplomatic protests every day until "the last one's gone like it should be by now if it's really fishing".
The Philippines reported more than 200 Chinese vessels near the reef in early March and said last week that 44 ships from the Chinese "maritime militia" were still there despite the good weather.
On Friday,
US Secretary of State Antony Blinken
in a call with Locsin expressed concerns over the massing of Chinese vessels at Whitsun Reef, and reaffirmed that the mutual defence treaty between Washington and Manila applied to the South China Sea. On the same day, the US Theodore Roosevelt aircraft carrier strike group carried out joint operations with the
US Makin Island amphibious ready group
in the contested waters that Beijing claims.
In response, China's foreign ministry spokesman Zhao Lijian on Friday urged the US to stop "inciting quarrels and sowing discord", and said that with regards to the Whitsun Reef situation, "communication [had been] maintained between all parties".
Analysts say the Philippines has taken a tougher stance against Beijing in the South China Sea in the dispute, with Philippines Defence Secretary Delfin Lorenzana and the country's foreign affairs department both engaging in a heated war of words with the Chinese embassy in Manila. Rising tensions over Whitsun Reef complicate Philippine President Rodrigo Duterte's push for closer ties with Beijing and tests the US President
Joe Biden
administration's ability to push back against Beijing's strategy in the South China Sea.
Richard Heydarian, a professorial chairholder in geopolitics at the Polytechnic University of the Philippines, said the incident had "exposed fault lines within the Philippine government" between Duterte's efforts to avoid escalation to keep his pivot to China on track and an indignant defence establishment.
On the Whitsun Reef issue, while Lorenzana slammed Beijing's "utter disregard" for international maritime law as "appalling", Duterte's spokesman took a softer line, saying the issue would be resolved "through diplomatic channels and through peaceful means".
"We clearly see that the defence minister, and the broader defence establishment of the Philippines, including the military, are livid," Heydarian said.
"They are still writhing from the incident in 2019 at Reed Bank, which galvanised anti-China sentiments in the Philippines, sentiments that remain to be overwhelmingly negative towards China. So you have an American-trained military and a broader Philippines defence establishment expressing its discontent with the direction of the Philippines' foreign policy."
The dispute comes as the US and the Philippines are debating the future of their Visiting Forces Agreement, a two-decade old arrangement that allows US troop deployment in the Philippines, with Duterte demanding the US quadruple its aid to Manila to maintain it.
Heydarian said there were concerns that China was exploiting gaps in the US-Philippines alliance at a time when it was aggressively using militia forces to intimidate other countries and restrict their supply lanes. Another issue was over
China's new coastguard law
, which allows its vessels to use force to defend its maritime claims, he said.
"China has gone full grey zone in terms of its South China Sea strategy, but how long it will remain grey zone, or whether China can keep within the parameters of grey zone, is an open question," he said.
"That's inevitably going to bleed into broader discussions about what is going to be the Biden policy in the South China Sea, and how can the Biden administration coordinate an effective response."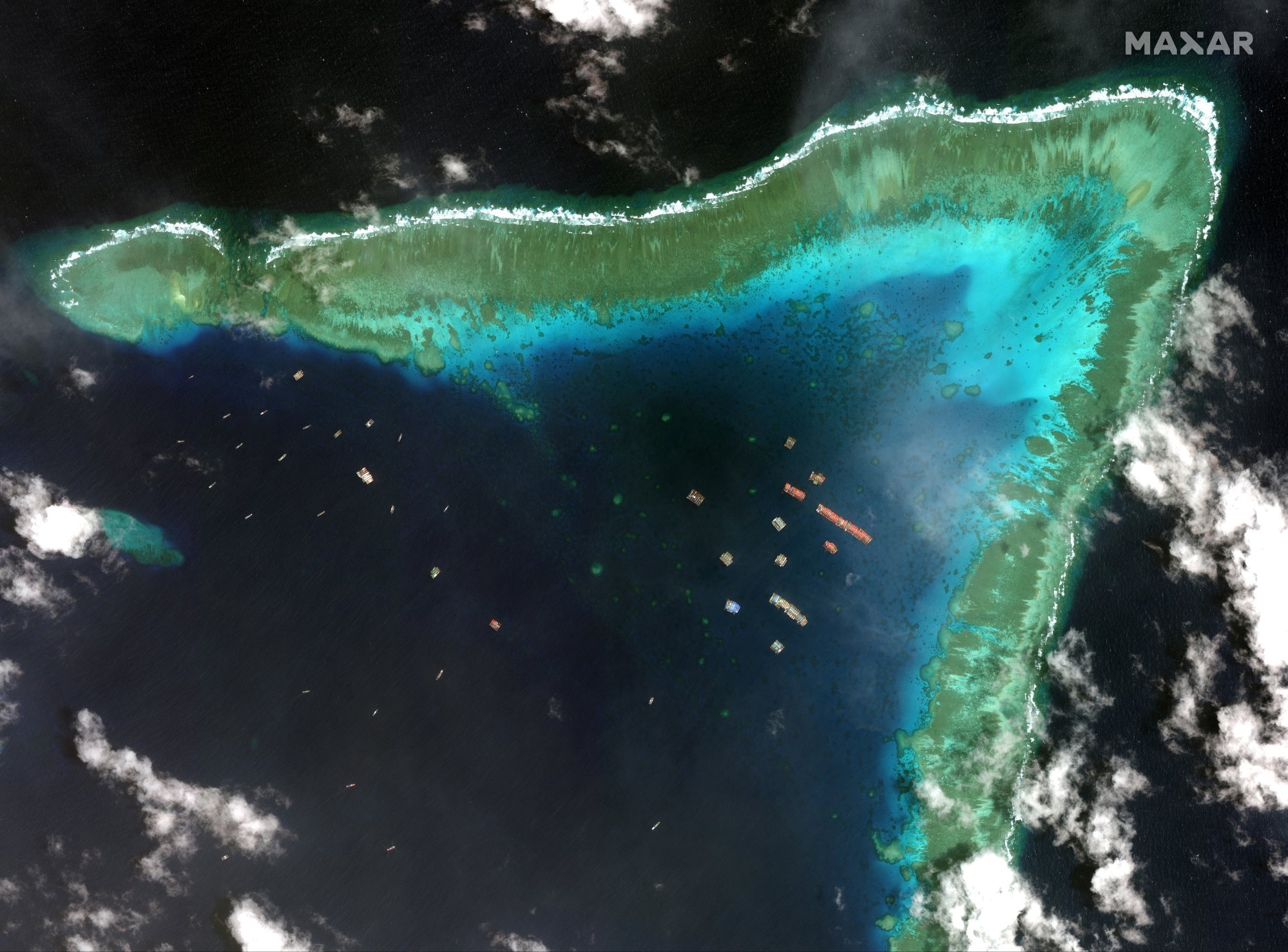 Aaron Rabena, a research fellow at the Asia Pacific Pathways to Progress think tank in the Philippines, said that Manila could exhaust its diplomatic mechanisms to express anger over the issue, or test the utility of its Bilateral Consultation Mechanism on the South China Sea with Beijing.
"In addition to protests, I believe Philippine maritime assets are poised to stay in the area for as long as necessary in order to monitor Chinese activities and assert Philippine rights and interests," he said.
But Xu Liping, a Southeast Asia specialist at the Chinese Academy of Social Sciences in Beijing, argued that China had been "quite restrained" on the Whitsun Reef issue thus far and said there would not be a lasting impact on bilateral relations.
"China's foreign ministry has said very clearly that it is impossible that the boats will not leave, and it is not possible that they will always be there," he said.
"The foreign ministries on both sides have maintained an unimpeded communication channel and I think there is a strong consensus on both sides. What will affect relations are opposition voices in the Philippines and those seeking to be tougher on the South China Sea issue against China."