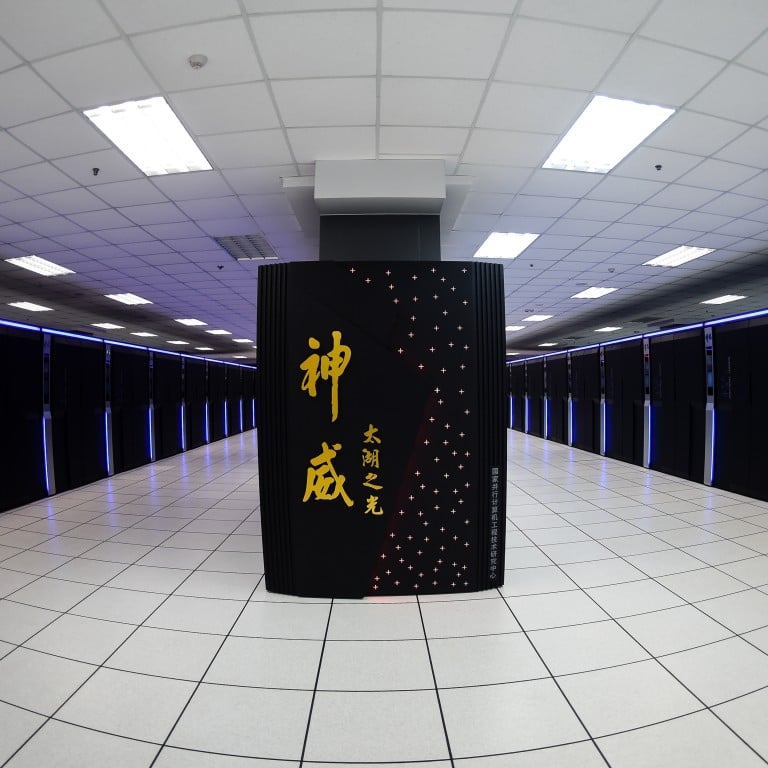 US sanctions against Chinese supercomputer centres may have limited impact, observers say
Seven centres or entities have been blacklisted, with the US Department of Commerce saying the technology could serve military purposes
Government adviser says there may be some challenges for supercomputers, but military expert doesn't see immediate issue for weapons development
New US sanctions will cut supplies of the most advanced hardware China needs to develop the world's fastest computers, but their impact on the country's military technology may be limited, observers say.
The US Department of Commerce on Thursday
blacklisted seven Chinese centres or entities
involved in China's next-generation supercomputer programme, alleging the technology could serve military purposes, such as to develop nuclear and hypersonic weapons. They now need approval to trade with American companies.
Supercomputers play an important role in advanced weapons development – they can be used to test the aerodynamics of a hypersonic glider or to simulate a nuclear explosion. And it comes as Beijing is
pushing technological innovation
, especially in areas like supercomputing and
artificial intelligence
.
Chinese foreign ministry spokesman Zhao Lijian told reporters on Friday the US move would only strengthen Beijing's determination to innovate and vowed to hit back if necessary. "China will take necessary measures to resolutely protect the legitimate rights and interests of Chinese companies," Zhao said.
The sanctions could mean some Chinese companies may no longer be able to outsource the manufacture of custom computer chips to overseas foundries such as Samsung in South Korea and TSMC in Taiwan, according to Xiao Limin, an adviser to the government on supercomputer technology.
"That could cause some temporary issues – some may be challenging, but they will not affect the development of our next-generation supercomputer in the long run," said Xiao, who is also a professor with Beihang University and member of the Chinese Computer Society's high-performance computing committee.
But military expert Song Zhongping did not expect any immediate impact on Chinese weapons development, saying it did not rely on the most advanced semiconductor chips targeted by the sanctions.
"For example, when necessary, relatively larger chips could be stacked to have the same capacity as an ultra-microchip," Song said.
The US has targeted China's supercomputer programme before, including barring Intel from selling its chips to the companies.
China has mostly bypassed these sanctions by developing its own central processors that helped it to build more than 200 supercomputers in recent years – nearly twice the number in the US, according to industry data.
This time, China's access to international chip foundries has also been cut off. Like the US, it makes its most advanced chips at semiconductor fabrication plants in East Asia.
"It is similar to the sanction on Huawei," Xiao said.
Huawei Technologies
has lost a significant share of the global smartphone market since the US banned international foundries from making chips designed by the Chinese tech giant.
But unlike smartphones, supercomputers only need a relatively small number of chips, which could give their designers some flexibility to get around the sanctions.
Xiao said several teams working on the next-generation supercomputer may already have the chips they need. "I don't think the sanctions will affect the final deployment of China's exascale computing technology," he said.
China is developing several "exascale" systems – as is the United States – which will be able to perform calculations twice as fast as the most powerful existing supercomputers.
The progress of the Chinese exascale computer has not been disclosed but researchers have said the first machine is expected to be completed this year or next.
One of the machines will be located in the coastal province of Shandong in eastern China, where it will be used to help build the most detailed model of the world's oceans.
According to Xiao, China is developing the exascale computer to solve real-world problems. He said computer chips were just one component in the complex system, and its development required innovation to boost the machine's energy efficiency. "Our focus is more on the applications than the hardware," he added.
Beijing-based military analyst Zhou Chenming said the sanctions again showed that China needed to develop its own advanced semiconductor industry.