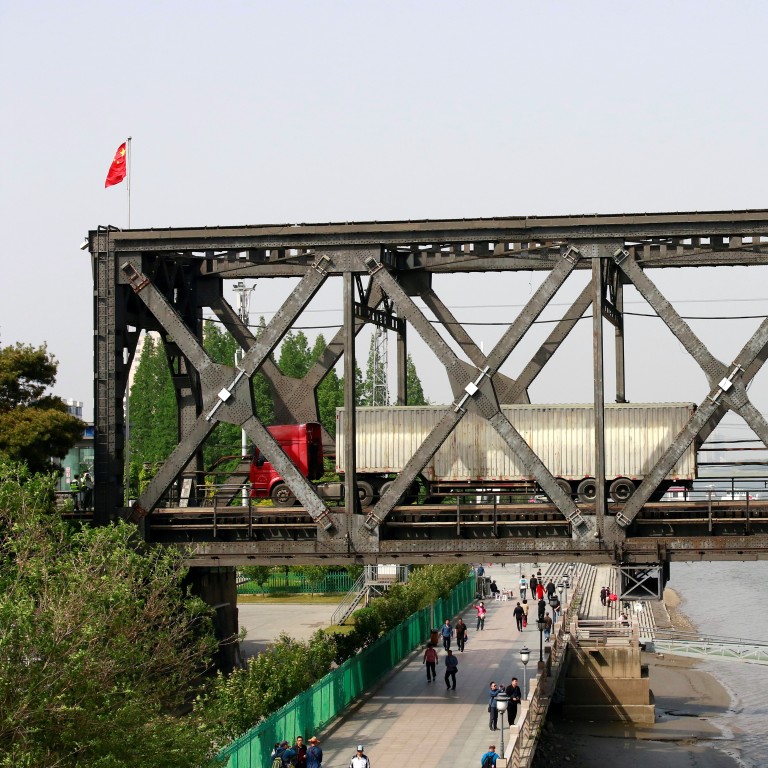 China-North Korea trade jumps after pandemic slump but sanctions curb business with Pyongyang
Exports from China to North Korea hit US$12.98 million in March, according to Chinese customs data
China's exports to North Korea will likely be limited to farm materials such as fertiliser, tractors and parts 
Trade between China and
North Korea
grew to a six-month high in March, figures from Chinese customs show in the latest sign that the two neighbours are easing border restrictions amid tensions with the United States
Exports from China to North Korea jumped from a paltry US$3,000 in February to US$12.98 million in March, according to Chinese customs data released on Sunday.
That was nearly 400 times more than the US$33,000 combined shipment of January and February, and was the highest by value since September, when China recorded outbound shipments valued at US$18.88 million to the isolated neighbour. Pyongyang imposed strict controls on goods transport ahead of the
75th anniversary
of the founding of the ruling Workers' Party in October.
According to Chinese customs, China imported US$1.308 million of North Korean goods in March, compared with US$1.75 million in February.
North Korea, though highly dependent on its trade with China, was among the first countries to close its borders with China after the initial
coronavirus
outbreak was reported in the central Chinese city of Wuhan in January and has since imposed one of the strictest border controls, with flights, cargo ships and trains from China suspended. North Korea claims it has had
no Covid-19 infections
.
There have been signs Beijing and Pyongyang are moving closer amid growing pressure from the US which, in the latest
annual threat assessment of the US intelligence community
, lists China and North Korea alongside Russia and Iran, as the main national security challenges that "demonstrated the capability and intent to advance their interests at the expense of the United States and its allies, despite the pandemic".
In February, Pyongyang named Ri Ryong-nam – the former external economic affairs minister who also served as the deputy premier in charge of trade – as the new ambassador to China. The move was widely seen as part of Pyongyang's efforts to improve trade ties with China, its largest trading partner and closest ally as its economy, already suffering under stringent US and UN
sanctions
,
faces further blows caused by pandemic border closures.
Observers in China said that because nuclear talks between North Korea and the US were stalled, China's trade with North Korea was restricted by UN sanctions. A small portion of the bilateral trade would recover, experts predicted, but it would not bounce back to pre-sanctions levels. China's exports to North Korea would be limited to farm production materials such as chemical fertiliser, tractors and agricultural machinery parts for the spring seeding season.
Last week, Beijing announced that Liu Xiaoming, the former ambassador to Britain, would be the new special representative on Korean peninsula affairs, filling a position left vacant for nearly two years.