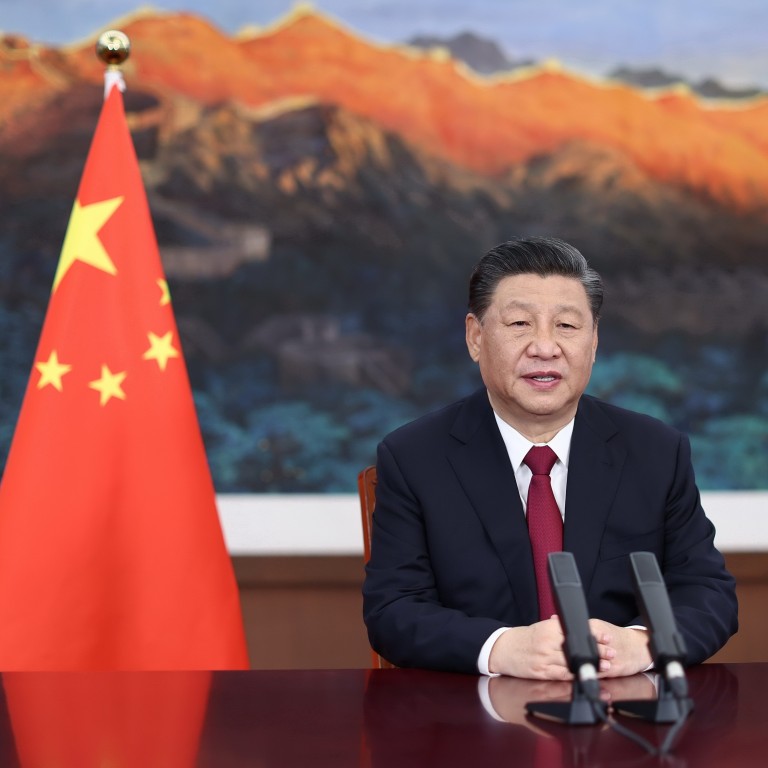 Xi Jinping rebukes nations who 'arrogantly instruct others and interfere'
'Future of the world should be decided by all nations, and rules set up by one or several countries should not be imposed on others,' Chinese president says
His speech at Boao Forum for Asia comes amid international scrutiny of China and as US puts renewed emphasis on its alliances in Asia and Europe
Chinese President
Xi Jinping
said no nation should dictate global rules or interfere in other countries, as Beijing continued to signal its unhappiness over what it sees as growing international meddling in its affairs.
Without naming any country, Xi made his remarks by video link to more than 2,000 officials and business executives attending the annual
Boao Forum for Asia
in the southern Chinese island province of Hainan.
"The destiny and future of the world should be decided by all nations, and rules set up just by one or several countries should not be imposed on others," Xi said. "The whole world should not be led by unilateralism of individual countries.
"Equality, mutual respect and trust should be at the forefront when countries are dealing with each other. It is unpopular to arrogantly instruct others and interfere in internal affairs."
China has announced record growth of 18.3 per cent for the first quarter as its economy recovers from the damage caused by the coronavirus, but its relationship with the United States has yet to show a similar rebound.
"As we are going through the Covid-19 pandemic, people of all countries have more clearly realised that it is necessary to abandon the cold war mentality and zero-sum game, and oppose any form of new cold war and ideological confrontation," Xi said.
Xi told the forum that China would keep opening up its economy to world business and that there should be integration of supply chains, the digital economy and artificial intelligence.
"Any attempts to build walls and decouple are violating economic laws and market rules, which is harming others and detrimental to oneself," he said.
The president also defended the Belt and Road Initiative, which has come under scrutiny as it extends Beijing's geopolitical influence. Xi said the infrastructure investment strategy was open to all nations and was not a "private road for a particular single nation".
Zhu Jiejin, a professor of international relations with Fudan Univiersity in Shanghai, said Xi's speech at Boao highlighted China's wish to promote its own agenda.
"Boao is an opportunity to highlight China's role in Asia and China's voice in a multilateral setting," Zhu said. "The Asia Pacific region will continue to be an important theatre of competition between China and the US, and the starting point of China's global governance strategy.
"The US has long had a presence in Asia. But China, as a regional country, has a good foundation and should continue to amplify its advantage."
Additional reporting by Catherine Wong and Liu Zhen