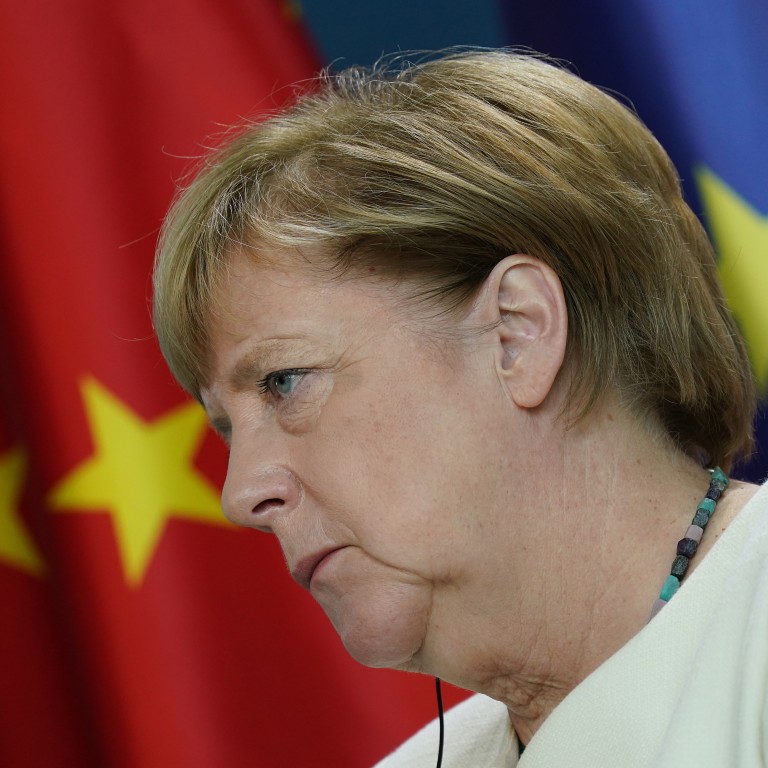 Life after Merkel: Germany's ties with China head into the unknown
German chancellor discussed climate change and economy with China's president but not sanctions against Europeans, Huawei or human rights
The EU-China investment deal is seen as a necessary boundary to keep China in check by some but perceived by others in Germany as squandering leverage
The day after his name appeared on a Chinese government sanctions list in March, the German politician Michael Gahler was reached by phone at his Brussels office, sounding philosophical and not at all bitter.
"This deal is in our interest as it gives better market access, more legal certainty. I am still in favour, I will not use my own personal sanctioning as a crusade," he told the South China Morning Post.
But unlike Gahler, she has not conveyed this through what she has said – but rather via what she has not.
"Germany was surprised by the counter-sanctions and I think Merkel has been in full de-escalation mode ever since," said Noah Barkin, the Berlin-based managing editor at Rhodium Group, a research house. "I think the message Merkel has sent to China is that when push comes to shove, Berlin will shy away from conflict."
For the last four years of her reign, she has been especially determined to strike an independent path on China, one of engagement rather than isolation.
Now, with former US president Donald Trump gone from the White House, Germany still wants to maintain this balance, or "strategic autonomy" in its relations with both superpowers.
"This is a German way of dealing with it because if you tie China into rules and reciprocity to rules and then, if and when they are broken, you can point to explicitly those agreements," said Jonathan Hackenbroich, the head of the European Council on Foreign Relations' (ECFR) task force on economic coercion.
The fact that in the first quarter of 2021 Germany continued to account for almost one-third of all the EU's rising trade volumes with China, up 2 per cent on the first quarter of 2019 before the pandemic hit, shows that commercial considerations must also be strong.
"In Germany, the perception with China policies has been that you cannot gain any quick wins but there's quite a danger of quick losses," said Bernhard Bartsch, a China analyst at the Mercator Institute for China Studies, a think tank sanctioned by China on the same day as Gahler was sanctioned.
"Merkel likes to work through these things slowly and diligently but I think reality has really overtaken her," he added.
Laschet will represent some continuation of Merkel China's policies but would also have to deal with shifting geopolitical sands. In October last year, six months before China's retaliatory sanctions, a Pew study found that 73 per cent of Germans had an unfavourable view of China, up 13 points from the previous quarter.
"I think [Laschet] at the moment promises continuity in terms of policy towards China, but he would be coming into a very different environment, probably have a coalition partner in the Greens that are much more hawkish on China and have a very human rights-focused foreign policy approach," said Barkin.
On Monday, the Green Party – which has surged to more than 20 per cent in polls to become a serious player in September's election – named Annalena Baerbock as their candidate to become next chancellor.
In a position paper, the Greens argued against the CAI, writing: "Trade is a powerful lever to defend and strengthen human rights and fundamental democratic values. Unfortunately, the EU-China investment agreement, hastily concluded by the German government at the end of last year, contradicts this very goal."
Their stance on sanctions is also less forgiving. Reinhard Buetikofer, a German Green MEP, is the loudest voice in European politics on China. He is a vocal critic of Beijing on human rights and the head of the Parliament's delegation to China and few were surprised to see his name pop up on the sanctions list in March.
He told the Post he was frustrated at Merkel's failure to broach the topic of sanctions with Xi.
"Of course I was disappointed. The chancellor has refused altogether to defend her compatriots that have been sanctioned by China, unlike the French and British governments. Even the government spokesperson has had no words of solidarity," Buetikofer said.
The term is designed to reflect Brussels' ability to act in the face of pressure from any power. But Xi's usage – he "hopes that the EU will make correct judgment independently and truly achieve strategic autonomy" – implied that it should only be used in the face of US pressure, Hackenbroich said.
In a sign of how far German views on China have travelled and the greater role China may play later in the election campaign, the powerful Federation of German Industry took a surprising swipe at the mainland's human rights record last month.
"The human rights situation in Xinjiang, as well as the political situation in Hong Kong, strain our political and economic relations. China's unyieldingly hardline stance in Hong Kong and Xinjiang clouds prospects for successful ratification of the investment agreement in the EU," said Joachim Lang, the group's director general.
A senior source from within the group who was not authorised to speak to the media said they were underwhelmed by the CAI and while they were obliged to support it publicly, they were privately fed up with Beijing's endless rounds of promises.
But whoever takes over from Merkel will be under pressure from domestic and international actors to take a harder line on China.
"What is unclear is how Germany will behave when Biden comes knocking. His administration is pressuring Japan to publicly support Taiwan and I think that the Biden team will be asking the same from Europeans," Barkin said.
"So Merkel's strategy – keeping everyone on board, averting tensions with both China and Washington – is unlikely to be sustainable over time."